A daily series, Connect! Unite! Act! seeks to create face-to-face networks in each congressional district. Groups regularly socialize but also get out the vote, support candidates and engage in other local political actions that help our progressive movement grow and exert influence on the powers-that-be. Visit us every morning at 7:30 A.M. Pacific Time to see how you can get involved. The comment thread is fun and light-hearted, but we're serious about moving the progressive political agenda forward.
Do you still wear a watch?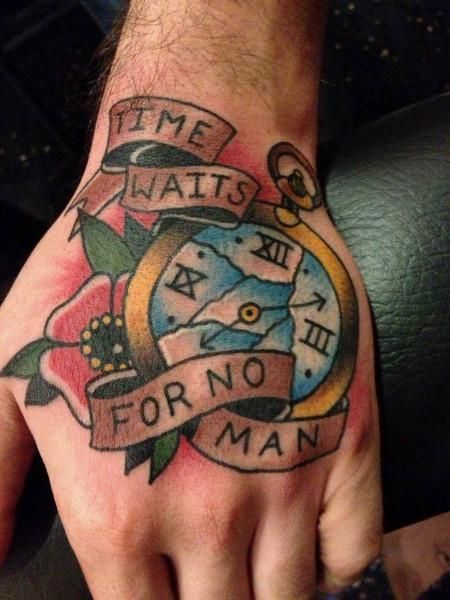 I suppose I should have asked first, "Did you ever wear a watch?" I still wear a watch, but I think they are rapidly becoming extinct. I only wear mine out of habit. These days, I really don't need one. I can glance at the wall in my classroom, the mantle in the Man Cave, the bottom of my computer screen, the face of my dumb phone, or the dashboard of my car and know the time. I can see my alarm clock from my bed. I can push a button on the remote and see the time on TV. The kitchen has a stove clock, a coffee pot clock, and a microwave clock. Every one of our landline extension phones displays the time. We have a wall clock in the bathroom.
This looks like my watch
but my band is different.
My watch is a cheap one. It is an Acqua Indiglo, and it probably cost about twenty bucks.
Apparently, I overpaid
. It has nice clear numbers and dark hands against a white face so it's easy to read, even for my tired old eyes. It shows the date, but I never look at that. On the face it says "Water Resistant/30 Meters." Thankfully, I have never tried it out in 100 feet of water. Since I am not certified to scuba dive, the only way I would ever be that deep would be if I had drowned. The "Indiglo" is a nice feature: If you press the stem, it lights up with a lovely indigo glow. That comes in handy. I have had the watch for a number of years. It is silver with a stretch link band. I wear it on my left wrist (I'm right-handed) and it's the only jewelry I wear. I change the battery about once a year and it keeps on ticking, as Timex used to say. It is not completely accurate, but it's close enough that I don't have to adjust it very often.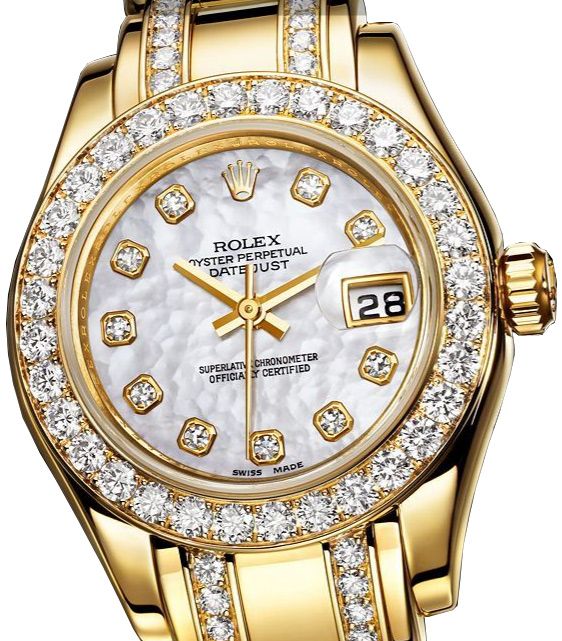 Of course, watches remain fashionable in some circles. I suppose rich people still buy Rolexes and diamond-encrusted ladies watches. But to me, that's just another form of bling. I suspect that as time marches on people won't use watches to tell the time. I see very few young people wearing them these days. When they do wear something on their wrist, it's probably one of those nifty new Dick Tracy-style Smartwatches. And Sony has big plans for the wrist computer. Coming to a big box electronics store near you in 2020.
French Watch Works
I also understand the attraction of the craftsmanship of a well-made mechanical watch. They are truly beautiful things with their
exquisite engineering
. There is something very precious about such workmanship that satisfies the soul. There are also aesthetically beautiful watches, and the variety of styles is amazing. From pin watches to porcelain-backed pocket watches to leather-cuff wrist watches, the universe of small timepieces and their presentations is large and eclectic.
I am tempted to quit wearing my watch, but I know as soon as I do that I will find myself in a predicament where I really need it. It would take awhile to quit looking at my wrist to tell the time anyway. So I'll probably go ahead and replace the battery again this year. If the watch ever dies for good, I am not sure I would buy a replacement, though.
But watches will never completely vanish. Heck, there are still people who carry pocket watches. But I think in a generation or two the numbers will dwindle to a fairly limited group of nostalgic enthusiasts along with wealthy fashionistas. If people don't develop the habit at a young age, they'll never feel the need to wear a watch. Young folks are apparently inseparable from their cell phones and smartphones and such these days. Unless their phone dies, most people rarely need a watch anymore.
So, are you an old dinosaur like me, or have you left the carpal timepiece behind?
Did you ever wear a watch? Do you still?
Image Credits:
Tattoo courtesy tattooset.com
Acqua Indiglo courtesy pmwf.com
Rolex courtesy fashionandhappify.com
French watch works courtesy imgur.com
Pocket watch courtesy en.wikipedia.org

Latest Updates on Kossack Regional Meet-Up News Can Be Found Below the Orange Group Hug.
Let's Build Communities!

Our team is here to provide support and guidance to new and existing volunteer leaders of each regional and state group, helping them with recruiting, organizing and executing social and action events.
We invite you to join in this effort to build our community. There are many ways to pitch in.
If there isn't a group to join near you, please start one.

Instructions on HOW TO FORM A NEW DAILY KOS GROUP

List of All Existing Meatspace Groups




---


THINK GLOBALLY, ACT LOCALLY

by Dave in Northridge ♥ for Los Angeles Kossacks
About 20 Kossacks showed up by the time everyone arrived with two new Kossacks (since mid-November) and five people attending their first meet-up. L.A. is making progress!
Here's one photo:
L-R: gmats, Roman Smith, recoveringConservative, Brecht, Shockwave, Chiwere, Moody Loner, susans, Dave in Northridge, Floja Roja, joemarkowitz, 714Day & Gay CA Democrat
Next event will be the LAKossacks rolling out the red carpet for out-of-towner Shanikka on March 15th for lunch! Venue will be announced soon.
Please visit Dave in Northridge's diary for many MORE photos plus food pr0n! Enjoy! You can join Los Angeles Kossacks by sending a Kosmail to Dave in Northridge.


by roberb7 ♥ for Mexican Kossacks
roberb7, who is the organizer of the newly formed Daily Kos Group Mexican Kossacks, provides a well-written recap of the recent Democrats Abroad event in Puerto Vallarta. Tom Hayden, a member of the California State Assembly for 18 years, was the guest speaker.
Please visit roberb7's diary for his excellent photos and a nicely detailed summary of the event. Enjoy! You can join Mexican Kossacks by sending a Kosmail to roberb7.

by GreyHawk ♥ for BOSTON KOSSACKS
While GreyHawk had many Kossacks sign up to attend his lunch and museum event, some had to cancel at the last minute because of a large snow storm rolling in. Four intrepid souls managed to attend: GreyHawk, HawkWife, Knockbally and deltadoc. I've always said that even two Kossacks is a meet-up and a very worthwhile one.
GreyHawk and his attendees pulled together a terrific re-cap diary with each person's written perspective and all the photos each Kossacks took of the snow and food pr0n. It's a fun diary and a great example of one way to document these meatspace events.
There's only one photo of some of the Kossacks who attended. So I'm going to post one of mine I took of GreyHawk and HawkWife when I met them in Providence at NN12.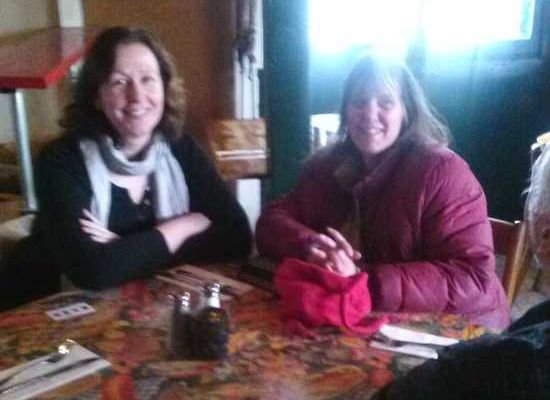 Left Photo: knockbally and HawkWife - Right Photo: GreyHawk, HawkWife & ember
Please visit GreyHawk's diary for many MORE photos plus food pr0n! Enjoy! You can join BOSTON KOSSACKS by sending a Kosmail to GreyHawk.

by EagleOfFreedom ♥ for Seattle and Puget Sound Kossacks
I'm so impressed with the Seattle Kossacks, right now. EagleOfFreedom offered to take up the reins of collecting local Kossacks for camaraderie and action. In a very short time he started the group, communicated with me, set the event and got almost a dozen folks to join the ranks in person. Kudos!
So, you Seattle Kossacks, you've got a group now and John Crapper has offered to be an admin of the group. How swell is that?
SEATTLE KOSSACKS! Look for each other in the comments and gather together, invite one another and let's see more folk show up at the next event. AND the next action event.
To quote one of the attendees:
Once again Kossacks prove they are for real.
L-R: N in Seattle, Regina in a Sears Kit House, bleeding blue, doingbusinessas
L-R: ?, John Crapper, EagleOfFreedom, mlharges
All photos courtesy of mlharges
Please visit EagleOfFreedom's diary for MORE photos! Enjoy! You can join Seattle and Puget Sound Kossacks by sending a Kosmail to EagleOfFreedom.

SFKossacks Welcome Matching Mole and bwren
with a Birding Event Plus Dinner
by navajo ♥ for SFKossacks
Last Sunday, matching mole, who flew in from the East Coast, and bwren, who flew in from Seattle, were picked up and chaffeured by the founder of Dawn Chorus, lineatus. She drove them to meet with other SFKossacks and Central Valley Kossacks to do some bird watching in the Grizzly Island Wildlife Area on San Francisco Bay. I'll leave the telling of that story up to lineatus in her Sunday morning series.
I'll be covering the dinner we had that evening to welcome our out-of-towners.
Please visit navajo's diary for descriptions of above photos and access to MORE photos! Enjoy! You can join SFKossacks by sending a Kosmail to navajo.

Event Organizers! Please contact wink from Netrootsradio.com by KosMail to schedule airtime with them to live broadcast your Event. Wink & Justice will then promote it on The After Show radio program!

Tuesday, February 25th

Kansas-Missouri Kossacks Attend State Rally at the Capital

Equality Kansas, the ACLU of Kansas, Americans United for Separation of Church and State, and MAINstream Coalition are hosting an Equality Rally

TIME: 1:00-4:30 PM Rally 5:00 PM Kossack Dinner
Kosmail: tmservo433
LOCATION: Kansas State Capitol
300 SW 10th Ave • Topeka

ORGANIZER: Send tmservo433 a kosmail to attend. He needs some fellow Kossacks to perform some easy tasks. Please see his diary link below to see if you can help.

RSVPs:
1. tmservo433
2. RazzBari3
3. Bluebarnstormer
4. Kangaroo

Maybees:

Latest diary: Kos-Meetup & Rally at the Kansas Capital, February 25


Saturday, March 15th

Sacramento/Central Valley Kossacks Demonstrate at "Don't Frack California"

TIME: 1:00 PM
LOCATION: California State Capitol
1315 10th St. • Sacramento

RSVPs:
1. Anthony Page aka SecondComing
2.
3.

Maybees:

Latest diary: The California Frack Wars: Episode 3 Revenge Of The Greed

Quick re-mention of March 15 statewide "Don't Frack California" demonstrations

Saturday, April 5th

Seattle & Puget Sound Kossacks Meet-up

TIME: Noon - 3:00 PM
LOCATION: Pyramid Alehouse, Brewery & Restaurant
1201 First Avenue South • Seattle

ORGANIZER: Send EagleOfFreedom a kosmail to attend.

RSVPs:
1. EagleOfFreedom
2. Reetz
3.
4.
5.

Maybees:

Latest diary: Seattle & Puget Sound Kossacks Arrive




Saturday, May 3rd

DKos Asheville Kossacks Meet-up

TIME: 1:00 PM
LOCATION: The Bywater
796 Riverside Dr. • Asheville

ORGANIZER: Send randallt a kosmail to attend.

RSVPs:
1. randallt
2. davehouck
3. Joieau
4. Gordon20024
5. SteelerGrrl
6. SteelerGuy
7. GulfGal 98
8. Otteray Scribe
9. flwrightman
10. people power granny

Maybees:
Audri
Mr Audri


Latest diary: [Waiting for linked diary]

navajo maintains the above event list. Kosmail her if you have any diaries
about your event or if you have changes or additions.

EVERYONE is welcome, tell us what you're working on,
share your show and tell, vent, whatever you want.
This is an open thread. Nothing is off topic.