In the nineteenth century married women had fewer legal rights than prisoners or inmates in insane asylums. In 1848, the First Women's Rights Convention was held in Seneca Falls, New York. One of the women at this convention as an observer was Amelia Jenks Bloomer who would later become one of the voices for women's rights.
Amelia Jenks was born in 1818 in Homer, New York. She attended a local public school and received a limited education. In her late teens she became a teacher for a short period of time and then became a live-in tutor. In 1840 she married Dextor Bloomer, the editor and owner of the Seneca Falls County Courier. With encouragement from her husband, she began to write about social issues for his newspaper.
Amelia Jenks Bloomer is shown above.
Newspaper:
In 1849, inspired by the First Women's Rights Conference, Amelia Jenks Bloomer launched a temperance newspaper, The Lily, to make women's voices more available to the public. Encouraged by Elizabeth Cady Stanton, the new publication also addressed the pressing women's issues of the day. Stanton contributed articles and editorials to the paper, writing under the pseudonym Sunflower. As one of the first women to own, operate, and edit a newspaper for women, Bloomer would later write:

It was a needed instrument to spread abroad the truth of a new gospel to woman, and I could not withhold my hand to stay the work I had begun. I saw not the end from the beginning and dreamed where to my propositions to society would lead me.
Since women lecturers were felt to be unseemly at this time, Bloomer felt that writing was the best way for women to work for reform.
The Lily
started as a newspaper for home distribution among members of the Seneca Falls Ladies Temperance Society. Originally, the title page indicated "Published by a committee of ladies." However, the Society's enthusiasm for the paper soon waned and by 1850 only Bloomer's name appeared on the masthead.
While the primary focus of The Lily was on temperance, under the influence of Stanton, Bloomer turned more and more to the cause of women's rights. In one instance, Bloomer had an elderly friend whose husband died without a will and was thus turned out of her home. Bloomer wrote:

Later, other similar cases coming to my knowledge made me familiar with cruelty of the laws towards women; and when the women rights convention put forth its Declaration of Sentiments, I was ready to join with that party in demanding for women such change in laws as would give her a right to her earnings, and her children a right to wider fields of employment and a better education, and also a right to protect her interest at the ballot box.
At the end of 1853, Dexter and Amelia Bloomer moved to Mount Vernon, Ohio. She continued to edit
The Lily
whose circulation had risen from an initial 500 per month to a national circulation of more than 6,000. When the Bloomers moved to Council Bluffs, Iowa in 1854, she sold the paper to Mary Birdsall as there were no facilities for publishing it in Council Bluffs. Bloomer continued writing on social and political topics.
Women's Clothing:
One of the issues facing American women in the mid-nineteenth century was dress: women were expected to wear confining corsets with several petticoats which hampered their freedom of movement. In the summer the heavy clothing was intolerably hot. The corsets caused health problems and could even lead to physical deformities. The clothing made women's household duties difficult to carry out. Yet men expected—some would say, required—respectable women to dress in this manner. Bloomer wrote:

The costume of women should be suited to her wants and necessities. It should conduce at once to her health, comfort, and usefulness; and, while it should not fail also to conduce to her personal adornment, it should make that end of secondary importance.
Bloomer advocated that women adopt a new style with looser tops and skirts that stopped at the knee. Turkish-style pants were to be worn underneath. Bloomer would later write:
"As soon as it became known that I was wearing the new dress, letters came pouring in upon me by the hundreds from women all over the country making inquiries about the dress and asking for patterns—showing how ready and anxious women were to throw off the burden of long, heavy skirts."
Bloomer, while she promoted this new form of dress, did not invent it: it had been originally advocated by Elizabeth Smith Miller (Libby Miller) in 1851 and had been worn by actress Fanny Kemble. Miller had displayed the new clothing style to her cousin, Elizabeth Cady Stanton who wore it when she visited Bloomer. Bloomer enthusiastically adopted this mode of dress and promoted it. It was soon dubbed the Bloomer Costume or Bloomers even though Bloomer always made it clear that she had not invented the pants-and-tunic outfit. Bloomers were often ridiculed in the male-dominated press. She once wrote:
"I stood amazed at the furor I had unwittingly caused."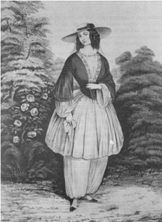 In 1859, Bloomer dropped this mode of dress feeling that the new invention of crinoline was a sufficient reform. She found the new style of women's clothing to be comfortable and reasonable to wear.
Suffrage:
Like many women in the early women's suffrage movement, Bloomer's initial interest was in temperance. Under the influence of Elizabeth Cady Stanton, however, she became more involved in the fight for women's suffrage. She led suffrage campaigns in Nebraska and Iowa. She is also credited with helping women get the right to vote in Ohio in 1873.
As an interesting side note, in 1850 Bloomer introduced Susan B. Anthony to Stanton which marked the beginning of their life-long partnership.
After moving to Iowa, Bloomer was president of the Iowa Woman Suffrage Society from 1871 until 1873.
Legacy:
While not as well known as Susan B. Antony and Elizabeth Cady Stanton, Amelia Bloomer was an important force in the nineteenth century women's suffrage movement. Today, the Episcopal Church commemorates her, along with Elizabeth Cady Stanton, Sojourner Truth, and Harriet Ross Tubman on July 20 in the calendar of saints. Bloomer's home at Seneca Falls, New York, was listed on the National Register of Historic Places in 1980 and is now known as the Amelia Bloomer House.
Bloomer is best known for her advocacy of practical and comfortable women's dress. Her philosophy and her legacy is best expressed in her own words:

"When you find a burden in belief or apparel, cast it off. "