A daily series, Connect! Unite! Act! seeks to create face-to-face networks in each congressional district. Groups regularly socialize but also get out the vote, support candidates and engage in other local political actions that help our progressive movement grow and exert influence on the powers-that-be. Visit us every morning at 7:30 A.M. Pacific Time to see how you can get involved. The comment thread is fun and light-hearted, but we're serious about moving the progressive political agenda forward.
How has the political climate changed where you live?
We all know that ultimately all politics is local. We also all know the creation of the Tea Party by Dick Armey, et.al., the Citizens United ruling by the Supreme Court and secret SuperPak dark money have totally changed the political climate in America.
I'm curious to know if things have changed locally, politically speaking, where you live. To me this is the most important thing of all in getting any real change to occur in any meaningful way. And if it has changed during the past six years, has it been in a way you like?
I've written plenty about my local neck of the woods in comments mostly over the years. I'm going to give a synopsis of the changes I've witnessed locally as a way to demonstrate what I'm talking about in today's Connect! Unite! Act!
I live in a small town of only 25,000 people. When we moved here 24 years ago it was a typical little town with a typical small town council which is supposed to be "non partisan," meaning we don't vote for Democrats or Republicans, we vote for individuals. The town council is supposed to act in a non partisan way by simply making decisions that keep the town going for all of its citizens and not for any political agenda.
Those on the town council 24 years ago were primarily owners of various small businesses. One guy owned an amazing book store that specialized in hard to find books. He was a man who leaned towards the liberal spectrum of things. Once upon a time there was a women on the town council...the only one elected to it since we've been here. She was a person dedicated to the environment and conserving the small businesses in town. Her main thing was blocking Walmart from building a Super Walmart right at the entrance to town. If built, it would be the only Super Walmart in the entire county and would surely wipe out all the little businesses in town.
But the winds of change really started blowing locally once Obama was elected. These two town council members would never be elected today. First the racists came out. Then the John Birch sorts came out. Then the Fundamentalists came out. The town council and, to a large extent, the School Board was taken over by these types. Instead of our little, rural town being pleasant in the political arena, it has been transformed into really outspoken Tea Party folks clamoring to make this little town reflect their beliefs while drowning out what they don't believe in.
They no longer calmly decide about the things all towns need to do in a gentle and respectful manner. They push their opinions out there forcefully. They've created an "us" vs. "them" mentality here which is completely unnecessary because there was nothing the least bit threatening to anyone here before. What made these folks so paranoid? Oh yeah a black man who is a Democrat is the President.
It has changed how it feels to live in this little town. People were really quite nice and congenial. Pleasant conversations would be had in shopping lines. No one was suspicious of anyone. The overall feeling was we all appreciated living in a place in the woods of the foothills of the Sierra Mountains away from urban sprawl, urban traffic jams and urban expense. It used to be really very pleasant.
Now, when standing in shopping lines, I hear these Tea Party types voicing their opinions about how the country is run by a socialist dictator from Kenya and other crap like that. I hear people going on about how this country needs to be run by Biblical law (I still don't know what that even means). These people have always been here I'm certain, but they weren't in-your-face about it. People didn't talk about politics and religion in shopping lines 20 years ago. They sure do now and obviously feel it's their obligation and duty to do so. Of course FOX NEWS and radio being taken over by hate talk shows has pumped these folks up and embolden them to be outspoken and aggressive. They've been given permission and encouraged to be like this in public now. We all see it on FaceBook and in these idiotic chain emails we all receive.
We've had an entire town council meeting dedicated to upholding the second amendment. Why? It's the law. What a waste of time. They've passed a "stand your ground" law, which is ineffective since the state of California has no such law. They got the District Attorney up here to clarify who they can shoot and why? Thank God he set them straight by telling them you can't just shoot someone on the street and you can't just shoot someone on your front lawn. This isn't Florida...yet.
Civility and ease has been replaced by division, anger and scorn. People used to look you in the face and smile most all the time a couple decades ago. Now it's about 50-50. Some look at you and smile while others look at you as though you're a potential enemy. Why? The mix in the population hasn't really changed here in 24 years. Crime rates haven't changed.
Our School Board has declared they will not comply by the new law that allows for transgender kids to use the bathrooms. They say "we reflect the values of our community." But what community is that? Have they done market research to find out what people think? No. The School Board has been taken over by fundamental Christians and Mormons who simply assume their religious views speak for the entire community.
Now, I don't worry one bit about all this stuff going on locally because what real power do they have? The town council can't do much except decide what the speed limits will be on certain streets around town. Oh, and they just changed a bunch of those BTW (man, that's some power they have here). They barely have enough money to work with to do the most basic stuff needed. But the vibe here is demonstratively different than when we moved here.
On a bit bigger scale our County Sheriff has stated he will not comply by Federal Law regarding any gun control or background checks. Butte county used to be a very tough place to get a concealed gun permit. Now it's extremely easy to get one. No Sheriff previously acted defiantly like that before. They never talked about not upholding the laws of the land. But things have changed big time.
What I truly wonder is if this is just a trend that will eventually dwindle or is it a semi-permanent new normal? The collapse of the economy in 2008, gerrymandering so severe that candidates now choose constituents rather than the other way around, Citizens United, FOX NEWS, hate radio and the NRA have definitely dumped the apple cart (I'm using that expression because Paradise, CA used to be full of apple orchards).
Will the political climate change back again? We all hear about the pendulum of politics swinging back and forth, but I have to wonder if that's really true any longer. It seems to swing to the right and then someone like George W. Bush pisses everyone off so much it swings to the center, but does it really swing back to the left anymore? It can only if local politics changes wherever we live.
Even with all the change during the past 6 years in candor and declarations of our local elected officials, Paradise is still a wonderful town. I know most all people by first names in the stores where I shop. It is still very easy to get around. It's still located in the forest with access to rivers and mountains all around. Our home is still on a very quiet road with a year-round creek running next to it. And there is definitely a growing underground of liberal people moving here from the Bay Area and Santa Cruz. That's where I hang my hook.
So what's it feel like now where you live compared to about 6 years ago?

Latest Updates on Kossack Regional Meet-Up News Can Be Found Below the Orange Group Hug.
Let's Build Communities!

Our team is here to provide support and guidance to new and existing volunteer leaders of each regional and state group, helping them with recruiting, organizing and executing social and action events.
We invite you to join in this effort to build our community. There are many ways to pitch in.
If there isn't a group to join near you, please start one.

Instructions on HOW TO FORM A NEW DAILY KOS GROUP

List of All Existing Meatspace Groups




---


THINK GLOBALLY, ACT LOCALLY

by Dave in Northridge ♥ for Los Angeles Kossacks
About 20 Kossacks showed up by the time everyone arrived with two new Kossacks (since mid-November) and five people attending their first meet-up. L.A. is making progress!
Here's one photo:
L-R: gmats, Roman Smith, recoveringConservative, Brecht, Shockwave, Chiwere, Moody Loner, susans, Dave in Northridge, Floja Roja, joemarkowitz, 714Day & Gay CA Democrat
Next event will be the LAKossacks rolling out the red carpet for out-of-towner Shanikka on March 15th for lunch! Venue will be announced soon.
Please visit Dave in Northridge's diary for many MORE photos plus food pr0n! Enjoy! You can join Los Angeles Kossacks by sending a Kosmail to Dave in Northridge.


by roberb7 ♥ for Mexican Kossacks
roberb7, who is the organizer of the newly formed Daily Kos Group Mexican Kossacks, provides a well-written recap of the recent Democrats Abroad event in Puerto Vallarta. Tom Hayden, a member of the California State Assembly for 18 years, was the guest speaker.
Please visit roberb7's diary for his excellent photos and a nicely detailed summary of the event. Enjoy! You can join Mexican Kossacks by sending a Kosmail to roberb7.

by GreyHawk ♥ for BOSTON KOSSACKS
While GreyHawk had many Kossacks sign up to attend his lunch and museum event, some had to cancel at the last minute because of a large snow storm rolling in. Four intrepid souls managed to attend: GreyHawk, HawkWife, Knockbally and deltadoc. I've always said that even two Kossacks is a meet-up and a very worthwhile one.
GreyHawk and his attendees pulled together a terrific re-cap diary with each person's written perspective and all the photos each Kossacks took of the snow and food pr0n. It's a fun diary and a great example of one way to document these meatspace events.
There's only one photo of some of the Kossacks who attended. So I'm going to post one of mine I took of GreyHawk and HawkWife when I met them in Providence at NN12.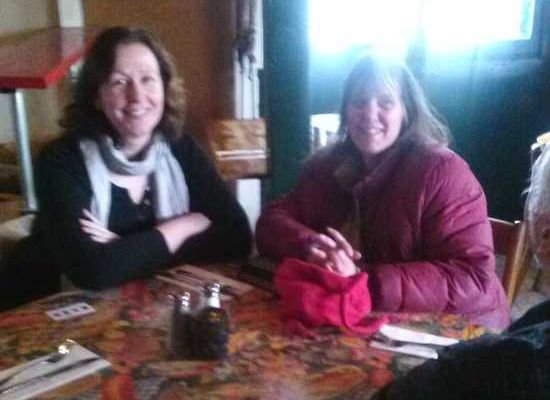 Left Photo: knockbally and HawkWife - Right Photo: GreyHawk, HawkWife & ember
Please visit GreyHawk's diary for many MORE photos plus food pr0n! Enjoy! You can join BOSTON KOSSACKS by sending a Kosmail to GreyHawk.

by EagleOfFreedom ♥ for Seattle and Puget Sound Kossacks
I'm so impressed with the Seattle Kossacks, right now. EagleOfFreedom offered to take up the reins of collecting local Kossacks for camaraderie and action. In a very short time he started the group, communicated with me, set the event and got almost a dozen folks to join the ranks in person. Kudos!
So, you Seattle Kossacks, you've got a group now and John Crapper has offered to be an admin of the group. How swell is that?
SEATTLE KOSSACKS! Look for each other in the comments and gather together, invite one another and let's see more folk show up at the next event. AND the next action event.
To quote one of the attendees:
Once again Kossacks prove they are for real.
L-R: N in Seattle, Regina in a Sears Kit House, bleeding blue, doingbusinessas
L-R: ?, John Crapper, EagleOfFreedom, mlharges
All photos courtesy of mlharges
Please visit EagleOfFreedom's diary for MORE photos! Enjoy! You can join Seattle and Puget Sound Kossacks by sending a Kosmail to EagleOfFreedom.

Event Organizers! Please contact wink from Netrootsradio.com by KosMail to schedule airtime with them to live broadcast your Event. Wink & Justice will then promote it on The After Show radio program!

Saturday, March 15th

LAKossacks Roll Out the Red Carpet for shanikka!

TIME: TBD
LOCATION: TBD
[Address] • [City]

ORGANIZER: Send Dave in Northridge a kosmail to attend.

RSVPs:
1. Dave in Northridge
2. shanikka (Guest of Honor)
3.

Maybees:

Latest diary: [Waiting for linked diary]




Saturday, March 15th

Sacramento/Central Valley Kossacks, Silicon Valley Kossacks and the SFKossacks Demonstrate at "Don't Frack California"

TIME: 1:00 PM
LOCATION: California State Capitol lawn
1315 10th St. • Sacramento
We'll be gathering near the Idle No More banners. See this diary for photos of banner. There will be a Daily Kos 7 ft. banner also.

We'll also be heading over to a local watering hole after the protest ends. Meet us at KBar at 1000 K Street, a couple of short blocks north of the Capitol building.

The Don't Frack California website has also arranged for buses from all over California. Places as far away as San Diego and Los Angeles. Check out their ride board and buy a ticket STAT.

RSVPs:
1. Anthony Page aka SecondComing
2. mrsgoo
3. Dan Bacher
4. smileycreek
5. paradise50
6. navajo
7. Meteor Blades
8. dsb
9. Where4Art
10. remembrance
11. Glen the Plumber
12. TLO™
13. Glescagal
14. kimoconnor
15. stagemom
16. cooper888
17. gotmooned
18. aitchdee
19. ybruti

Maybees:
jpmassar
dharmasyd


Latest diary: The California Frack Wars: Episode 3 Revenge Of The Greed

Quick re-mention of March 15 statewide "Don't Frack California" demonstrations


Saturday, March 29th

Houston Kossacks Meet-up

TIME: 1:00 PM
LOCATION: Fadi's Mediterranean Grill
4738 Beechnut Street • Houston

ORGANIZER: Send Chrislove a kosmail to attend.

RSVPs:
1. Chrislove
2. htowngenie
3. Libby Shaw
4. MarciaJ720
5. Bree Davis
6. krwheaton
7. Mary (Honorary Kossack)
8. Alan (Honorary Kossack)
Maybees:
Mr. Libby Shaw


Latest diary: Houston Area Kossacks: Meet-Up Scheduled for Saturday, March 29 (plus a note on future meet-ups)

Saturday, April 5th

Seattle & Puget Sound Kossacks Meet-up

TIME: Noon - 3:00 PM
LOCATION: Pyramid Alehouse, Brewery & Restaurant
1201 First Avenue South • Seattle

ORGANIZER: Send EagleOfFreedom a kosmail to attend.

RSVPs:
1. EagleOfFreedom
2. Reetz
3.
4.
5.

Maybees:
Ojibwa


Latest diary: Seattle & Puget Sound Kossacks Arrive




Saturday, May 3rd

DKos Asheville Kossacks Meet-up

TIME: 1:00 PM
LOCATION: The Bywater
796 Riverside Dr. • Asheville

ORGANIZER: Send randallt a kosmail to attend.

RSVPs:
1. randallt
2. davehouck
3. Joieau
4. Gordon20024
5. SteelerGrrl
6. SteelerGuy
7. GulfGal 98
8. Otteray Scribe
9. flwrightman
10. people power granny

Maybees:
Audri
Mr Audri


Latest diary: [Waiting for linked diary]

navajo maintains the above event list. Kosmail her if you have any diaries
about your event or if you have changes or additions.

EVERYONE is welcome, tell us what you're working on,
share your show and tell, vent, whatever you want.
This is an open thread. Nothing is off topic.