A daily series, Connect! Unite! Act! seeks to create face-to-face networks in each congressional district. Groups regularly socialize but also get out the vote, support candidates and engage in other local political actions that help our progressive movement grow and exert influence on the powers-that-be. Visit us every morning at 7:30 A.M. Pacific Time to see how you can get involved. The comment thread is fun and light-hearted, but we're serious about moving the progressive political agenda forward.
Good morning kogs and kossacks in Dailykosland!

Merry Monday and welcome to the working week...
I used to go to the movies a lot more frequently than I do now. I had no idea there was supposed to be a stigma about going to the movies alone, since I was an only child and used to doing everything by myself. So if I had nothing else to do on a weekend, I'd look and see what was playing nearby. When I was in college there were three theaters within walking distance of my dorm. As a young adult I always had a variety of movie choices a short bus or subway ride away from home or work. Many times I would see more than one movie in a weekend. Sometimes I saw more than one movie in a day. At different theatres! But that's a story for another time...
I also used to care a lot more about the Academy Awards than I do now. Back in the day I would make an effort to see all the Best Picture nominees before Oscar night. Of course, that was easier when there were only five pictures in the running—when in the world did they switch to nine? That shows you how little attention I've been paying in recent years. I used to be in Oscar pools and go to the occasional Oscar night party, and even had opinions on weird categories no one else cared about. Cast Away had incredible sound editing! That picture was so robbed!
But in 2013 I hardly went to the movies at all. And it's not because of preferring to nest at home with Netflix or Streampix or other On Demand streaming options. I still enjoy the moviegoing experience, a lot. I like the buzz in the admission line on the opening weekend of a highly anticipated film. I like sitting in the dark, three or five rows back from a big big screen. I like being part of a packed house all reacting as one with gasps or with laughter. I like feeling the suspense in the whole room when the tension builds, and hearing sniffles all around me when the sad ending comes.
I had seen two of the nominated pictures before the nominations were released: Captain Phillips, and Twenty Feet from Stardom. Captain Phillips has no chance to win, but I'm really rooting for Stardom. I saw Star Trek Into Darkness too, but it's only nominated for a minor award in one of many categories where Gravity is the favorite.
There were a lot more movies I wanted to see, movies that interested me, movies people were talking about. I saw previews and thought "I'd like to see that" and then just didn't make time to go. After the nominations came out I made my little list like always: Movies to see before the Oscars. I didn't see any of them! The unrelenting snow and cold kept me from running out to see the nominees at the last minute. Some are are already available On Demand, but seeing them on TV is not the same. Maybe some of the big winners will get a second theatrical release as a result, and then I'll get out to see them.
Were you into the Oscars this year? Were you in an Oscar pool? Did you go to/host an Oscar party last night? Did you see a lot of the nominated movies? Do you care about the Oscars at all? Did you ever?
I wrote this before noticing that Dragon5616 covered some of the same ground, but I'm sticking with my question anyway:
How many of the 2014 Oscar winners have you seen?
start up soundtrack:





Latest Updates on Kossack Regional Meet-Up News Can Be Found Below the Orange Group Hug.
Let's Build Communities!

Our team is here to provide support and guidance to new and existing volunteer leaders of each regional and state group, helping them with recruiting, organizing and executing social and action events.
We invite you to join in this effort to build our community. There are many ways to pitch in.
If there isn't a group to join near you, please start one.

Instructions on HOW TO FORM A NEW DAILY KOS GROUP

List of All Existing Meatspace Groups




---


THINK GLOBALLY, ACT LOCALLY

by Dave in Northridge ♥ for Los Angeles Kossacks
About 20 Kossacks showed up by the time everyone arrived with two new Kossacks (since mid-November) and five people attending their first meet-up. L.A. is making progress!
Here's one photo:
L-R: gmats, Roman Smith, recoveringConservative, Brecht, Shockwave, Chiwere, Moody Loner, susans, Dave in Northridge, Floja Roja, joemarkowitz, 714Day & Gay CA Democrat
Next event will be the LAKossacks rolling out the red carpet for out-of-towner Shanikka on March 15th for lunch! Venue will be announced soon.
Please visit Dave in Northridge's diary for many MORE photos plus food pr0n! Enjoy! You can join Los Angeles Kossacks by sending a Kosmail to Dave in Northridge.


by roberb7 ♥ for Mexican Kossacks
roberb7, who is the organizer of the newly formed Daily Kos Group Mexican Kossacks, provides a well-written recap of the recent Democrats Abroad event in Puerto Vallarta. Tom Hayden, a member of the California State Assembly for 18 years, was the guest speaker.
Please visit roberb7's diary for his excellent photos and a nicely detailed summary of the event. Enjoy! You can join Mexican Kossacks by sending a Kosmail to roberb7.

by GreyHawk ♥ for BOSTON KOSSACKS
While GreyHawk had many Kossacks sign up to attend his lunch and museum event, some had to cancel at the last minute because of a large snow storm rolling in. Four intrepid souls managed to attend: GreyHawk, HawkWife, Knockbally and deltadoc. I've always said that even two Kossacks is a meet-up and a very worthwhile one.
GreyHawk and his attendees pulled together a terrific re-cap diary with each person's written perspective and all the photos each Kossacks took of the snow and food pr0n. It's a fun diary and a great example of one way to document these meatspace events.
There's only one photo of some of the Kossacks who attended. So I'm going to post one of mine I took of GreyHawk and HawkWife when I met them in Providence at NN12.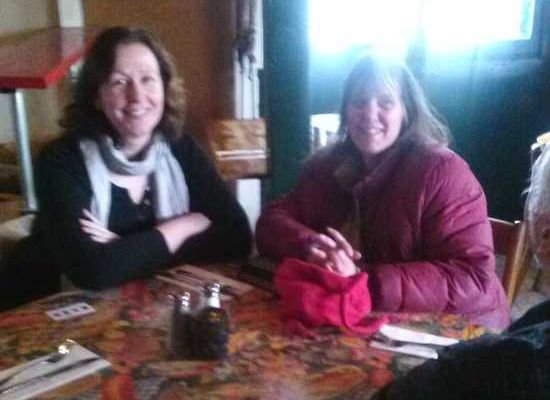 Left Photo: knockbally and HawkWife - Right Photo: GreyHawk, HawkWife & ember
Please visit GreyHawk's diary for many MORE photos plus food pr0n! Enjoy! You can join BOSTON KOSSACKS by sending a Kosmail to GreyHawk.

by EagleOfFreedom ♥ for Seattle and Puget Sound Kossacks
I'm so impressed with the Seattle Kossacks, right now. EagleOfFreedom offered to take up the reins of collecting local Kossacks for camaraderie and action. In a very short time he started the group, communicated with me, set the event and got almost a dozen folks to join the ranks in person. Kudos!
So, you Seattle Kossacks, you've got a group now and John Crapper has offered to be an admin of the group. How swell is that?
SEATTLE KOSSACKS! Look for each other in the comments and gather together, invite one another and let's see more folk show up at the next event. AND the next action event.
To quote one of the attendees:
Once again Kossacks prove they are for real.
L-R: N in Seattle, Regina in a Sears Kit House, bleeding blue, doingbusinessas
L-R: ?, John Crapper, EagleOfFreedom, mlharges
All photos courtesy of mlharges
Please visit EagleOfFreedom's diary for MORE photos! Enjoy! You can join Seattle and Puget Sound Kossacks by sending a Kosmail to EagleOfFreedom.

Event Organizers! Please contact wink from Netrootsradio.com by KosMail to schedule airtime with them to live broadcast your Event. Wink & Justice will then promote it on The After Show radio program!

Saturday, March 8th

Three Star Kossacks and Nashville KosKats Meet-up With State Senate Candidate Mary Mancini

TIME: 5:00 PM
LOCATION: The Pour House
730 8th Ave S • Nashville

ORGANIZER: Send marykk a kosmail to attend.

RSVPs:
1. marykk
2. Land of Enchantment
3. jnhobbs
4. Sandy on Signal
5. Mr. Sandy on Signal
6. Mr. marykk

Maybees:

Latest diary: [Waiting for linked diary]


Saturday, March 15th

LAKossacks Roll Out the Red Carpet for shanikka!

TIME: TBD
LOCATION: TBD
[Address] • [City]

ORGANIZER: Send Dave in Northridge a kosmail to attend.

RSVPs:
1. Dave in Northridge
2. shanikka (Guest of Honor)
3.

Maybees:

Latest diary: [Waiting for linked diary]




Saturday, March 15th

Sacramento/Central Valley Kossacks, Silicon Valley Kossacks and the SFKossacks Demonstrate at "Don't Frack California"

TIME: 1:00 PM
LOCATION: California State Capitol lawn
1315 10th St. • Sacramento
We'll be gathering near the Idle No More banners. See this diary for photos of banner. There will be a Daily Kos 7 ft. banner also.

We'll also be heading over to a local watering hole after the protest ends. Meet us at KBar at 1000 K Street, a couple of short blocks north of the Capitol building.

The Don't Frack California website has also arranged for buses from all over California. Places as far away as San Diego and Los Angeles. Check out their ride board and buy a ticket STAT.

RSVPs:
1. Anthony Page aka SecondComing
2. mrsgoo
3. Dan Bacher
4. smileycreek
5. paradise50
6. navajo
7. Meteor Blades
8. dsb
9. Where4Art
10. remembrance
11. Glen the Plumber
12. TLO™
13. Glescagal
14. kimoconnor
15. stagemom
16. cooper888
17. gotmooned
18. aitchdee
19. ybruti

Maybees:
jpmassar
dharmasyd


Latest diary: The California Frack Wars: Episode 3 Revenge Of The Greed

Quick re-mention of March 15 statewide "Don't Frack California" demonstrations


Sunday, March 16th

NYC Kossacks Meet-up

TIME: Noon
LOCATION: Spitzer's Corner
101 Rivington Street (Ludlow) • NYC

ORGANIZER: Send sidnora a kosmail to RSVP

RSVPs:
1. sidnora
2.
3.

Maybees:

Latest diary: NYC Meetup, Sunday, March 16: Good times ahead!


Saturday, March 29th

Houston Kossacks Meet-up

TIME: 1:00 PM
LOCATION: Fadi's Mediterranean Grill
4738 Beechnut Street • Houston

ORGANIZER: Send Chrislove a kosmail to attend.

RSVPs:
1. Chrislove
2. htowngenie
3. Libby Shaw
4. MarciaJ720
5. Bree Davis
6. krwheaton
7. Mary (Honorary Kossack)
8. Alan (Honorary Kossack)
Maybees:
Mr. Libby Shaw


Latest diary: Houston Area Kossacks: Meet-Up Scheduled for Saturday, March 29 (plus a note on future meet-ups)

Saturday, April 5th

Seattle & Puget Sound Kossacks Meet-up

TIME: Noon - 3:00 PM
LOCATION: Pyramid Alehouse, Brewery & Restaurant
1201 First Avenue South • Seattle

ORGANIZER: Send EagleOfFreedom a kosmail to attend.

RSVPs:
1. EagleOfFreedom
2. Reetz
3.
4.
5.

Maybees:
Ojibwa


Latest diary: Seattle & Puget Sound Kossacks Arrive




Saturday, May 3rd

DKos Asheville Kossacks Meet-up

TIME: 1:00 PM
LOCATION: The Bywater
796 Riverside Dr. • Asheville

ORGANIZER: Send randallt a kosmail to attend.

RSVPs:
1. randallt
2. davehouck
3. Joieau
4. Gordon20024
5. SteelerGrrl
6. SteelerGuy
7. GulfGal 98
8. Otteray Scribe
9. flwrightman
10. people power granny

Maybees:
Audri
Mr Audri


Latest diary: [Waiting for linked diary]

navajo maintains the above event list. Kosmail her if you have any diaries
about your event or if you have changes or additions.

EVERYONE is welcome, tell us what you're working on,
share your show and tell, vent, whatever you want.
This is an open thread. Nothing is off topic.