Science News

A Cheap, Promising Way to Filter Water: Through A Twig

Plant's xylem tissue could be an efficient, low-cost way to filter water.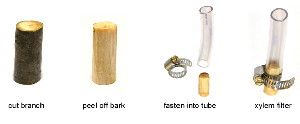 By Douglas Main

One way to avoid getting sick while traveling is to only eat fruit that you peel yourself, since plants can filter out bacteria and prevent it from traveling throughout their tissues. Well, why not apply this principle to filtering water directly?

A team of scientists have done just that, testing how well pine wood filtered water with its xylem, the tube-like tissue that transports water from plant roots to leaves. The results, published last week in the journal PLOS ONE, were very promising. "Filtration using three different xylem filters showed nearly complete rejection of the bacteria," catching at least 99.9% of them, the authors wrote.

The xylem filters used in the study appeared to catch nearly all particles larger than 100 nanometers in diameter, meaning they would exclude protozoa (like Giardia) as well. Smaller viruses would be expected to pass through, but research suggests that other types of wood with smaller pores could possibly be used to filter out these pathogens as well; pine was used in this experiment since a larger percentage of its cross-section is made up of xylem, making it a more feasible choice for a prototype.


Preschoolers can outsmart college students at figuring out gizmos
University of California - Berkeley

Preschoolers can be smarter than college students at figuring out how unusual toys and gadgets work because they're more flexible and less biased than adults in their ideas about cause and effect, according to new research from the University of California, Berkeley, and the University of Edinburgh.

The findings suggest that technology and innovation can benefit from the exploratory learning and probabilistic reasoning skills that come naturally to young children, many of whom are learning to use smartphones even before they can tie their shoelaces. The findings also build upon the researchers' efforts to use children's cognitive smarts to teach machines to learn in more human ways.

"As far as we know, this is the first study examining whether children can learn abstract cause and effect relationships, and comparing them to adults," said UC Berkeley developmental psychologist Alison Gopnik, senior author of the paper published online in the journal, Cognition.

Technology News

Getty Images Confronts Online Copyright Infringement With A Carrot – And A Stick
By Alex Wild

Stock photography giant Getty Images took a gamble yesterday, releasing 35 million files for free non-commercial and editorial uses. Images are served in a YouTube-style embedder that displays a credit and links back to the licensing page at Getty. How does it work? Look around. I have used the embedder to display a few of Getty's wares in this very post.

The genius of free embeds is to convert the masses of small-fry bloggers that illegally swipe Getty's photos into Getty's own advertising army. If the strategy works, embeds will be more than making lemonade from infringement lemons. It will be a coup of organic ad placement. Millions of domains running Getty ads without Getty having to drop a dime.

The embed code also feeds Getty piles of potentially lucrative user data. As such, the move is symptomatic of the broad shift in online business models towards monetizing data while cheapening content.


A Solar-Powered Drone Designed To Fly For Five Years Nonstop
Titan Aerospace will test a drone that could track hurricanes, spot pirates, and more.
By Jeremy Hsu

If a drone never had to land, it could track hurricanes, spot pirates and smugglers, follow animal migrations, and even act as an auxiliary GPS. In essence, it would be a geostationary satellite without the expense of going to space. Later this year, the company Titan Aerospace will test a drone that could do just that. The Solara 50, named for its 50-meter wingspan, will fly at 65,000 feet—above most other aircraft and above weather that could disturb its flight and block the sun, its source of power. Titan will market it as an "atmospheric satellite."

Environmental News

Sea Turtles' "Lost Years" Transatlantic Journey Mapped for First Time
Researchers' stick-to-it-iveness, along with advice from a manicurist lead to radio tags that tracked baby loggerheads across the Atlantic without hindering them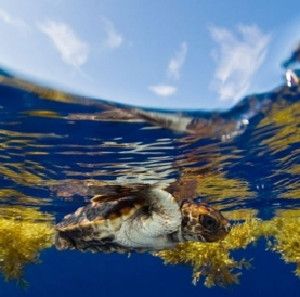 By Beth Skwarecki

On hatching, loggerhead turtles make a beeline under cover of darkness from nests in the sand to the open ocean. The turtles will return to the same beaches perhaps a decade later, when they have grown 10-fold: born barely bigger than a slice of pepperoni, they arrive the size of a large pizza. The time in between is known to marine biologists as the turtles' "lost years." Exactly how the juveniles spend their time during those years and how they survive has remained a mystery for decades. Now, borrowing a tip from a manicurist, researchers have determined that the turtles do not quite go where they thought and have new clues on how they grow.

This new window into sea turtle behavior comes as a result of scientists conquering a technological question: how to attach satellite tracking tags to very young, fast-growing turtles. A research team based in Florida now has maps of the reptiles' travel on the first long leg of their journey, they reported on March 5 in Proceedings of the Royal Society B.


Infrastructure Threatened by Climate Change Poses a National Crisis
Whether it's water or communication systems, infrastructure is ill prepared to keep functioning under changing climate conditions
By Evan Lehmann and ClimateWire

The nation's aging infrastructure makes up an interconnected web of systems that are alarmingly vulnerable to the shocks of climate change, according to a report released today that will inform the National Climate Assessment, to be made public next month.

The difficulty of strengthening the systems that support the American economy -- from electricity to drinking water -- poses significant problems requiring large investments at a time of rising risk and receding political appetite for big spending initiatives.

"It's kind of a national crisis," said Tom Wilbanks, a senior scientist at the Department of Energy's Oak Ridge National Laboratory and a co-author of the 109-page report.

Medical News

The Warning Signs That Depression Is Affecting Your Relationship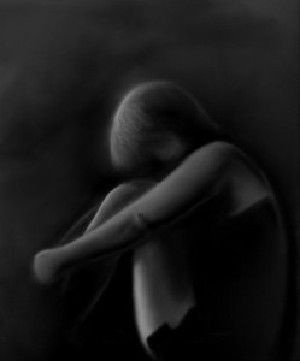 By Shannon Kolakowski

If your relationship is struggling, depression may be the culprit. A resounding body of research has shown how closely depression is related to relationships in a cyclical fashion: depression affects the quality of your relationships, and the features of your relationship can affect your level of depression(1, 2, 3). In other words, being depressed can cause you to pay less attention to your partner, be less involved, be more irritable or have trouble enjoying time together—all of which can cause your relationship to falter. On the other hand, relationship problems such as high conflict, lack of communication, withdrawal, and difficulty resolving problems, can all lead to depression.

Psychologist and researchers also point to the key fact that building a strong and loving relationship can fortify you and your partner against the withering affects of depression(4). But in order to know what you're fighting against, you must be able to identify when and how depression is interfering. And the warning signs of depression in a relationship aren't always clear cut and obvious. Here's a list of what to look for:


New Wearable Device Could Protect Against HIV and Pregnancy
This intravaginal ring will be the first of its kind to begin clinical trials.
By Lindsey Kratochwill

If a sexually active woman wants to protect herself from unwanted pregnancy and HIV using a single method, she has always been limited to condoms. A new paper, released today in PLOS ONE details a first-of-its-kind device that provides an alternative.

Northwestern University biomedical engineer and professor Patrick Kiser, with lead author Justin Clark, has made a 5.5-cm intravaginal ring (IVR) that contains levonorgestrel, a synthetic progestin hormone, and tenofovir, an anti-retroviral drug.

The two drugs are vastly different, not just in their purposes, but also in their properties: tenofovir is water-soluble, but levonorgestrel is water-insoluble.

Space News

Plasma plumes help shield Earth from damaging solar storms
Massachusetts Institute of Technology

Earth's magnetic field, or magnetosphere, stretches from the planet's core out into space, where it meets the solar wind, a stream of charged particles emitted by the sun. For the most part, the magnetosphere acts as a shield to protect Earth from this high-energy solar activity.

But when this field comes into contact with the sun's magnetic field -- a process called "magnetic reconnection" -- powerful electrical currents from the sun can stream into Earth's atmosphere, whipping up geomagnetic storms and space weather phenomena that can affect high-altitude aircraft, as well as astronauts on the International Space Station.

Now scientists at MIT and NASA have identified a process in Earth's magnetosphere that reinforces its shielding effect, keeping incoming solar energy at bay.


Chandra and XMM-Newton provide direct measurement of distant black hole's spin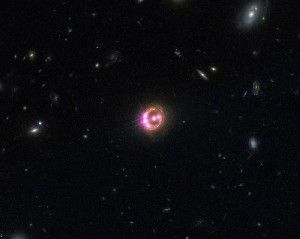 NASA

Astronomers have used NASA's Chandra X-ray Observatory and the European Space Agency's (ESA's) XMM-Newton to show a supermassive black hole six billion light years from Earth is spinning extremely rapidly. This first direct measurement of the spin of such a distant black hole is an important advance for understanding how black holes grow over time.

Black holes are defined by just two simple characteristics: mass and spin. While astronomers have long been able to measure black hole masses very effectively, determining their spins has been much more difficult.

In the past decade, astronomers have devised ways of estimating spins for black holes at distances greater than several billion light-years away, meaning we see the region around black holes as they were billions of years ago. However, determining the spins of these remote black holes involves several steps that rely on one another.

Odd News

High-Tech Toilet Seats Don't Require Hands Or Paper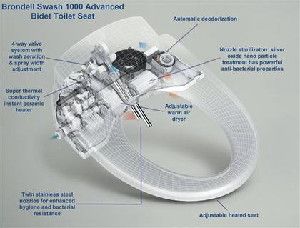 by Katherine Roth, Associated Press

NEW YORK (AP) -- Every so often a revolution transforms something truly basic, rendering the status quo somewhat, well, primitive.

First came covered sewers, then indoor plumbing and flush toilets. Now, one bathroom at a time, another major shift in toilet hygiene is quietly underway. A new generation of toilets may one day make toilet paper — and the need to put one's hands anywhere near the unspeakable — seem like chamber pots and outhouses: outdated and somewhat messy throwbacks reserved for camping trips.

Unlike traditional toilets, the high-tech version washes from behind and — if desired — in front with water. Better models allow for temperature, direction and pressure control, and have retractable spritzing wands and automatic driers as well. The best feature warm seats, automatic motion sensors to raise the lid, buttons to raise the seat, nightlights, self-cleaning mechanisms, music to mask unpleasant sounds, deodorizer spritzers and other conveniences.