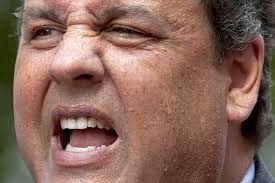 Governor Chris Christie has found yet a new way to aggravate the heck out of me, and reminds us what a terrible leader he would be even if he weren't the alleged perpetrator of half of a dozen scandals, many of which may be criminal, if proven. Now, Brian Donohue brings us an under-reported story of Christie riling up supporters by campaigning against the National Flood Insurance Program when no alternatives exists for his constituents. New Jersey is a highly developed coastal state that Donohue reports is one of the most storm-battered in the nation, in Chris Christie: 'FEMA is the new F-word.' So what's plan B?

Amid widespread complaints by Hurricane Sandy victims over low flood insurance settlements, Christie has repeatedly - and in classic Christie fashion - called for the federal government to get out of the business of flood insurance. ... "FEMA is the new F-word,'' he told a crowd at a Port Monmouth town hall meeting last month. ... "The federal government has to get out of the flood insurance business,'' he told a crowd in Berkeley Township two weeks later. "It's no good at it."

Sounds great as a way of riling up the crowd, who for reasons, beyond reason, cheer him on. But the big problem is no alternative form of flood insurance exists because private companies realize that insuring properties in high risk flood zones makes no economic sense. Banks will not issue mortgages on properties in these zones without flood insurance. So Governor Christie is leading his own supporters off of a cliff for nothing but political applause, and apparently to look good to free market Tea Party extremists in other states.

It wouldn't be easy to lure private insurers back into the market. And it's even harder to imagine companies not charging even higher rates - and requiring higher home elevations - than the federal taxpayer subsidized program that property owners are already complaining about.

So why are residents of Monmouth and Ocean counties going nuts and cheering every time Christie proposes this? And what other options is Christie proposing for a program that is so crucial to the very existence of large swaths of New Jersey communities?

Why are journalists not highlighting and challenging Governor Christie for advocating policies that would devastate his constituents and his state? And why are business experts not pointing out the economic impact the loss of the National Flood Insurance Program would have on the state of New Jersey?