Figure 4: Breakdown of Potential Political Cases by Organization Name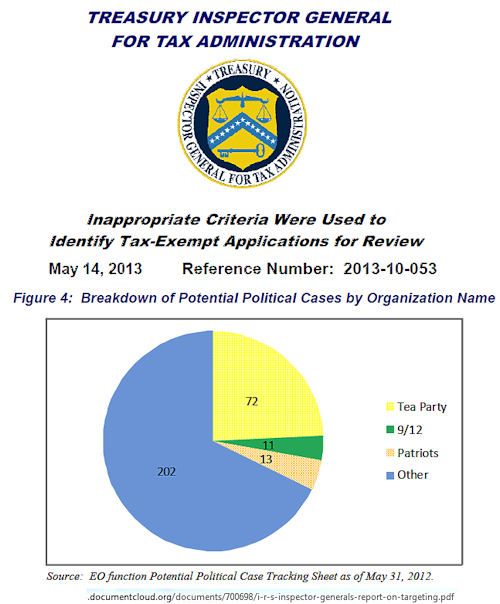 larger image
Source: Inspector General's report -- [pg 14]

Hmmm, just who else was in that IRS Audit-target-list blue section of the pie, the one simply labeled "Other"?
That majority section of the IRS List, that the Inspector General simply framed as "inappropriate criteria were used ..."




When it comes to identifying Tax Cheats and non-qualified political Front Groups -- the IRS is an equal-opportunity Auditor!
It is what is in that 70% slice of the IRS Audit pie (the blue section) -- that's the GOP, and especially spokesman Issa, NEVER want us to find out about ...

Danny Werfel, IRS Chief, Says Inappropriate Screening Was Used More Broadly Than Disclosed
by Sam Stein, huffingtonpost.com -- 06/24/2013
[...]
The Associated Press has obtained an internal IRS document that reveals the other terms the agency screened for when deciding which groups should be granted tax exempt status. The news cuts against the original storyline that the tactic was used to target conservatives.


An internal IRS document obtained by The Associated Press said that besides ''tea party,'' lists used by screeners to pick groups for close examination also included the terms ''Israel,'' ''Progressive'' and ''Occupy.'' The document said an investigation into why specific terms were included was still underway.

[...]

The revelation complicates accusations that IRS officials screened groups in a concerted effort to sideline tea party organizations during the 2012 election. Instead, it would suggest that the filters were applied to ensure that applications for similar groups were reviewed in a consistent manner.
The GOP wants us to think that these IRS Audits were
a one-sided effort
--
only focused on 'non-profit' groups with "Tea Party" or "Patriots" in their names.
When the Inspector General's report on this issue gives us the facts -- that show far more progressive groups were audited by the IRS (over 200), than were the roughly 100 Conservative groups.

It wasn't a Fishing Expedition. It was a wide-ranging effort to Audit ALL possible Non-profit Tax Cheats -- from all across the political spectrum. It seems in this era of downsizing and Austerity cuts, that such technology short-cuts (like using "Keyword Searches" ... OMG!) have become expedient, for those wishing to still effectively -- Do Their Damn Jobs!
Nevermind, what Tunnel Vision glasses, Mr Issa might be wearing this week ... to see only Conservatives, in each and every IRS Audit ... when they are limited -- and cut off -- to just the smallest sections of the IRS Pie Chart ...