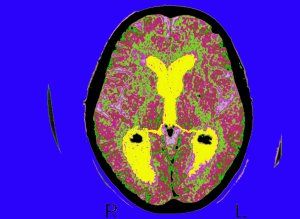 Don't Let This Happen To You! - Vote For Democrats: Catscan of brain with Alzheimer's
Shelley Emling, describes a Landmark Alzheimer's Study Pinpoints Protein That Protects Aging Brain, just published in Nature, as REST and stress resistance in ageing and Alzheimer's disease, that could lead to a major breakthrough in the treatment of Alzheimer's dementia.

Researchers have found that a protein active during fetal brain development, called REST, switches back on later in life to protect aging neurons from various stresses, including the toxic effects of abnormal proteins. But in those with Alzheimer's and mild cognitive impairment, the protein -- RE1-Silencing Transcription factor -- is absent from key brain regions.

"Our work raises the possibility that the abnormal protein aggregates associated with Alzheimer's and other neurodegenerative diseases may not be sufficient to cause dementia; you may also need a failure of the brain's stress response system," said Bruce Yankner, Harvard Medical School professor of genetics and leader of the study, in a release.

"If true, this opens up a new area in terms of treatment possibilities for the more than 5 million Americans currently living with Alzheimer's disease," said Yankner, who in the 1990s was the first to demonstrate the toxic effects of amyloid beta, the hallmark abnormal protein in Alzheimer's.
By focusing on the brain's natural ability to protect itself, and understanding exactly where and why this sometimes goes wrong in some people, could help researchers develop ways to strengthen or repair the brains capacity for self-preservation.
Yanker says an implication of this study is that "a person may be able to resist the toxic effects of Alzheimer's if REST levels remain high."

"If we could activate this stress-resistance gene network with drugs, it might be possible to intervene in the disease quite early," he added in a release. "Since Alzheimer's strikes late in life, delaying the onset of disease by just a few years could have a very substantial impact."

Some estimates indicate we will have has many as 70 million people living with dementia by 2030.
With perfect timing the LATimes editorial board writes today We can't afford not to spend more money on Alzheimer's research, saying that "to effectively tackle this disease over the next decade, the government should substantially increase the budget."


Alzheimer's disease and other dementias not only destroy the lives of those who suffer from them but take a devastating toll on family caregivers and on those who must pay the cost of care. An estimated 5 million people in the United States suffer from Alzheimer's. But that number will increase exponentially in the years ahead because of what Robin Barr, a senior official at the National Institute on Aging, calls "an aging tsunami." A highly cited published research analysis estimates that the number of people with Alzheimer's around the world will jump from 36 million today to 115 million by 2050.

A recent study in the journal Neurology estimated that the Centers for Disease Control and Prevention's figure on deaths attributable to Alzheimer's in 2010 — 83,494 in the U.S. — is a fraction of the true number, which it estimated at more than 500,000. Officials at the CDC admit that the agency's number is significantly low.

Just as alarming is this: A study by researchers at Rand Corp. and other institutions calculated that the direct cost of care for people with Alzheimer's and other dementia in 2010 was $109 billion. In comparison, healthcare costs for people with heart disease was $102 billion; for people with cancer, it was $77 billion. Yet cancer research will be allocated an estimated $5.4 billion this year in federal funds, and heart disease will get $1.2 billion — while research on Alzheimer's and other dementias comes in at only a fraction of that, at $666 million.
This is only the financial cost. Anyone, with a loved one afflicted with a dementia know the human and emotional cost is incalculable, and inexpressible.
I agree with the LATimes that is is time to substantially increase our spending on our to prevent the progression of Alzheimer's. The Times tells us that there are many grant proposals and project not being funded. Research has also "shifted in recent years, from an emphasis on treatment of individuals with symptomatic disease to primary prevention among individuals at risk."
Democrats need to highlight issues like this where the role of government, and increased government funding is so clearly in the public and common good. We are already seeing evidence of regular people showing up at Town Halls, and press conferences of Paul Ryan, Chris Christie, and the heartless "cut-to-the-bone," and anti-Obamacare Republicans telling them we need health care and the good things government can do for our collective best interests.
12:57 PM PT: I should have added that when Representative Paul Ryan, and other ruthless Republicans talk about cutting funding for the National Institute for Health, The National Science Foundation, Medicare, Social Security, Medicaid, and other programs that aid the poor and needy, these are the kinds of programs, and people that get get cut and hurt.
1:03 PM PT: Oh, and one more lesson this case illustrates that we can clobber and educate the Republicans with -- a relatively small increase in funding now in identifying this REST protein and how to strengthen, or supplement it in the regions of the brains where it is missing might be able save us 1,000 times that much in accumulated Alzheimer's cost over the next three decades. Some of you folks with greater talents for brevity should boil this down and make sure we keep the Senate, and take back the House in 2014. We should be able to do it on the issues.
1:43 PM PT: Title improved thanks to suggestion from accumbens
7:00 PM PT: Study identifies, changed to Scientists identify in title