I'll admit it. I got a little worked up this morning when someone posted the following: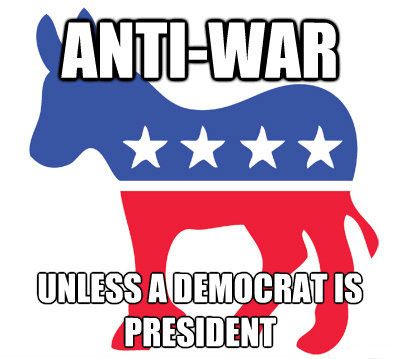 This especially irked me for two reasons 1) the person posting should have known better, and 2) I've been following the work President Obama has been doing to de-escalate a war with Russia.
In particular, Obama's speech in Brussels and his dismantling of the pro-war arguments of an ABC news reporter yesterday.
So I replied to Mr. Meme Poster and agreed with him that we could go further but that we should give credit where credit is due on his handling of the situation in Crimea.
His response really set me off.

Sooooo ...
I asked him what he meant.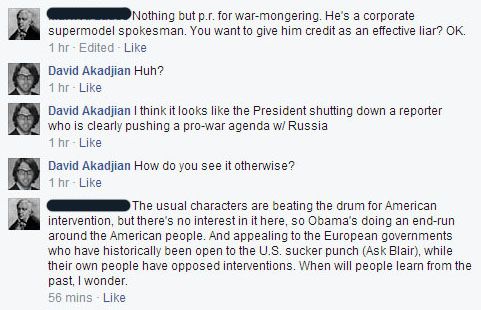 Now I don't know about you, but I don't see any warmongering in anything President Obama has said to date. In fact, I see a President de-escalating the case for war.

PRESIDENT OBAMA: Well Jonathan, I think…if the premise of the question is that whenever the United States objects to an action, and other countries don't immediately do exactly what we want…that that's been the norm…that would pretty much erase most of twentieth century history…I think that there's a distinction between us being very clear about what we think is an appropriate action, what we stand for, what principles we believe in, versus, what is, I guess, is implied in the question that we should engage in some sort of military action to prevent something.
So I asked again. This time for specifics.

And got back hand waving.

I made sure to nail him to the ground on what he meant by "act" because at this point I think he realized he was in over his head when he said "warmongering" but wasn't going to back down just yet.
Not until he got in another ad hominem attack anyways.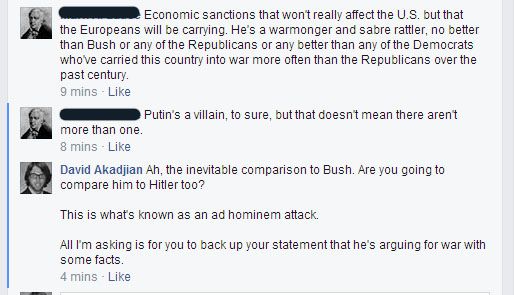 This either ended the conversation or he had to go teach a class (Did I mention he's a history professor?). I wonder when they started teaching ad hominem attacks.
So far, I have to say I've been pretty impressed with Obama's handling of the situation. I would also encourage everyone to read this speech.
In the speech, Obama does a great job of laying out two different visions. The first vision is one of force, one of fear, and one that claims "ordinary men and women are too small-minded to govern their own affairs, that order and progress can only come when individuals surrender their rights to an all-powerful sovereign."
The second is the vision of representative democracy and individual rights:

It is in response to this tragic history that in the aftermath of World War II, America joined with Europe to reject the darker forces of the past and build a new architecture of peace. Workers and engineers gave life to the Marshall Plan. Sentinels stood vigilant in a NATO alliance that would become the strongest the world has ever known. And across the Atlantic, we embraced a shared vision of Europe, a vision based on representative democracy, individual rights, and a belief that nations can meet the interests of their citizens through trade and open markets, a social safety net, respect for those of different faiths and backgrounds.
Well said, Mr. President, well said.
I may not agree with you on everything and we've frequently been at odds here on dKos (despite it being a bit of a one way conversation - hopefully, someday you'll join me for an interview ... heheh), but this sounds like the Obama I voted for.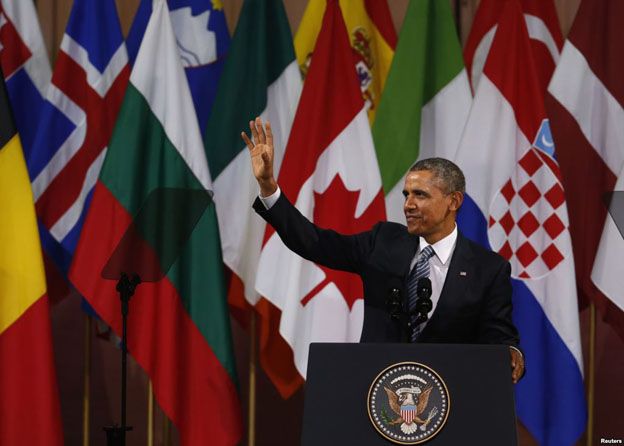 I don't see any warmongering. I see de-escalation.
So I feel it's important to give credit where credit is due. Because too often we don't.
Does this mean I'm an Obamabot?
Jesus ... It means that I'm giving Obama credit where credit is due.
This is what's missing from that idiotic meme - the very real differences, a few of which I just outlined.
Could there be a bigger difference?
Sure. I've argued that before too and I'm sure I will again. And if somehow I've missed the warmongering, please let me know. I'll be against that too.
Otherwise, today, I'm just going to enjoy the fact that we have a President willing to take a stand and de-escalate the case for war.