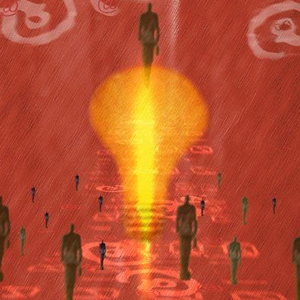 Commentary: African American Scientists and Inventors
by Black Kos Editor, Sephius1


Walter McAfee (1914-1955) in Ore City, Texas, attended public schools in Marshall, Texas, graduating high school with honors. He enrolled in Wiley College (Texas) where, in 1934, he graduated magna cum laude with a bachelor's degree in Mathematics. In 1937 he earned a Master of Science in Physics from Ohio State University. McAfee earned a Ph.D. in physics from Cornell University in 1949.
During World War II, Walter McAfee was a member of the U.S. Army Signal Corp Engineering Laboratories. There he distinguished himself in electromagnetism and radar. He was a member of the Project Diana team that was responsible for the first lunar radar echo experiments in 1946. The goal of Project Diana was to determine if a high frequency radio signal, could penetrate the outer atmosphere of the earth.
(con't.)
The solution was to send a radar signal to the moon and bounce it back to earth. For this they needed an accurate computation of the velocity of a position on the moon relative to a position on the earth. Dr. McAfee performed the calculations, and on Jan. 10, 1946, the experiment was successfully conducted. Unfortunately, McAfee's contributions to Project Diana (even his name) were not mentioned in news reports about the experiment.
Dr. Walter McAfee was a scientific advisor to the U.S. Arm Electronics Research and Development Command. For 42 years he worked for the government at New Jersey''s Fort Monmouth including service as director of a NATO study on surveillance and target acquisition. He was also a scientific advisor to the U.S. Arm Electronics Research and Development Command. He concurrently lectured in atomic and nuclear physic and solid state electronics at Monmouth College from 1958 to 1975.....Read More

In 1956, President Eisenhower presented McAfee with one of the first Secretary of the Army Research and Study Fellowships, which he used for post-doctoral studies in radio astronomy and ionospherics at Harvard University. With colleagues Felix Lavicka and Ockle Johnson, he analyzed data collected during high altitude nuclear explosions over the Pacific in 1959-60, and they showed for the first time that such explosions could cause communication black-outs. McAfee held a number of research and supervisory positions in the areas of wave propagation, passive sensing, target acquisition, and battlefield surveillance up to his 1985 retirement. He also taught courses in atomic and nuclear physics and in solid state electronics at Monmouth University from 1958 to 1975. He maintained membership in AAS throughout these changing responsibilities and interests......Read More
~~~~~~~~~~~~~~~~~~~~~~~~~~~~~~~~~~~~~~~~~~~~~~~~~~~~~
News by dopper0189, Black Kos Managing Editor
~~~~~~~~~~~~~~~~~~~~~~~~~~~~~~~~~~~~~~~~~~~~~~~~~~~~~


~~~~~~~~~~~~~~~~~~~~~~~~~~~~~~~~~~~~~~~~~~~~~~~~~~~~~
Which State Has the Most Segregated Public Schools? (Hint: It's Not in the South). The Root: A recent study has found that a complex racial history and a lack of programs encouraging diversity have helped New York schools claim the title as the most segregated in the nation.
~~~~~~~~~~~~~~~~~~~~~~~~~~~~~~~~~~~~~~~~~~~~~~~~~~~~~
New York State's public school system is the most segregated in the country because most of the state's schools have virtually no white students. The majority of the state's school population is African-American and Latino, adding to the growing concern that connects educational problems with lack of diversity. The schools are often poverty-concentrated and include a less-experienced and less-qualified teacher workforce, according to a report released Wednesday.
The report from UCLA's Civil Rights Project studied enrollment trends from 1989 to 2010 and found that almost 30 percent of the state's schools had fewer than 10 percent white students. And in 11 percent of the schools, fewer than 1 in 100 students are white.
According to the study, these numbers are driven by several factors, including New York City's complex racial history of segregation and the influx of charter schools, which some call "apartheid schools." According to the study, more than half of the city's 32 community school districts are "intensely segregated," and a majority of charter schools boost shockingly low numbers, as fewer than 1 percent of the student's population is white.
"In the 30 years I have been researching schools, New York state has consistently been one of the most segregated states in the nation—no southern state comes close to New York," Gary Orfield, one of the study's authors said. "Decades of reforms ignoring this issue produced strategies that have not succeeded in making segregated schools equal."


BRENDAN SMIALOWSKI/GETTY IMAGES
~~~~~~~~~~~~~~~~~~~~~~~~~~~~~~~~~~~~~~~~~~~~~~~~~~~~~

~~~~~~~~~~~~~~~~~~~~~~~~~~~~~~~~~~~~~~~~~~~~~~~~~~~~~
Rebecca Walker got a good endorsement for her 1st published fiction work. Color Lines: Madonna to Adapt Rebecca Walker's Novella.
~~~~~~~~~~~~~~~~~~~~~~~~~~~~~~~~~~~~~~~~~~~~~~~~~~~~~
Rebecca Walker got a pretty good endorsement for her first published piece of fiction, "Adé: A Love Story."
Madonna has announced plans to adapt the novella into a feature film. She'll serve as director, while the project will be produced by Bruce Cohen, who shared a Best Picture Oscar for "American Beauty" and more recently worked on the Harvey Milk biopic "Milk."
The novella is about a young American college student whose plans to marry a Swahili man in Kenya fall apart when the region is engulfed in civil war.
Up until now, Walker has primarily been known for her non-fiction, including a New York Times best-selling memoir about growing up as Alice Walker's daughter called, "Black, White and Jewish: Autobiography of a Shifting Self."


Creative Commons/ Union College Concordiensis
~~~~~~~~~~~~~~~~~~~~~~~~~~~~~~~~~~~~~~~~~~~~~~~~~~~~~
One of our most important living photographers speaks about stereotypes, empowerment, and the importance of black images. Ebony: Beyond the Selfie: Renée Cox on the Power of Shooting Black Bodies.
~~~~~~~~~~~~~~~~~~~~~~~~~~~~~~~~~~~~~~~~~~~~~~~~~~~~~
Renée Cox is one of the most important photographers living today. Establishing herself in the male-dominated fashion industry, she first built a portfolio in the United States and France. Photographing many of America's top models (from Joan Severance to Iman) for the likes of Vogue Homme, she eventually shifted her focus to image making, via conceptual photography and portraiture in the realm of fine art.
Though few of Cox's works have been seen in their entirety, she's most known for her large-scale photographic panels: Queen Nanny of the Maroons, Raje and Yo Mama's Last Supper, the latter of which struck a nerve with former New York City mayor Rudolph Giuliani. The controversy that ensued nearly overshadowed the depth of Cox's work, which counters dominant ideologies via the holistic empowerment of the feminine.
"Her work has been under-scrutinized," stated photo historian Carla Williams. "It has not received the critical attention that it deserves. Yet her work is extremely important, particularly in the discussion around the Black female body."
Cox presents women of status and stature. They're neither hypersexual nor submissive, thus do not lend themselves to the erotic gaze. Her current work, Sacred Geometry, consists of digitally manipulated black and white portraits executed with precision—creating sculptural kaleidoscopes of the human body while exploring the power of symbols as elements of collective imagination.


~~~~~~~~~~~~~~~~~~~~~~~~~~~~~~~~~~~~~~~~~~~~~~~~~~~~~
The campaign for more diverse emojis has been raging for years. Slate: Everyone and Their Mother, and Apple, Want Emojis to Be More Diverse.
~~~~~~~~~~~~~~~~~~~~~~~~~~~~~~~~~~~~~~~~~~~~~~~~~~~~~
Across mobile, and especially in iOS, people use emojis to express deep and complicated emotions. But the lack of diversity in the human-related emojis makes it hard to accurately represent life through these pictograms.
For the most part (see above), they either depict white people/disembodied white hands, or the traditional Simpsons-yellow, which is meant to be more neutral. The abstract colors are all right, but don't really cut it when there's such a critical mass of emojis depicting white people.
In a statement to MTV Act, an Apple spokesperson admitted that the company agrees and wants to change things.

Tim [Cook, Apple CEO] forwarded your email to me. We agree with you. Our emoji characters are based on the Unicode standard, which is necessary for them to be displayed properly across many platforms. There needs to be more diversity in the emoji character set, and we have been working closely with the Unicode Consortium in an effort to update the standard.
Without a hard timeframe, it's hard to tell how serious Apple is, or how much power the company can wield over the Unicode consortium (which develops international software standards). An FAQ about emoji on the consortium website explains, "The Unicode Consortium does not design emoji … We do not make or sell fonts, images, or icons … Adding characters to an encoding standard involves a long, formal process." The site includes detailed instructions for submitting "character encoding proposals."
Slate's Lily Hay Newman "Well, they've certainly cornered the "white people gesturing" emoji category."
Screencaps of the Emoji keyboard in iOS.
~~~~~~~~~~~~~~~~~~~~~~~~~~~~~~~~~~~~~~~~~~~~~~~~~~~~~
The science fiction genre has no problem imagining a future full of spaceships and aliens. A racially integrated society, though? The Atlantic: Star Wars and the 4 Ways Science Fiction Handles Race.
~~~~~~~~~~~~~~~~~~~~~~~~~~~~~~~~~~~~~~~~~~~~~~~~~~~~~
There are four basic ways that sci-fi has approached issues of race. The first, and perhaps most common, is through metaphor. Creators often use analogy to express virulent racism without having to own it—as in the dreadful Priest, in which John Ford's The Searchers is rewritten with evil, slavering vampires in the role of Indian tribes. Paul Verhoeven nicely critiqued the practice of equating racialized others with disgusting alien monsters in in Starship Troopers, where the fascist heroic humans are clearly the bad guys, and you end up sympathizing with the bugs as the colonized victims.
In other cases, metaphor may be used to try to understand or condemn racism—or, less comfortably, to borrow for white protagonists the experiences of the marginalized. The X-Men are perhaps the iconic example here, with the oppressed, heroic mutants standing in for oppressed groups like African-Americans. Much more thoughtful is Philip K. Dick's Do Androids Dream of Electric Sheep?, in which differences between human/android (or, by metaphor, whites/non-whites) are presented less as absolutes than as profiling tools for law enforcement.
The second way in which sci-fi has handled issues of race is through tokenism. Non-white actors or characters are included, but there is no comment or discussion of racial issues. I presume that this is how the new Star Wars film will handle Nyong'o's presence, just as it was the way in which the original series handled Billy Dee Williams as Lando Calrissian.
Even after the apocalypse, race and racism aren't that easy to escape.
It can be heartening to think about a future in which racial difference is no longer the weight it is now, as in Gene Roddenberry's Star Trek. But tokenism's refusal to directly confront racism can also end up backfiring. The white guy in the original Star Trek leads the diverse crew with the black woman as the space secretary, or the black best friend stands off to the side somewhere, as with Christina in the recently released Divergent.
A third approach is diversity. Instead of one or two white characters, a diverse setting imagines a world in which whiteness is not the default. Novelist Ursula K. Le Guin does this a number of times. In her Earthsea books, the main character, Ged, is red-brown. In Left Hand of Darkness, the main character, Genly Ai, is black, and the androgynous inhabitants of Gethen are, Le Guin says, "Inuit (or Tibetan) brown." As Le Guin herself notes, she was "wily about [the] color scheme," making it part of background detail rather than a central focus. This fact perhaps enabled the whitewashing of Earthsea for the television adaptation: Since the non-whiteness was done subtly, the adaptors felt justified in ignoring it. Still, the fact that they wanted to ignore it, and the fact that Hollywood virtually never imagines a future with a substantially different color mix than the contemporary U.S., is a sign of just how much Le Guin was pushing against the racial preconceptions of mainstream sci fi back in the 1960s and 1970s—and, for that matter, against the racial preconceptions of mainstream sci fi today.
Finally, the last approach is a direct one, in which racial issues in a sci-fi setting are dealt with as if they are continuous with, or affected by, racial issues in the present and the past. For example, in The Hunger Games, District 11, the home of Rue and Thresh, is presented as a segregated black city or region, subject to familiar prejudices and inequities—it's the poorest region, and its inhabitants experience especially vicious policing and persecution. Octavia Butler's Dawn is more subtle. The protagonist, Lilith, is black and her race inflects her relationships with both alien invaders and the remnants of the survivors of earth. Even after the apocalypse, Butler suggests, race and racism aren't that easy to escape.


AP; 20th Century Fox; Lionsgate
~~~~~~~~~~~~~~~~~~~~~~~~~~~~~~~~~~~~~~~~~~~~~~~~~~~~~


~~~~~~~~~~~~~~~~~~~~~~~~~~~~~~~~~~~~~~~~~~~~~~~~~~~~~
Hopeful signs from Haiti. Miami Herald: Stronger Haiti National Police has U.N. considering its future presence in the country. ~~~~~~~~~~~~~~~~~~~~~~~~~~~~~~~~~~~~~~~~~~~~~~~~~~~~~
As an increasingly confident and stronger Haitian police force take control of Haiti's security, major crimes are seeing a double-digit drop and the United Nations is intensifying discussions about its future in the country.
The talks of a reconfigured U.N. Stabilization Mission in Haiti, known as MINUSTAH, comes as peacekeepers prepare to mark 10 years in June, and as Haiti's clashing politicians shows signs of compromise. Earlier this month, President Michel Martelly, lawmakers and political opponents signed an agreement creating a road map for long overdue local and legislative elections later this year.
"We are encouraged by recent announcements that these elections will take place this fall, but these words must now be turned into action and must translate into voters casting their ballots at the polling stations," Canada's U.N. Permanent Representative Guillermo Rishchynski said Monday.
Rishchynski, and other U.N. Secretary Council members were asked Monday to consider five broad options for a reconfigured U.N. presence in Haiti post 2016. The options range from a special envoy, special political mission to a new mission — all with no military component. The other two options are a new mission with a small military quick reaction force or a renewal MINUSTAH's mandate with a continued downsizing of its 5,702 troops.
The options are outlined in a report by U.N. Secretary General Ban Ki-moon. It notes that between 2012 and 2013, Haiti saw a 21 percent drop in homicides, reversing a five year trend, and kidnappings dropped by 53 percent.


~~~~~~~~~~~~~~~~~~~~~~~~~~~~~~~~~~~~~~~~~~~~~~~~~~~~~
Welcome to the Black Kos Community Front Porch!
Pull up a chair and sit down a while and enjoy the company.