Quilt Ann and I made for irishwitch and her husband -- we used a heart block from one book and pieced borders from another. The fabric choices and colorways were our own.
One of the most pleasant things about quilting, for me, is that creative itch. Sometimes it is almost a compulsion to create something colorful.
I thought today we could talk about what moves us to sew a new quilt. I'm sure the muse is quite different for each of us.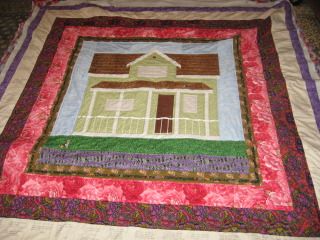 My sister created this block to look like Regina in a Sears Kit House's actual Sears Kit House (see below)
Me, I get inspired by traditional block patterns. I like to mix fabrics of different types, almost to create a collage effect. I like paging through books of block patterns and then I design my own thing.
Sometimes, I've been inspired by photos of antique quilts.
What gets your creative juices going? Here's a poll -- and please share your progress on the VA hospital quilt project in the comments.
Here is the list of pledged quilts -- please let me know if you would like to be added!
Sara R: 2 quilts
winglion: 2 quilts
Beadlady: 3 quilts
Pam from Calif: 1 quilt
Winifred3: 2 quilts
Ninepatch: 3 quilts
SilverWillow: 4 quilts
leu2500: 1 quilt
FloridaSNMOM: 1 quilt
madmommy: 1 quilt
Bridget: 5 quilts
NEPatriot: 1 quilt
Wood Dragon: 2 quilts
jlms qkw: 1 quilt
Elizaveta: 1 quilt
vtgal: 3 quilts
ERRN: 2 quilts
rk2: 1 quilt
maggiejean: 1 quilt
RUNNING TOTAL: 37 quilts, only 28 to go!
NOTE: There are other parts to the DK VA Hospital Support Project. If you knit or crochet and would like to participate, please drop a line to broths or winifred3 -- they are organizing the collection of hats and scarves for the vets. If you are a reader and have paperback books you would like to donate, hang on to them! Limelight of the Readers & Book Lovers group, will be organizing a book drive for the hospital's library -- more on that to come! Joanbrooker is donating 65 teddy bears to accompany the quilts. State of confusion is making 65 handmade cards to go with the gift -- and we'll be raising money for that effort in days to come. Also, there will be a collection for phone cards for the vets -- stay tuned for news on that.
All of this bounty will be delivered the the Detroit VA Hospital the day before the Netroots Nation convention begins.
~~~~~~~~~~~~~~~~~~~~~~~~~~~~~~~~~~~~~~~~~~~~~~~~~~~~~
Would you like to write a future DK Quilt Guild diary? Please join in! Please volunteer within the comments. Thanks!
DKQG Diary Schedule:
04/06 -- Elizaveta
04/13 -- trkingmomoe~Sampler Quilt Along
04/20 -- winifred3
04/27 -- trkingmomoe~Sampler Quilt Along
05/04 -- Sara R
05/11 -- trkingmomoe~Sampler Quilt Along
05/18 -- OPEN
05/25 -- trkingmomoe~Sampler Quilt Along