The Daily Bucket is a regular feature of the Backyard Science group. It is a place to note of any observations you have made of the world around you. Insects, weather, meteorites, climate, birds and/or flowers. All are worthy additions to the bucket. Please let us know what is going on around you in a comment. Include, as close as is comfortable for you, where you are located. Each note is a record that we can refer to in the future as we try to understand the patterns that are quietly unwinding around us.
The
Washington Invasive Species Council
calls this a highway
infestation
of Scotch broom. Infestation isn't a word that I think of when it comes to plants, but in the case of broom, if the word fits, swear it:
Read below the fold for more on the Scotch broom invasion and how my neighbors and I deal with this lovely bush on our properties.
Scotch broom (Cytisus scoparius) is a native plant in Europe and North Africa. It arrived in the U.S. in the 1800s and was used as an ornamental and for animal fodder. It spread quickly, and now:

The current North American distribution of Scotch broom is along the Atlantic coast from Nova Scotia to Massachusetts, Delaware, Virginia, and Georgia; along the Pacific coast from British Columbia to central California; and inland to Idaho, Montana, and Utah. It also has scattered occurrences in several inland states in the eastern United States, and occurs in Hawaii. The worst infestations of Scotch broom occur from British Columbia to central California, from the coast to the inland valleys: primarily west of the Cascade Range in Washington, Oregon and west of the Sierra Nevada in California.

I added emphasis to highlight where my backyard is.

Source: USFS
Broom is pretty when it's flowering, and the bees love it, but according to the Council:
Scotch broom crowds out native species and negatively impacts wildlife habitat. It can form dense, impenetrable stands that degrade farmland, prevent or slow forest regeneration and restoration of upland sites and wetland buffers, and create fire hazards. Scotch broom produces toxic compounds, which in large amounts can cause mild poisoning in animals such as horses.
Google Scotch broom and you'll find more sites with tips and local efforts for eradicating it than general information on the shrub.
This is an unchecked stand of broom not far from my home. The property owner cleared everything behind it and uses what's left as a barrier from the road. My dog is sitting there reluctantly, but obediently, to help give us some scale. She measures about 24" from the base of her paw to the tip of her ear when sitting. She's tilted a little bit downward because of the small, wet hill she's been asked to sit on. But this gives you an idea of the size of the broom plants that covered about an acre of our property when we bought it: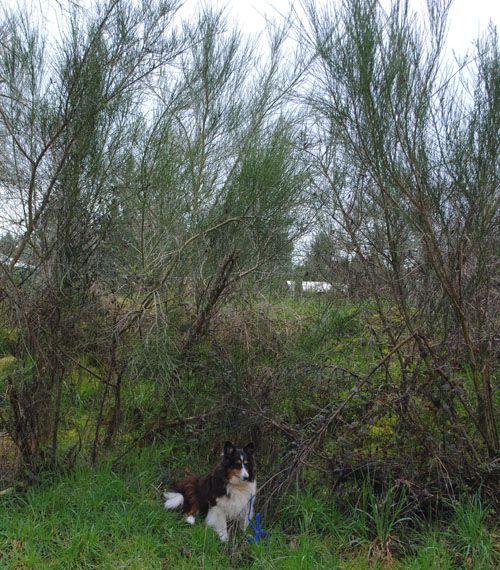 While the broom had grown to the size of small trees, the results of clearing it from the pasture didn't leave us with something useful like timber to build with. That's more of what I had in mind when I daydreamed about owning acreage and practicing a little self-sufficiency. I also had in mind veggie and berry gardens and maybe some sheep or a horse, so the broom had to go.
We went to work pulling this invasive weed with a weed wrench. This tool works by pulling back on the handle to open the jaws, placing the jaws around the base of the plant you want to pull, and then pulling back on the handle to close the jaws and wrench the plant from the ground, root ball and all. With a weed wrench, even my smallest child could pull out good-sized broom: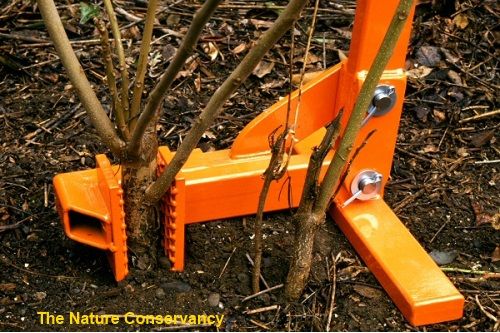 Our local Conservation District owns a couple of these that they make available to property owners just for broom control, and conservation groups bring them out for volunteers participating in invasive weed eradication work parties around the county. There's never a shortage of work.
Pulling disrupts the ground around the plant, bringing light to broom seeds that can remain viable for 40+ years (or up to 70, according my 17-year-old son who knows everything). We eventually switched to cutting the plants, leaving just a short stalk, many of which rotted and were easy to kick out of the ground. We had to go back and pull the stalks that sent out new growth—those were tougher to yank out of the ground then the tree-height plants. There's no easy answer.
Once we were done pulling and cutting all the broom, pruning all the trees and bushes, and cutting down all the trees that didn't survive the original owner's landscaping efforts, we had two massive piles of brush, each 5-6' high and about 50' around. We discussed burning them, but I hate it when the neighbors burn, something they often manage to do right after I've hung a clean load of laundry out to dry. Plus, pulling the piles down to a manageable size was going to be a lot of work that we couldn't make a priority.
And we frequently saw birds with bits of nesting in their beaks perch on branches protruding from the pile, and then disappear into the heap. Our cat periodically emerged with a rodent in her mouth—usually a vole or a mouse. One creature's brush pile is another creature's domicile.
A couple of years ago, after the piles had reduced a bit in size, we got ourselves a horse and wanted to use the land we'd cleared, so we borrowed a neighbor's tractor and shoved the two heaps together over to the side of the pasture where it was out of the way. As of this spring, this is all that's left (see the good dog once again reluctantly serving as my tool of scale):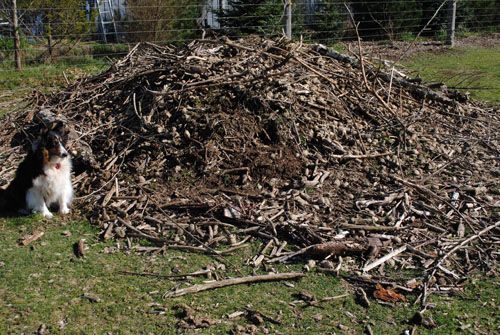 This pile is maybe 4' high and 25' around. It's dense, so birds aren't diving into the brush anymore and it's no longer a candidate for burning; the cat quit hunting there long ago. The sheep have pulled the bigger sticks down to chew on, which has spread the pile out.
This is a view of the top of the pile--rotting sticks, horse manure (I throw some there once in a while thinking it might help break down the wood), and some weeds. There's been grass sprouting through lately, too, but the sheep climb the pile and take care of it:
Not long ago, I decided to poke around and see what was left and start thinking about what our next move should be to get rid of the remainder of efforts to clear the pasture. My shovel broke through easily and the dirt I pulled out looked rich and dark, though full of sticks and roots.
So I got out the sifter and went to work. This is what was left after I pushed all the soil through to the wheelbarrow (haven't decided what to do with the leftovers yet. Maybe fill a hole or two—there's going to be a lot of it):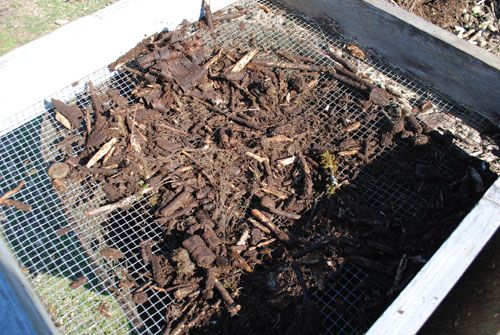 And this is the loose, dark compost that I have to work with. Black gold, but not Texas Tea. The remaining fibers from the wood will help it retain water, so it will serve as mulch as well as soil enrichment for the gardens: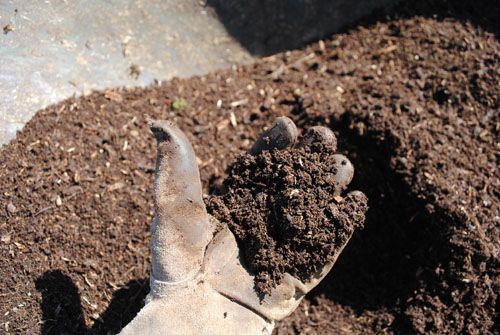 The first couple of loads went on the herb garden--it's my driest, boniest garden, which makes the herbs pungent, but I like to enrich it every so often. I redid the garden last year, so the plants are small:
While using the soil that the brush pile became will benefit the gardens, it won't ultimately help the broom problem. The dirt may be full of seeds just waiting for the right conditions to sprout. I can stay on top of new plants while I garden (I'm also adding this soil, along with well-composted horse manure, to the veggie garden), but once I'm gone, even years and years from now, the broom may return. The sheep are keeping it down in the pasture, but the years-from-now notion applies to after they're gone, too.
In the meantime, you can see clearly across the pasture to beyond the neighbor's fence, which is important in case something like a deer wanders by and you want to spend you afternoon staring at it, deciding long ago that fleeing isn't really necessary.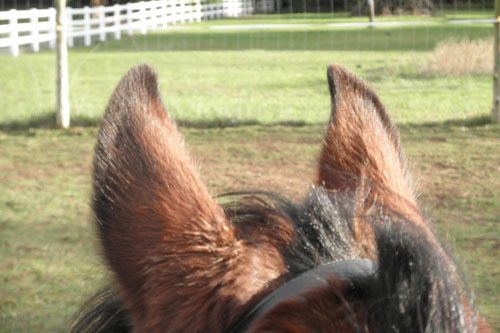 And my sheep are keeping the broom at bay. This plant is growing inside a tree cage that protects my dogwood from the likes of ewe.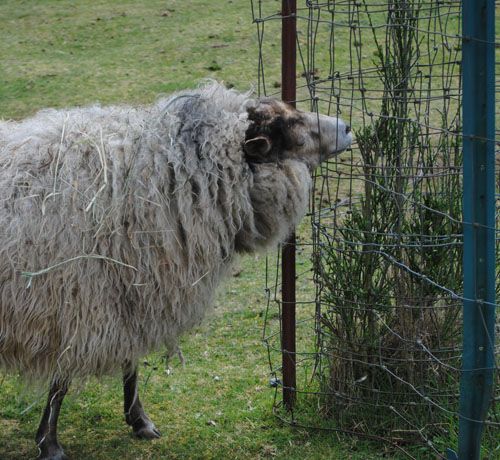 I go along the roadside and through our boundary tree lanes every year to cut down new growth of the broom before it sets seed, leaving it where I cut it to rot back into the ground.
However, when the woods across the road from us were logged, the broom shot up. The timber company owner sent in a crew to cut the broom a couple of years ago, so the trees from replanting and natural regeneration are gaining ground, but it's still a race against the broom. The view from the end of my short driveway: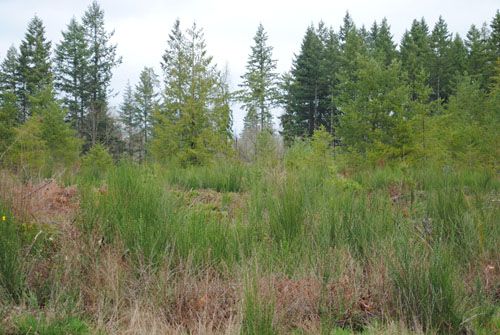 Like I said, no easy solutions, but you've gotta try.
Your turn. What's popping up in your neck of the woods that you are encouraging or constantly beating back (don't even get me started on comfrey).

"Green Diary Rescue" is Back!
After a hiatus of over 1 1/2 years, Meteor Blades has revived his excellent series. As MB explained, this weekly diary is a "round-up with excerpts and links... of the hard work so many Kossacks put into bringing matters of environmental concern to the community... I'll be starting out with some commentary of my own on an issue related to the environment, a word I take in its broadest meaning."
"Green Diary Rescue" will be posted every Saturday at 1:00 pm Pacific Time on the Daily Kos front page. Be sure to recommend and comment in the diary.