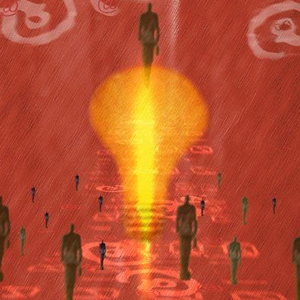 Commentary: African American Scientists and Inventors
by Black Kos Editor, Sephius1


Lifelong learning has been key to Reatha Clark King's success and personal satisfaction. She has earned three degrees and worked to help others have the same opportunity. Born Reatha Clark in 1938 in Pavo, Georgia, she moved many times while growing up because her mother had to look for work were she could get it. Clark was often teased for being poor, but she focused on her studies, graduating high school as valedictorian and winning a scholarship from Clark College in Atlanta as a home-economics major. A black Ph.D.chemistry professor in college inspired her to pursue a career in chemistry. Her senior year there she won a Woodrow Wilson scholarship, which enabled her to enroll in the University of Chicago graduate program. She studied physical chemistry with a focus on thermodynamics, and earned a master's and Ph.D
(con't.)
As an undergraduate, Clark met fellow chemistry major, N. Judge King, at a Morehouse College basketball game. They were married in 1961 and later had two children.
It took a while for Clark King to land her first research job after grad school, but it was worth the wait. She became a project leader at the National Bureau of Standards in Washington, D.C., determining the effects of heat on alloys (a combination of two or more metals). Clark King invented a coiled tube that allowed hot liquids like fuel to cool, so they wouldn't explode; research that was vital to NASA. She left the Bureau after five years when her husband got a teaching job in New York, where she also switched to become an educator. In 1968 she joined the faculty at York College, an inner-city school in New York, later becoming an associate dean, all while earning an MBA at Columbia University.
In 1977, Clark King became president of Metropolitan State University in Minneapolis, Minnesota, for 11 years, promoting opportunities for minorities and women in higher education. "I realized early in life that education is our best enabling resource," she has said, "that technical skills are important, and that my stamina for championing educational opportunity for all people is inexhaustible."......Read More
~~~~~~~~~~~~~~~~~~~~~~~~~~~~~~~~~~~~~~~~~~~~~~~~~~~~~
News by dopper0189, Black Kos Managing Editor
~~~~~~~~~~~~~~~~~~~~~~~~~~~~~~~~~~~~~~~~~~~~~~~~~~~~~

~~~~~~~~~~~~~~~~~~~~~~~~~~~~~~~~~~~~~~~~~~~~~~~~~~~~~
A new film helps audiences find out about oil exploration, foreign investment and tax imbalances in Africa's newest petro-state. The Guardian: Big Men: the new film about the meeting of Ghana, oil and Wall Street.
~~~~~~~~~~~~~~~~~~~~~~~~~~~~~~~~~~~~~~~~~~~~~~~~~~~~~
The story of West Africa's oil rush over the past half-century or so painfully illustrates the mixed fortunes that so-called black gold can bring. Nowhere is its tarred hand more in evidence than Nigeria, the continent's largest crude oil exporter.
The populous African nation has become a byword for what economists refer to as the "resource curse". Endemic corruption and poor public governance have seen billions of dollars in oil revenue simply disappear. After nearly six decades of oil production, Nigeria languishes in 153rd place (out of 187 countries) in the United Nation's Human Development Index.
Enter Ghana. The West African country hit "lucky" in 2007. A bold exploration gamble by Dallas-based oil firm Kosmos Energy turned up a huge oil field about 60km off the Ghanaian coast. With a whopping 600m barrels of light crude in estimated reserves, the Jubilee Field catapulted the country into the oil game.
Big Men, which was screened at the Human Rights Watch Film Festival in London earlier last week, picks up the story. What unfolds is a deftly chronicled depiction of what happens when Africa, oil and Wall Street meet. Despite some artful cinematography and a colourful cast (replete with bejewelled tribal chiefs, sharp-suited investors and daredevil prospectors), the result isn't a pretty sight.


A banner in the Ghanaian capital Accra heralding the discovery of commercial quantities of oil in 2007. Photograph: Xan Rice
~~~~~~~~~~~~~~~~~~~~~~~~~~~~~~~~~~~~~~~~~~~~~~~~~~~~
New York is considering a bill that will provide tax incentives for production companies to hire people of color behind the scenes. The Root: Can NY Create Economic Development With TV Diversity?
~~~~~~~~~~~~~~~~~~~~~~~~~~~~~~~~~~~~~~~~~~~~~~~~~~~~
n the face of mounting criticism for its lack of on-air diversity, earlier this year Saturday Night Live hired its first black female cast member in five years—comedian Sasheer Zamata. But SNL reached another diversity milestone this year that didn't generate quite as much attention but was arguably even more significant. For the first time, two women of color joined SNL's writing staff: LaKendra Tookes and Leslie Jones.
The significance is clear: If there aren't writers behind the scenes who write sketches with people of color in mind, then there will be fewer opportunities for people of color to appear on the screen. And now the New York Legislature is considering a bill that would provide tax incentives aimed at encouraging other shows and production companies to diversify their writing staffs, too.
Assembly Bill 7373 would provide tax reimbursements to film and television productions for writer-associated costs as long as a writer of color is included on the staff. The bill reads, in part:
For a feature film or television production, writers' fees and salaries shall be eligible costs; provided, however such costs shall not exceed fifty thousand dollars in fees or salary per writer per qualified film and provided that such writer is a minority group member, as defined by subdivision 8 of section 310 of the executive law, or a woman.
In recent weeks the bill has gained widespread support among members of the Writers Guild of America, which has been championing the bill and mobilizing members to contact local legislators and encourage them to support it.
Scandal cast members Tony Goldwyn and Kerry Washington and writer-producer Shonda Rhimes pose in the press room during the 44th NAACP Image Awards at the Shrine Auditorium, Feb. 1, 2013, in Los Angeles.
FREDERICK M. BROWN/GETTY IMAGES FOR NAACP IMAGE AWARDS
~~~~~~~~~~~~~~~~~~~~~~~~~~~~~~~~~~~~~~~~~~~~~~~~~~~~~


~~~~~~~~~~~~~~~~~~~~~~~~~~~~~~~~~~~~~~~~~~~~~~~~~~~~~
American states liberalizing marijuana laws will have a profound effect on countries (many of whom only made marijuana illegal due to Western bullying). Miami Herald: Caribbean countries consider loosening marijuana laws.
~~~~~~~~~~~~~~~~~~~~~~~~~~~~~~~~~~~~~~~~~~~~~~~~~~~~~
Deep-green marijuana plants grow along roadsides, in front yards and on plantations hidden in the mountainous interior of this lush island — and the spliff bar is just a stone's throw from the police station.
Inside the camouflaged business, a group of men smoke $1.15 joints between sips of beer while inviting visitors, with a slight smile and raised chin, to take a hit. Steps away in a back room, two men share a joint as they stuff cured cannabis into tiny plastic bags.
Here and across the Caribbean, marijuana is illegal, yet it is widely used, freely sold and openly puffed. It's evidence of the shifting attitudes over pot. Now, for the first time, Caribbean leaders — much like a growing number of American and Latin American lawmakers — are considering loosening restrictions to control and capitalize on the popular crop.
"Marijuana is the new 21st century banana," St. Vincent Foreign Minister Camillo Gonsalves said, likening the forbidden substance to the Caribbean's last great cash crop, as regional leaders met behind closed doors here last month to consider whether to change their laws.
On the table is everything from decriminalizing small amounts of marijuana for recreational and religious use, to cultivating it for medicinal purposes. In doing so, Caribbean leaders are seeking to transform a seedy, underground economy into a source of taxable revenue.


The West Indies island of St Vincent considers legalizing marijuana for farming and casual use. Video by Charles Trainor Jr / Miami Herald staff


~~~~~~~~~~~~~~~~~~~~~~~~~~~~~~~~~~~~~~~~~~~~~~~~~~~~
Un warns South Sudan needs international aid in the next 60 days or it will face the worst starvation in Africa since the 1980s, when hundreds of thousands of people died in Ethiopia's famine. New York Times: South Sudan Urgently Needs Help to Stave Off Famine, U.N. Warns.
~~~~~~~~~~~~~~~~~~~~~~~~~~~~~~~~~~~~~~~~~~~~~~~~~~~~
South Sudan needs $230 million in international aid in the next 60 days or it will face the worst starvation in Africa since the 1980s, when hundreds of thousands of people died in Ethiopia's famine, the United Nations official coordinating humanitarian aid in South Sudan warned on Thursday.
"We're in a race against time," the coordinator, Toby Lanzer, told reporters in Geneva. In a stark message to world leaders, he said, "Invest now or pay later."
About 3.7 million people, close to one-third of the total population, are already at severe risk of starvation in South Sudan, a crisis now ranked by the United Nations on par with Syria's, Mr. Lanzer said. He appealed for only the most essential needs, food, water, seeds and farming tools, to allow the South Sudanese to plant crops before the end of May, when rains bring the planting season to an end.
"If we miss the planting season, there will be a catastrophic decline in food security," Mr. Lanzer said. "What will strike that country, and it will hit about seven million people, will be more grave than anything that continent has seen since the mid-1980s."


A South Sudanese woman ground grain from the World Food Program on Wednesday in western Ethiopia, where close to 90,000 South Sudanese have fled. Credit Zacharias Abubeker/Agence France-Presse — Getty Images


~~~~~~~~~~~~~~~~~~~~~~~~~~~~~~~~~~~~~~~~~~~~~~~~~~~~~

~~~~~~~~~~~~~~~~~~~~~~~~~~~~~~~~~~~~~~~~~~~~~~~~~~~~~
Yes, You Are Reading This In 2014. Huffington Post: School District Holds First Official Integrated Prom.
~~~~~~~~~~~~~~~~~~~~~~~~~~~~~~~~~~~~~~~~~~~~~~~~~~~~~
A Georgia school district is just holding its first racially integrated prom.
This past weekend, Wilcox County High School in Rochelle sponsored a prom for both black and white students. In the past the school has not sponsored proms, but instead allowed parents to sponsor segregated, invitation-only events.
Last year, a group of students organized a prom for students of all colors, although the school did not officially hold the event. The students raised money for the event via social media.
"Love really has no color, and I want everybody to know that if you stand up for something you believe in only positive things can come from it," Mareshia Rucker, a 2013 prom organizer told WMAZ-TV said at the time.
While the school has certainly taken a step forward by holding the integrated prom, some students do not feel that everyone at the school has been supportive of the event.
"I'm absolutely sure that there are teachers that are still in the system right now that are at my school and they still don't want an integrated prom," Rucker told The Indy Channel over the weekend.



~~~~~~~~~~~~~~~~~~~~~~~~~~~~~~~~~~~~~~~~~~~~~~~~~~~~~

~~~~~~~~~~~~~~~~~~~~~~~~~~~~~~~~~~~~~~~~~~~~~~~~~~~~~
The title is click bait (something I hate but it's a part of today's media landscape) but it is an interesting article. Slate: Down and Out. The single fact that powerfully explains why black Americans have such a hard time climbing the economic ladder.
~~~~~~~~~~~~~~~~~~~~~~~~~~~~~~~~~~~~~~~~~~~~~~~~~~~~~
As Sherman writes, "In desperate times for people who come from desperate communities, your friends become your family. I wouldn't expect DeSean to 'distance himself' from anybody, as so many people suggest pro athletes ought to do despite having no understanding of what that means."
I don't know if Sherman sees it or not—my hunch is that he does—but in a few sentences, he's put his finger on the pulse of something overlooked in our discussions of poverty and economic mobility as they relate to black Americans: neighborhood. Sherman's experience of being pulled back to a poor neighborhood, even as he accumulates wealth, is common among blacks.
The difference for ordinary black Americans, as opposed to NFL stars, is that this has been a powerful driver of downward mobility. Just a quick comparison of black and white neighborhoods is enough to illustrate the particular challenges that face black families as they reach for middle class, or try to keep their position.
The key fact is this: Even after you adjust for income and education, black Americans are more likely than any other group to live in neighborhoods with substantial pockets of poverty.
As sociologist Patrick Sharkey shows in his book Stuck in Place, 62 percent of black adults born between 1955 and 1970 lived in neighborhoods that were at least 20 percent poor, a fact that's true of their children as well. An astounding 66 percent of blacks born between 1985 and 2000 live in neighborhoods as poor or poorer as those of their parents.
Why do blacks have a hard time leaving impoverished neighborhoods?
A recent report from the Annie E. Casey Foundation affirmed this fact. According to the foundation, only 50 percent of black children live in neighborhoods with a poverty rate below 20 percent, compared to a national average of 74 percent. Of course, the other way to say this is that 50 percent of black children live in neighborhoods with poverty rates of greater than 20 percent.*
How does this stack up to white families? Here, Sharkey is indispensable: Among white children born through 1955 and 1970, just 4 percent live in high poverty neighborhoods. Or, put another way, black Americans live with a level of poverty that is simply unknown to the vast majority of whites.


Even after you adjust for income and education, black Americans are more likely than any other group to live in neighborhoods with substantial pockets of poverty.
Photo by Digital Vision/Thinkstock


~~~~~~~~~~~~~~~~~~~~~~~~~~~~~~~~~~~~~~~~~~~~~~~~~~~~~
Welcome to the Black Kos Community Front Porch!
Pull up a chair and sit down a while and enjoy the company.