Buenos Dias, its me again.
I went to Valpo the day after the earthquake and it was business as usual. They never felt it. I posted quite a few pieces of art in that diary, art you can see walking around in any neighborhood
But I was in a hurry so I didn't get enough posted---there's plenty more to look at.
Many people expressed a desire to go there so I thought I'd do another diary telling how to do that and show some more art.
this diary is just a further extension of the last two
Getting around
Art of Valpo
I believe that in these diaries I have not repeated an artwork once. In 4 hours of walking, over 2 trips I have photos of hundreds of artworks. Its literally all around. I don't think you can be anywhere in Valpo and not see some of these. Its what I come to Chile for, after my family
Valparaiso is the most European city Ive ever seen that is not actually in Europe. Cobbled, twisty streets, old buildings, outdoor cafe's-you name it. And the art is just incredible.
there's major art schools here and the artists are pretty much allowed free rein to do what they want.
Ok, so you land in Santiago airport. I think they have buses direct to Valpo from there, tho Ive never taken one from there. If they don't what you want to do is take a cab to Pajaritos Metro station, about a $10 cab ride. ( a flag drop is 50 cts). That's where the buses leave from Santiago. Buy a ticket to Valpo and within 25 or 20 minutes, prbabaly less, youre on your way.
The Valpo bus goes straight to the Valpo bus station which is in the center of town. Valpo that is. There's an equally big town called Vina Del Mar that's right next to Valpo. This is a Miami beach type of town with big hotels, which Valpo doesn't have. If your into luxury, this is where you stay. There's a Metro to take you to Valpo or its less than a $10 cab ride.
here's what the money looks like. the bills are different colors which makes it easy. An easy trick is just to double the face value of the first one or 2 numbers, just drop off the last 3 zeroes. A 20K peso note is worth $40 USA, a 10K peso is $20, a 5K peso note is a $10, a 1k peso note is $2. This is within a few percentage points. (it changes and the dollar is getting stronger---Suck on THAT Tea Party!!) I'm missing the 5k peso note in this picture, its red. The drawing on the tshirt is one of Neruda's own, with writing. I got it at La Sabastiana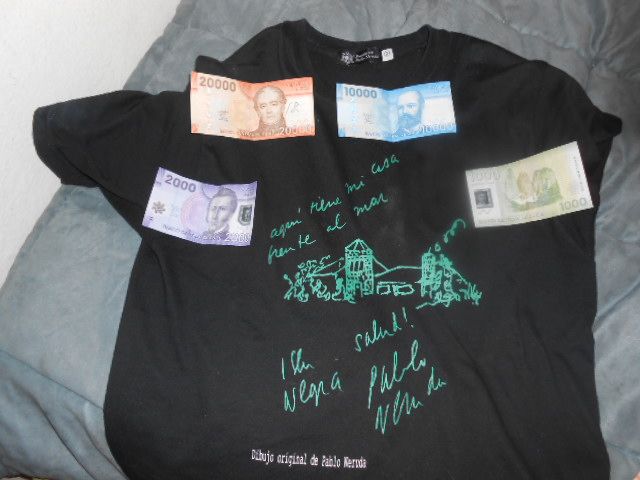 When making reservations in advance---wise during the season, which is about October through March--get a place in Barrio Templemann. There's other cool places but this is the best. The hills in Valpo have different names and they use them to indicate the neighborhoods. Look for Cerro Allegre, Barrio Templemann in the ads for the hostals. This puts you close to the center of the action, in a cool place. Hostals are what is mostly in Barrio Templemann, there's a wide variety there---fro the cheapest-share a room with a crowd- to some very luxurious ones.
My pal and I paid 22k ($44: see? its easy) pesos for a two bed room in a nice place. My pal picked this place but I would have rather have had our own bath and paid more. They weren't the most comfortable beds either. Oh well. Still, it was clean and nice, run by Germans, and gave us breakfast, which is standard. Tee name was Casa Kultour

So once you're established, start walking around and checking out the place. Best to walk downhill, take a taxi or bus going up. they have two kinds of taxis here: Taxis and colectivos. The Colectivos run on fixed routes and are cheaper. they cram in as many as they can. If you know the routes, which are on a sign on top of the car, this is best. The route # for BArrio Templemann is #6.
Regular taxis---all yellow here---go anywhere and cost more but not much.
there's also buses, again which run on fixed routes. I don't think there's a bus through Templemann but the one that goes to La Sebastiana---Neruda's house-- is 612.
La Sebastiana is well worth seeing, don't miss it. You can take a bus or taxi to the top where it is and then walk downhill admiring the art. The name of this hill is Cerro BelleArtes. There's a park there and restaurants in the neighborhood. This is a good place to buy souvenirs, there's many booths outside
La Sebastiana
. Or just buy a
helado
(ice cream) and stroll around.
La Sebastiana: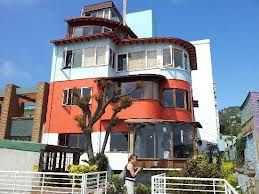 Cameras aren't allowed so these are from the museum brochure. you get the idea. Its just freaking fabuloso! Don't miss this. (2500pesos -$5)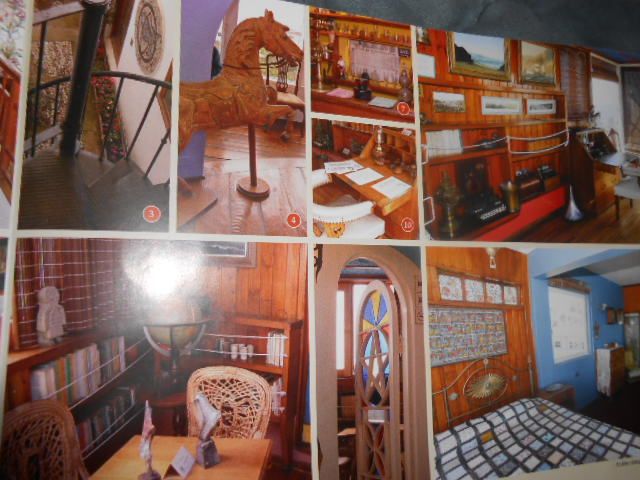 There's groovy little shops and cafes in Templemann. Stroll around and look at the menus. So far I haven't had a bad meal there but its not impossible. Chileans eat later than we do---lunch can start at 2:00 pm, dinner usually around 8:00.
I have to go out now but there's so much more I'll probably do another diary on this. I haven't used half the art I took pictures of
Here's some more art.