I post a weekly diary of historical notes, arts & science items, foreign news (often receiving little notice in the US) and whimsical pieces from the outside world that I often feature in "Cheers & Jeers".
OK, you've been warned - here is this week's tomfoolery material that I posted.
CHEERS to Bill and Michael in PWM, commonmass (along with Geoffrey the Cat) plus our Wyoming-based friend Irish Patti and ...... well, each of you at Cheers and Jeers. Have a fabulous weekend.
ART NOTES - a retrospective of the work of photographer Garry Winogrand is at the National Gallery of Art in Washington, D.C. through June 8th (before moving to NYC later that month).
YUK for today - an art collective in a small town on the Norway-Sweden border installed a pair of (official-looking) zebra crossing signs inspired by Monty Python's Ministry of Silly Walks - about which the Norwegian Public Roads Administration ... is not amused.
ALTHOUGH SOMEWHAT LENGTHY this review of some of the best books explaining the outbreak of World War I - and its effects - is still an excellent overview.
THURSDAY's CHILD is Meredith the Cat - being transported by the pop singer Taylor Swift.
AS PART OF a newly-released book about last year's Boston Marathon bombing .... this past weekend, a truly gripping short excerpt recounted that particular Friday when the city was on lock-down ... with conversations between Gov. Patrick and President Obama ... and the determination of police not to engage in a shoot-out: but to take the escaped (and badly wounded) suspect alive, so that he could stand trial.
TECHNOLOGY NOTES - the connection of the African continent to the rest of the world via sixteen undersea fiber-optic cables - rather than expensive satellite connections - have dramatically increased the transmission capacity of data and drastically reduced transmission time and costs for citizens in Sub-Saharan Africa.
FRIDAY's CHILD is Nessy the Cat - a Florida mama-kitteh who has taken in two prematurely born Chihuahua puppies to nurse as her own (after they were abandoned by their mother).
NINETY YEARS after it was granted by royal decree in 1924, the city council of Turin, Italy voted to strip Fascist dictator Benito Mussolini of his honorary citizenship.
FILM NOTES - the 1950 film Young Man with a Horn - loosely based upon the life of jazz cornetist Bix Beiderbecke - is quite possibly the oldest film with its three leading players, all major stars (Kirk Douglas at 97, Lauren Bacall at 89, and Doris Day at 92) still living.
BRAIN TEASER - try this Quiz of the Week's News from the BBC.
SEPARATED at BIRTH - TV star Jaime Pressly ("My Name Is Earl") and film star Margot Robbie ("Wolf of Wall Street").
...... and finally, for a song of the week ..............................… a band that changed over the course of its seven-year (primary) existence was Traffic – beginning with its pop/R&B days, progressing through a rock phase, folk phase and a jazz-oriented phase towards its end. Yet all along it delivered high-quality music with one other interesting twist: seen as more of a singles band in its native UK and an album-oriented band in the US.
The group was founded in April, 1967 by a not-quite 19 year-old Steve Winwood – a virtuoso organist, guitarist and singer with a soulful voice – who had just left the Spencer Davis Group whom he had led to stardom with several hit singles: two of which (I'm a Man - which Chicago later had a hit with - and Gimme Some Lovin') even reaching the US Top Ten. (Interestingly, Traffic never achieved such Top Ten singles fame in the US … doing so via albums, as already noted).
In his time after Traffic, Winwood went on to form the ill-fated Blind Faith (with Eric Clapton) and the two just a few years ago (in 2008) performed some notable concerts (with a CD and DVD version). He also went on to a more pop-oriented career in the 1980's, with hits such as While You See a Chance and Higher Love attracting a new audience. For someone entering his 50th year as a recording artist, Steve Winwood will only turn age 66 in a few weeks, and has a tour of the western USA coming-up in June.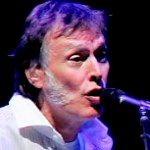 He formed Traffic with three 22 year-old musicians from his native Birmingham, England – who had played in bands named Deep Feeling and Locomotion - with the name Traffic coming as an inspiration while the four of them were waiting to cross the street. And part of the band's aura came from renting a cottage in the Berkshire countryside and pursuing an experimental, collaborative style in developing material. While the band had several on-and-off personnel changes in its lifetime, its classic lineup members besides Winwood were drummer Jim Capaldi, Chris Wood on flute and saxophones, and – to a lesser extent – vocalist/guitarist Dave Mason (who spent more time away from Traffic than within).
Jim Capaldi was born in 1944 to immigrant parents from Italy, and had a very funky style as well as being a good back-up vocalist. In later incarnations of the band he – like Don Henley and Phil Collins – emerged from behind the drums to being a front-line singer (disappointing more than a few fans). He did have something of a successful solo career in the UK, and was much missed when he died in January, 2005 at the age of sixty.
Chris Wood (in part not being a vocalist) was the quietest member of the band, with one record review somewhat downplaying him as a 'semi-jazz reed man'. But he was an integral part of the band's sound, with his saxophone solo on their 1971 instrumental Glad – followed by the vocal-led song Freedom Rider, which I saw them perform in 1973 – helped define their sound. Those of you who own Jimi Hendrix's album Electric Ladyland can hear his flute on the searing 1983 medley. Chris Wood died in July, 1983 at only age thirty-nine.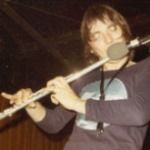 Dave Mason had a pop-rock orientation and an ability to write all his own work without collaboration – in a sense, like Ron (Pigpen) McKernan of the Grateful Dead, Mason was less like the rest of his bandmates, leading to a shorter tenure. Still, he helped round-out the band's sound and as a gifted songwriter contributed several standout tunes – such as Vagabond Virgin and especially Feelin' Alright – that spawned several notable cover versions (most notable Joe Cocker).
Dave Mason also went on to a solo career that continues to this day – scoring a #12 hit with We Just Disagree in 1977 – and he will turn age 70 next month, with a nationwide US tour underway.
The band's first single Paper Sun reached Britain's Top Five in July 1967, leading Island Records producer Chris Blackwell to quickly release Dave Mason's song Hole in My Shoe – which became an even bigger hit, but which was not liked by many of his bandmates (and which I don't care for, either) that helped lay the seeds for Mason's eventually leaving the band (briefly) later in 1967.
Their first album release spawned several popular songs, including Dear Mr. Fantasy and Heaven is in Your Mind (which was given an unexpectedly fine later rendition by Three Dog Night). In the spring of 1968, Mason reconciled with the band and their second, self-titled album consisted of more than half of songs that he wrote. Winwood also contributed No Time to Live (spawning a fabulous cover by Brian Auger). In addition, Winwood and Chris Wood appeared on Electric Ladyland (as did Mason, albeit uncredited).
The band fired Mason at the start of their 1968 autumn tour, and the rest of the band – now with an awkward instrumentation set-up in concert – split-up after the tour. While Winwood joined two short-lived bands (Blind Faith and Ginger Baker's Air Force afterwards), Capaldi and Wood joined session keyboardist Mick Weaver in the band Wooden Frog ... which also did not survive. Their record label released the album Last Exit – with more pop-oriented singles as well as some jazz-influenced live tracks.
Steve Winwood still owed Island Records two albums, and began to record a more folk-oriented solo album … before enlisting Capaldi and Wood to record John Barleycorn Must Die – a new direction for the band that received much critical praise (that contained the Glad/Freedom Rider couplet already mentioned). That brought the band back together and – in part to help augment their sound – they added bassist Ric Grech, drummer Jim Gordon and percussionist Reebop Kwaku Baah. And for several dates in Britain, Dave Mason rejoined to appear on the live album Welcome to the Canteen – completing their contractual obligation to Island Records.
Going back to the studio, the band recorded an even more experimental, jazz-oriented Low Spark of High Heeled Boys – reaching the Top Ten in the US while (in part due to a lack of touring there) failing to chart in the UK, and the title track became a classic-rock radio staple. Jim Capaldi was now in full bloom as a singer-songwriter, with Light Up or Leave Me Alone and Rock & Roll Stew as a sign of where the band might next be headed. Yet a follow-up tour was cancelled as Winwood dealt with a serious medical condition (peritonitis), while Grech and Gordon left the band and Capaldi released his first solo album.
In the fall of 1972, they reunited with a rhythm section (Barry Beckett, David Hood and Roger Hawkins) from the famed Muscle Shoals recording studios. They released their last major album Shoot-Out at the Fantasy Factory – and that was the line-up I saw in their US tour of 1973. They released an autumn 1974 album When the Eagle Flies which - despite middling reviews – reached the Top Ten album charts in the US … but the band broke-up (essentially for good) at the beginning of 1975.
Steve Winwood began a successful career as a session musician and solo rock singer, before his huge success as a pop singer at the dawn of the 1980's. Jim Capaldi never became a star in the US, but did have some success in Britain, with his version of Love Hurts reaching #5 there (which was overshadowed in the US by a version coming from Nazareth).
Despite the death of Chris Wood in 1983, Winwood and Capaldi reunited in 1994 for one final album Far From Home and toured under the name Traffic (often opening for the Grateful Dead in one of their last major tours). They last reunited at their induction into the Rock & Roll Hall of Fame in 2004.
Traffic's music today is a staple of classic rock stations, and Steve Winwood was ranked by Rolling Stone as #33 on its 100 Greatest Singers of All Time list. An excellent compilation album Smiling Phases will give you a chance to hear how they helped change the music world – while undergoing change themselves.
They have 6-10 tunes worth this space .... but I still have a soft spot for Smiling Phases - a tune from their debut album (which Blood, Sweat & Tears had a later hit with) and was an example of their early collaborative style (co-written by Capaldi, Wood and Winwood). And below you can listen to it.
Do yourself a favor, wake up to your mind
Life is what you make it, you see but still you're blind
Get yourself together, give before you take
You'll find out the hard way, soon you're going to break

Smiling phases, going places even when they bust you
Keep on smiling through and through
You'll be amazed at the gaze on their faces
As they sentence you

You don't need a lawyer when you're in a fix
Someone gets the payoff, you're friends are full of tricks
How could you ask me something that you just can't buy?
Own-up to the truth girl, your loving will go by

Your companion, brings you flowers
You just hang him up and keep him waiting there for hours
And you should see the look on his face
As you slide down the rail