The Kansas State capital has been the scene of an ongoing feud between the two sides.. except in this case, Democrats have filled the state capital with teachers, educators and others to let the audience see the disaster that Kansas House Republicans are prepared to inflict.
Paul Davis, presumptive Democratic Nominee lays this problem out clearly:

UPDATE: This afternoon the House accepted the Senate offer on the education bill, which means a proposal to straightforwardly restore funding for our classrooms is now tied to unnecessary, unpopular policies - including removing due process rights for Kansas teachers. This overly partisan proposal could put as much as 25% of education funding at risk. The Capitol has filled with hundreds of public school teachers waiting for a vote on the bill. The House is in recess until 9:00 p.m. This is the time to contact your legislators and tell them to pass a clean bill on school funding (click here to get their emails: bit.ly/1n8PcbG). Or, if you're local, join us at the Capitol. It's looks like it will be a long night. Thank you to all who have engaged in this discussion!
So, what exactly is happening, that has the capital standing at near 10PM on a Saturday night?
Kansas recently lost a court battle where the Kansas Supreme Court found that schools were constitutionally underfunded. At issue was the fact that the Brownback administration, who kept floating numbers that 'education expenses are up' failed to put them into any context; they also included upkeep of closed schools, fuel, and insurance holdings as part of the education level provided to students.
Kansas House Republicans devised a plan to combat this ruling:

This language is taken directly from "The Next Generation Charter Schools Act," a piece of model legislation crafted by the American Legislative Exchange Council, an organization known for promoting conservative legislation.
http://www.kansas.com/...
The plan? Privatize education in Kansas. Offer parents vouchers everywhere, allow them to opt out of paying taxes for school districts as long as their children didn't attend.

Charter schools are privately run and have more freedom to operate but still receive public funding. The bill would create "innovative public charter schools which may operate independently of state laws and rules and regulations … deemed by the public charter school authorizer to hinder its goals to achieve at the highest level possible."
When parents didn't want to opt out, we'd offer a charter school systems and provide groundwork for private companies to take over school systems.
Tonight, Paul Davis remains in the capital where he welcomed teachers earlier to help oppose this legislation.

UPDATE: It is the final day of the regular legislative session (known as "Drop Dead Day"). The House and Senate are in negotiations on a bill to comply with a court order to restore school funding. The House plan (which passed yesterday) is very similar to what I proposed a month ago. The latest Senate offer eliminates teacher due process, adds corporate tax credits for scholarships (ie, vouchers), and includes property tax credits for home and private schooling. This is not what one would call a "clean" education funding package. The attack on public school teachers is very troubling. The debate is not over; the House is set to make a counter offer at 12:30, so stay tuned. I'll keep you updated here, or follow the #ksleg hash tag on Twitter. — at Kansas State Capitol.
Make no mistake, the Senate bill offered in Kansas is nearly the death of public education. It signals that parents can opt out freely, take tax benefits for doing so, that home-schooling gets them a pass, that private schools get money and that teachers have no right to due process in firing, breaking the backs of unions.
Davis is spending the night in Topeka on the last day of the legislature fighting to prevent this monstrosity. It is unknown if Democrats can prevail or stop this madness from going through; but this is what Kansas is in for.
Davis stance tonight on the side of public schools is a brave one and a worthy cause. It will take a lot of moves like this one to help change Kansas for the better; and if you've ever wanted a candidate who needs some fiscal support who's working his can off to earn it in a red state, I'd encourage you to chip a few bucks Davis way. This Koch home turf. If nothing else, think of it this way: every dollar you spend in Kansas is a dollar the Kochs have to spend fighting for their own home playing field with twice as much. Because this year, in all the latest polls, Brownback trails.
Getting Democrats to the polls in Kansas is important. And if we give up on the education of kids in the favor of ALEC written social engineering, everyone loses.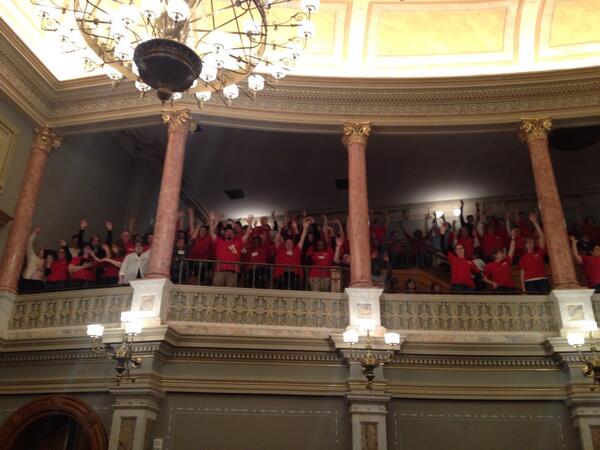 More on Paul: http://davisforkansas.com/
8:09 PM PT: Tweeted by Paul Davis in the last few minutes.. teachers waiting for Republicans to return to the house to actually debate the bill. Republicans have left saying it might take 'until early morning' before they return (Chickens) It's OK.. the teachers can wait..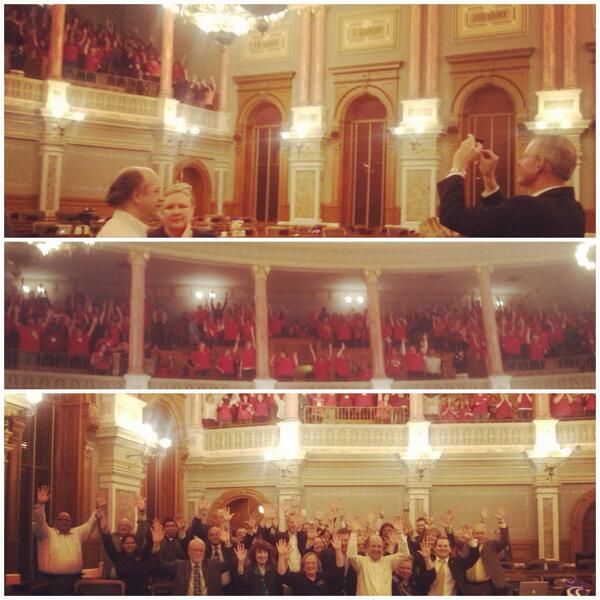 8:15 PM PT: Kansas Republicans still refusing to take to the floor..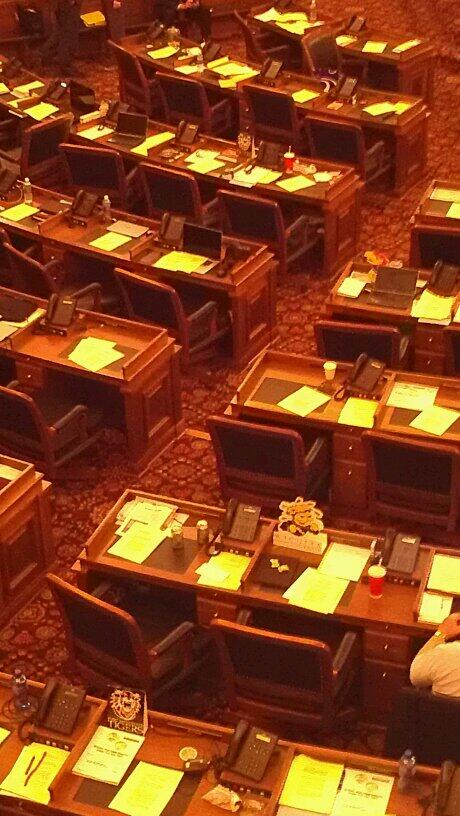 (Credit: @MLBOIG)
8:19 PM PT:
"This isn't a No vote, this is a HELL NO vote." Wichita Rep Jim Ward on school finance bill. Dem caucus cheers.

8:22 PM PT: Republicans return to the floor..
8:28 PM PT: Order has been called. You can listen to legislature live:
8:43 PM PT: Kansas Republicans are beginning to explain the $10M (TEN MILLION) dollar tax break for those who offer private education as a corporate give-a-way.
8:51 PM PT: Kansas Republicans acknowledge they have no idea how much money the tax break will cost the state, no scoring was done.. they also acknowledge that that if there is a short fall they will 'figure it out then'.. sounds like good planning...
8:53 PM PT: Kansas Republicans acknowledge the legislation would end unions for everything but secondary schools.. all teacher contracts would be considered void.
8:56 PM PT: Teachers Salary considered voided after July 1. All will have to re-negotiate
8:58 PM PT: More teachers who have been driving in are filling the state house. There are also those outside. There is no sitting on the sidelines.
9:03 PM PT: Reprentative Timmer (D, Dist. 78) takes to the floor and notes that Kansas Republicans refused to put 2 of the 3 proposals into any committee and refused to debate any of these issues on the floor until they demanded a debate. Republicans are trying to interupt. He's noting that voiding all agreements and allowing schools to determine pay without a state guide, and without any justification sets up the ground for a mass exodus of quality teachers.
9:13 PM PT: Brownback legislative staff is refusing to issue a statement either way on the debate. Staying above the fray by refusing to lead at all.
9:31 PM PT: Rep. Kasha Kelley The Republican alternative to Michelle Bachman in our state, asks the legislators to crawl inside the mind of a 'young black child' (she's a white wealthy woman, so her experience speaks), and she's now arguing that they aren't giving enough money to corporations to end public schools. Also, she apparently knows how to cure dyslexia.
9:33 PM PT: Rep Kasha Kelley Ends with a question: are we better off now, post Brown Vs Board of Education then we were before? (Putting aside the issue of segregation, of course)..
9:42 PM PT: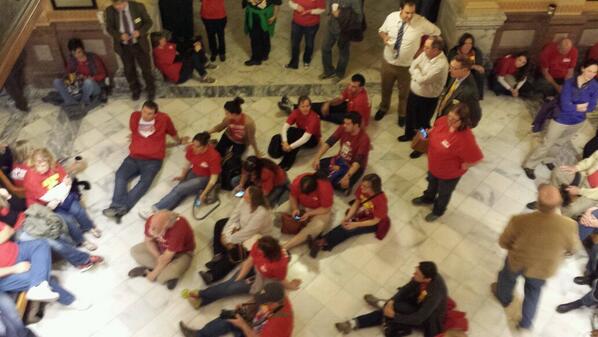 Teachers are filling into the capital rotunda, sitting on the floor and occupying the house as they drive in from around the state to try and stop this madness.
(Credit to @AmberVersola)
9:51 PM PT: Rep. Kinzer (Republican, Olathe) is on the floor now, he notes that whether this is constitutional or not isn't up to them, and the state should be OK with waging this battle in courts through lawyers because they are right on this. (another great way to waste taxpayer money)
9:55 PM PT: House Republicans when asked are saying they might not have the vote to pass.. quick count tells me they may be short.. moderate Republicans may not be convinced to go along..
9:58 PM PT: Rep. Kinzer continues, noting that the Kansas Supreme Court Ruling was basically wrong and they are not 'our masters' and the legislators should do 'what is right' and not what we are 'told'. Argues that if they want to battle in court, he's up for it. Kinzer argues there isn't enough vouchers & school choice, but he'll support this bill and keep working on those things (crazy) Argues it's "profound" and "historic" to expand vouchers, compares the bill to JFK.. what?
10:09 PM PT: Teachers groups advising each others: Spread the word, whatever you can do.. get on your phones, call people don't let this slink in the dark of night. Let people know what is going on here, and remember this in the fall. Choosing dark of night on a Saturday is a stunt to make sure people don't pay attention.. well, the people are paying attention and the capital rotunda shows it..
10:25 PM PT: Pointed out by teachers If every teaching contract is expired July 1 of this year until renegotiated, it means EVERY SINGLE teacher in Kansas is 'fired' until new terms are reached.
10:32 PM PT: Rep Claeys, Kansas (http://www.kslegislature.org/...) Argues that they must vote yes because "A yes vote is a vote for students, a no is a vote for unions" Gets booed by the gallery.
10:45 PM PT: Paul Davis Presumptive Democratic Nominee for governor argues that this legislation is a sideshow, stuffed with amendments that were not addressed in the house and not debated at any point until tonight.
10:50 PM PT: I'm trying to do a quick count, based on my work here I have this as 55-65 after a switch a few minutes ago, failing.. but nothing is certain
10:51 PM PT:
Legislation fails!
I had my vote count off by a bit, but it went down, 55-67.
11:00 PM PT: Courtesy of Lawrence Journal World: Kansas Republicans make a run for the Speaker's office, huddling to see what maybe they can pass.. I guess this ruins a vacation (too bad)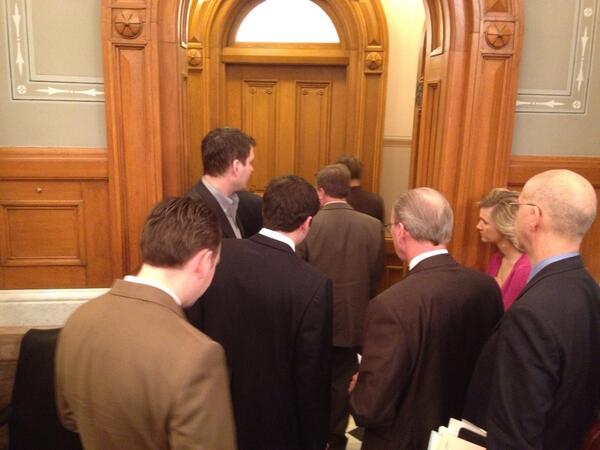 11:12 PM PT: I was going to close this out as a win for (D)s in Kansas who stood strong. But now there is a real debate going on by Kansas Republicans whether or not they can craft a new consensus and get it to the floor tonight. The House is NOT adjourned, and if the state house cleared out, they might still take a vote in the dead of night.. that's the debate happening right now.
11:26 PM PT: Ok, now we have a serious debate going on. Kansas is going to hold a senate conference meeting at 1;30AM tonight. It is geared to discuss transportation, but is free to discuss others.. the movement to recess til 5AM was defeated. A new measure to adjourn til April 30 has failed. The session is still in order.
11:35 PM PT: For those that need sleep, get it. There may be a lot of tired teachers at school on Monday the way this is going. What comes out of this dark-of-the night meeting in Conference at the state capital is anyone's guess. My mother always told me: nothing good happens after midnight if you aren't home. With a few exceptions - none of which are happening in the capital building - I tend to believe it. This last minute, late night conferencing is designed to put this debate further out of mind with Kansans who care about this issue.
The heart of making sure public meetings are public is making sure the public can be involved. A 2AM vote showdown in a state capital on a Saturday night is a subversion of what open to the public is all about.
That's my soapbox for now while they are at ease and in conference.
11:45 PM PT: Reports of teachers being told they'll pick up later and they should leave.. no way. Teachers not budging. Session isn't adjourned, bill in conference now.. would you take that chance?
11:46 PM PT: Teachers keep their seats. Thanks to @Feminismitten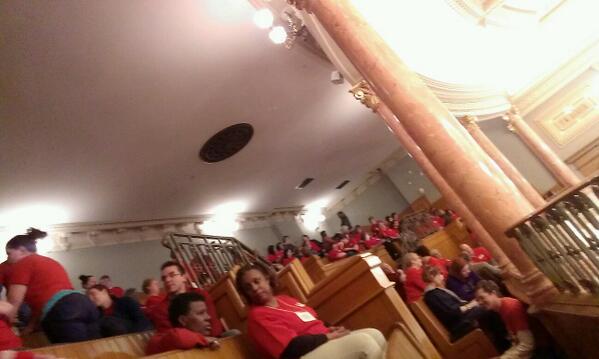 11:54 PM PT: Official list of how reps voted.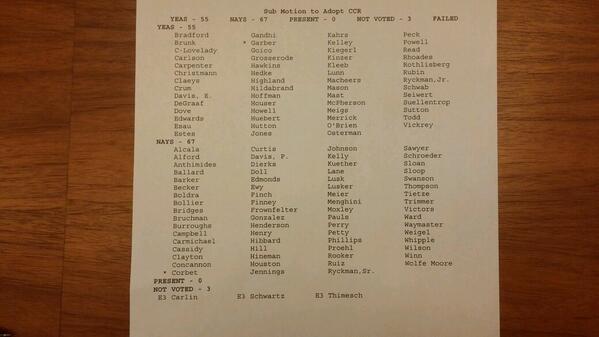 Remember we wanted "NO" and "NO" won.

11:57 PM PT: KS-SB84 will now be the official new revision of a conference bill. This may move and go to the senate first. Unsure of it Senate can be called into session now, if enough are on hand.. or if there is a procedure. Senate is much more conservative then house.. this is going to get interesting again.
Sun Apr 06, 2014 at 12:05 AM PT: New Republican proposal Being floated: Lower the tax credit for companies in this bill, but still end Teacher Due Process from termination. Contracts still to expire July 1. This would be a VERY minor change if it moves forward
Sun Apr 06, 2014 at 12:23 AM PT: So how bad is this education funding problem in Kansas? http://www.hayspost.com/...
Hays USD 489 is notifying teachers and staff district-wide they might not have a job for the 2014-15 school year.


According to Superintendent Dean Katt, the notices are not official until the USD 489 Board of Education adopts a resolution.

Katt said the possible cuts are "obviously a difficult situation," and staff still is looking at openings due to resignations that could allow some of possible cuts to be shifted into other areas.

"Its is always an emotional thing for everyone we are talking to," said Katt, "but we have to balance the budget."

The district is searching for ways to climb out of an estimated $1.3 million budget hole, with proposals on the table ranging from increases to the local option budget to elimination of all-day kindergarten to changes in the district's transportation policy.
Sun Apr 06, 2014 at 12:26 AM PT: Kansas Senate to gavel at 5AM This is the current announcement. The Kansas Senate plans to gavel SB-84 at 5AM to get a quick vote and call the house back into session.
Sun Apr 06, 2014 at 12:29 AM PT: Teachers continue to fill the rotunda.
Sun Apr 06, 2014 at 12:58 AM PT: Kansas Senate is coming to order. They adjourn until 12 noon. A conference committee is meeting right now. They hope to vote in the afternoon on new revised legislation and send to house same day. This would put us right back here late night tomorrow night..