Fava Beans and other edibles
Fava beans are legumes and as such are often grown as a cover crop to increase nitrogen in the soil and are plowed in before planting the main crop of vegetables. The beans themselves are very good eating and can be found in farm markets from spring to summer. They are not too easy to prepare but worth the effort. Gophers were sabotaging plantings the last few years so this year I started them in pots and transplanted them in a controlled grouping. They are in flower and tiny beans have formed. Here they are today. Note gopher trap at the ready, just in case.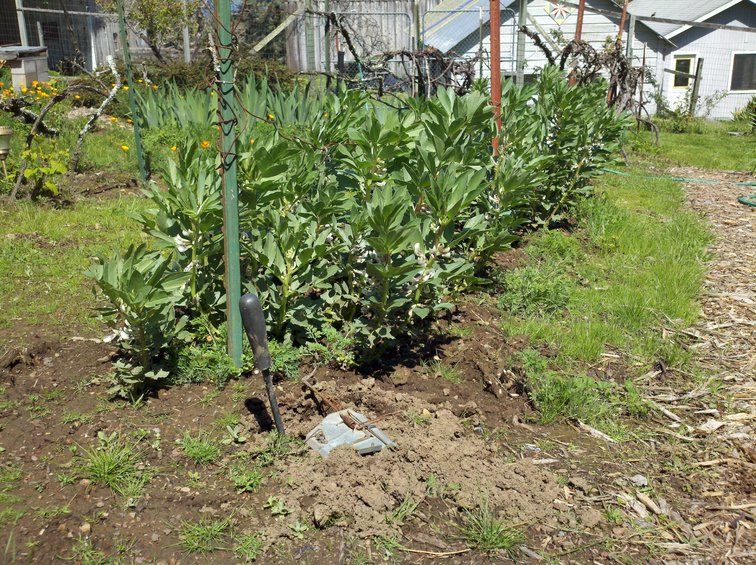 The best description I've found for the preparation process is that of Garden Betty so read that if you plan to prepare them.
Garden Betty
So I was in the garden yesterday and remembered reading a newspaper story which mentioned you could eat fava bean leaves. So I ate some…..tender and delicious. Then I thought "did I remember that correctly? Aaaack I might die." So I ran back to the house and googled it and yes, in restaurants now it's a new thing. Raw or lightly cooked it's great. So now I have a new vegetable.
Now I'm no Euell Gibbons but I started thinking of other surprise edibles from my garden, some I know about but haven't tried and others we use often.
Borage grows wild around here and the flowers are sweet, good in salads. Photo includes bonus shadowy selfie.

Miner's lettuce is a weed which grows everywhere here and it makes the most delightful salad green. Stinging Nettle will sting you (I have to weed them from my garden) but cooked it is a delicacy. Bracken fern is like asparagus if harvested very young and steeped in water three times to remove the bitterness. I've actually seen large dandelion leaves for salads for sale at farmer's markets. Plantain is common in most places; blanch the leaves and add garlic and butter.

Have you tried any of these?
Would
you try any of these? Are there any unusual edibles in your repertoire?
In other cooking news I found a fantastic sale on charcoal yesterday and bought 80 pounds which together with the 20 pounds I had already……..I'm ready for summer.
Being originally from Wisconsin I'm obligated to eat brats once a week; they will be cooking soon.
| | | |
| --- | --- | --- |
| | Kitchen Table Kibitzing is a community series for those who wish to share part of the evening around a virtual kitchen table with kossacks who are caring and supportive of one another. So bring your stories, jokes, photos, funny pics, music, and interesting videos, as well as links—including quotations—to diaries, news stories, and books that you think this community would appreciate. Readers may notice that most who post diaries and comments in this series already know one another to some degree, but newcomers should not feel excluded. We welcome guests at our kitchen table, and hope to make some new friends as well. | |