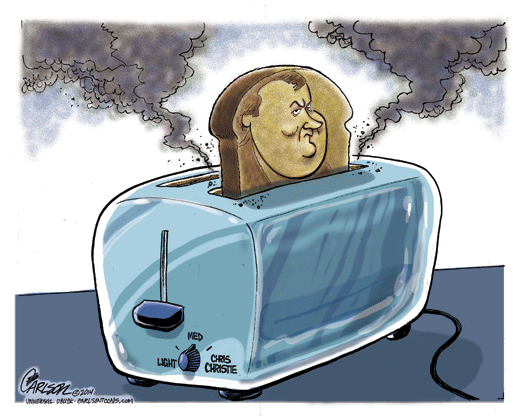 While looking for written documentation for Rachel Maddow's breaking report that a second prosecutor has opened an investigation against former Port Authority Chairmen David Samson, I ran across this article just published minutes ago by Politico.
Jeff Smith, assistant professor and author of Trading Places, and Mr. Smith Goes to Prison, a former Missouri Senator, who spent 2010 in prison for violating campaign finance laws, believes Governor Chris Christie is now in much worse legal peril after the Randy Mastro report, than before, as he explains in Chris Christie Is Toast: Federal prosecutors have their teeth in the New Jersey governor's close associates. And they ain't letting go. Jeff Smith offers five reasons why he believes Governor Christie is toast and gets specific about several laws he believes Christie and his associates may have broken. Rather than try to summarize this long, unique, and interesting article, let me just link you to it and offer you a few teasers.

U.S. Attorney Paul Fishman is investigating this alleged incident as a potential violation of the federal "honest services" fraud statute, and has interviewed several Hoboken city officials including Mayor Zimmer, who offered contemporaneously written diaries to prosecutors. Last week, Hoboken's City Council waived the city lawyer's attorney/client privilege, freeing him to speak to the grand jury investigating and potentially corroborate Zimmer's account of events; reports indicate that Zimmer contemporaneously told four other people of Guadagno's threat as well. Given the very real possibility of prison for Zimmer if the diaries or her allegations are demonstrably false, it seems unlikely that she would concoct this story and come forward voluntarily. If a grand jury believes that Guadagno made the alleged threat and was instructed to do so by Christie or Samson, Guadagno (and anyone who directed her) would be in legal peril. ...

What does all this mean for Chris Christie? The available evidence suggests that Samson is in real danger of an indictment, and Christie and his lawyers' desperate effort to shield him from any blowback indicate that they are acutely interested in keeping him quiet. Christie implied in announcing Samson's resignation that the 74 year-old may simply have wanted to relax, but assuming that prison is not the ideal retirement community, Christie must be concerned about Samson's exposure—and potentially his own. And based on my knowledge of federal investigations, if Samson is indicted, the only way he'll likely be able to avoid prison is by revealing knowledge of wrongdoing by Christie – knowledge that, as the governor's longtime mentor and close ally, he may be uniquely situated to possess. As Christie knows better than anyone, the feds don't hand out immunity like pediatricians hand out lollipops. And neither judges nor parole boards appear to resist elderly incarceration; indeed, seniors are the fastest growing generational cohort in federal prisons. So if Samson is indicted and wants to die a free man, he probably has to give up something meaningful – i.e., Christie.

Jeff Smith raises the possibility that Wildstein, Kelly, Baroni, and Samson, may be criminally liable under New Jersey statute 2C:30-2, -- "a public servant is guilty of official misconduct when, with purpose to obtain a benefit for himself or another or to injure or to deprive another of a benefit … commits an act relating to his office but constituting an unauthorized exercise of his official functions, knowing that such act is unauthorized or he is committing such act in an unauthorized manner." If we have a lawyer in the group, perhaps, they can explain what this means here with regard to Christie. My impression is that the implication is if they can be charged with this, the prosecutor has leverage to work a deal to get them to testify against Christie.

My sense is that while Wildstein has no information about Christie criminal activity – if he did, he wouldn't have begged for immunity so publicly – there is a little known federal statute called "misprision of a felony" (18 U.S.C. § 4), which could be used against Christie if Wildstein can prove that he told Christie of the bridge closing contemporaneously. The statute, used against people who fail to report knowledge of a felony to the appropriate authorities, is generally only applied against those in a special position of authority. Kelly's recent response to the Mastro report, in which her attorney wrote that she could arbitrate a he-said/she-said dispute regarding Christie's contemporaneous knowledge of the bridge closing, strongly implied that Kelly's involvement in the affair came at the behest of superiors as she sought to "pursue the goals of the Office." With the Mastro report and the governor himself having now thoroughly trashed Wildstein and Kelly in a pre-emptive attempt to erode their credibility, they have precious little to lose by telling all.

Smith's forth reason he see Christie's chances of prosecution improving rapidly is the "death spiral." As Christie's empire collapses, his ability to intimidate potential witness disappears. In fact, we may see a rush to get on the "freedom train," before the last opportunities are gone.
Jeff Smith has an interesting and unique interpretation of the reports of Christie's phone call with Governor Cuomo about his offer to split the Port Authority on terms highly favorable to New York. Smith speculates that Christie is nervous and eager for Cuomo to keep their previous conversation about trying to suppress the potential New York investigation of the lane closing quite, because this raises serious doubts about this claims that he lacked knowledge of his office's involvement in it. If he were not aware that his people were involved, why would he care?

To get a sense of just how nervous Christie is about this, watch the terms of Port Authority split Christie has proposed. Assuming Christie wants the contents of that phone call to remain secret, the terms will be very favorable to New York. A possible sign of the degree to which Christie is taking care not to antagonize Cuomo? Christie vehemently denied doing anything to encourage Cuomo's leading prospective opponent – a curious move for an ambitious RGA chair looking to make his mark on the national stage in 2014.

Perhaps, our readers can draw out insights. Cheers