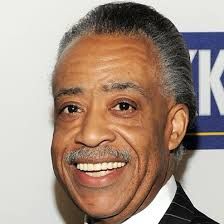 Reverend Al Sharpton, aka "The Civil Rights Kid" (humor alert), denies The Smoking Gun allegation that he was an an informant for the FBI in its effort to bring down the Mafia in, Al Sharpton: I'm No Snitch,saying, "If I brought down the Mob, I want my ticker tape parade."

The civil rights activist and MSNBC host was referring, facetiously, to TheSmokingGun.com's meticulously detailed, epic account, rife with court documents and law enforcement sourcing, of Sharpton's apparent four-year career in the 1980s as one of the FBI's more valuable mafia informants--a narrative that can best be described as The Sopranos meets American Hustle.

It's a colorful chronicle that features con men and homicidal hoodlums with nicknames—as the Smoking Gun points out—such as "Benny Eggs," "Chin," "Fritzy," "Corky," and "Baldy Dom." Also in the mix are famous performers like James Brown, the young Sharpton's mentor and benefactor; Michael Jackson, Sammy Davis Jr., and rascally boxing promoter Don King, another associate of the fledgling Baptist minister.

The latest inconvenient revelation is another chapter of Sharpton's checkered past coming back to haunt him—or maybe just throwing into sharp relief his amazing rise from rabble-rousing street preacher to member of the Democratic Party establishment as well as anchor of his own weeknight MSNBC program, PoliticsNation. MSNBC had no response to the Smoking Gun's story. Yet a screaming headline on the Drudge Report—SHARPTON WAS FBI MOB RAT—was hardly an auspicious way to begin a momentous week.


In an interview with The Daily Beast, Sharpton called the Smoking Gun's story--versions of which have been circulating in the media for the past 26 years--"embellished," "a stretch," and "crazy." He denied that he ever knowingly snitched on wiseguys for the FBI.

In this fairly long interview with the Daily Beast, Sharpton denies the Smoking Gun's story calling them "embellished," and a "strech," as if to leave open he possibility there may be some basic truths there that have been "streched" or "embellished," as opposed to "totally fabricated."
This story doesn't say what Sharpton's street name was, but this "Civil Right's Kid" sounds good to me. This is a long a "colorful article" with too many Soprano-like anecdotes in it for me to try to summarize.
Sharpton isn't being accused of any crimes here, in fact, if he wore a wire to help police bring down the Genevese crime family some folks might like him more, so his denials must be given some extra credence.
Still, next time any of us might run into him, we will be trying really hard not to say, "Hey there, Kid, dose are some nice civil rights, ya got dare, what a shame if somedin was to happen to them."