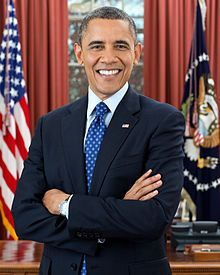 Jennifer Bendery's original research and activism should be much appreciated by the GLBT communities which she ponders with Fired, Harassed LGBT Workers Wonder Why Obama Won't 'Stick His Neck Out' On ENDA.
Bendery opens her article noting President Obama "big splash" with "two executive orders relating to equal pay for woman," then asking why he is not using his equivalent power to ban "workplace discrimination against gay, lesbian, bisexual or transgender people?"
The White House argument has been the same for months. Congress needs to take the lead on the issue, not the president, because legislation would go much further, officials say. If Congress passed the Employment Non-Discrimination Act, it would make it illegal nationwide to fire or harass someone at work for being LGBT. In contrast, if Obama were to sign an executive order, it would only apply to federal contractors.

But that rationale doesn't hold much weight considering Obama keeps taking action on matters he insists Congress needs to deal with on a broader level. In addition to Tuesday's executive orders on fair pay, an issue he's urging Congress to act on, Obama unilaterally raised the minimum wage for federal contractors in February, even as he continued pressing Congress to pass more comprehensive legislation. In June 2012, he used his executive authority to prevent Dream Act-eligible students from being deported, despite his ongoing push for immigration reform legislation.

ENDA legislation has come to a complete standstill in Congress. Jennifer Bendery tells us that John Boehner say there "no way" he'll bring up ENDA this year. So the only way it will happen is if President Obama uses his executive power to order it for federal employees and federal contractors.
Bendery regales readers with numerous poignant personal anecdotes of GLBT workers who have suffered from employment discrimination. Trying to summarize them here would not be as effective as encouraging you to read this worthwhile article. If you have any doubt about whether you support ENDA this article will end it.
The quotes of a few GLBT activists lamenting President Obama's lack of action so far might provide us with some food for thought and discussion.

"Not even Obama cares enough to stick his neck out there. That sends a message to the rest of the country that, 'This is not important,'" Rowell said. "I think an ENDA executive order from the president can help change attitudes over time."

"This type of discrimination is real," Trigger said. "The president has a chance to bypass the stalling and game playing with the stroke of a pen. Millions of Americans can immediately be protected from workplace discrimination."

Jennifer Bendery informs us that if President Obama were to sign an executive order on ENDA he could not only protect 16 million federal contractors but also send a symbolic message to the rest of the country that this issue is important and help change attitudes.
President Obama has the White House for three more years. We can be certain we have the Senate for eight more months. We ought to be pulling all the stops and accomplishing every possible progressive change we are capable of.
Just perhaps, we can get our base and other American fired up enough about what Democrats can do in Washington that we can get them to come out and vote in November. Now is not the time to play, "let's try to appease the Republican to see if we can win them over." We are not going to do it.
If we try to make a lot of speeches about what we could do in 2014 and 2016 if voters just give another chance, but we've left "big money on the table," why should the believe us?
How much commitment to equality would we like to make? Let's go for 100%
Actions speak louder than words.
Mr. President please sign this ENDA legislation and demand the Congress pass it for the whole nation. Then we can go into the November election with our base once again "fired up and ready to go! Women, the LGBT, Minorities, Unions, working people, people who have health issues, children, parents, people on Medicare, Medicaid, .... well the President gives this speech much better than I do.
Let's do it. Go Mir. President! Sign this ENDA Executive Powers Act for federal contractors.