Science News

'Dinosaurs of the turtle world' at risk in Southeast U.S. rivers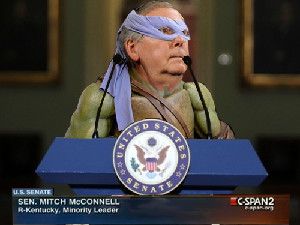 University of Florida

Conservation of coastal rivers of the northern Gulf of Mexico is vital to the survival of the alligator snapping turtle, including two recently discovered species, University of Florida scientists say.

A new study appearing this week in the journal Zootaxa shows the alligator snapping turtle, the largest freshwater turtle in the Western Hemisphere and previously believed to be one species, is actually three separate species.

The limited distribution of the species, known to weigh as much 200 pounds, could potentially affect the conservation of rivers the turtles inhabit, including the Suwannee, said lead author Travis Thomas, a Florida Fish and Wildlife Commission scientist and former Florida Museum of Natural History volunteer who began the research as a UF wildlife ecology and conservation student.

"We have to be especially careful with our management of the Suwannee River species because this turtle exists only in that river and its tributaries," Thomas said. "If something catastrophic were to occur, such as a chemical spill or something that affects the entire river, it could potentially devastate this species. The turtle is extremely limited by its habitat. All it has is this river and it has nowhere else to go."


Tiny Terror: Mini 'Tasmanian Tiger' Could Hunt Bigger Prey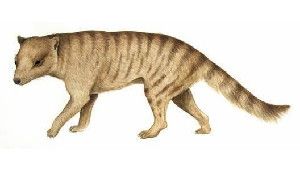 by Charles Q. Choi, LiveScience

An extinct marsupial hunter only the size of a fox may have hunted prey larger than itself, researchers say.

This predatory ability makes the ancient creature different from its most recent living relative, the also-extinct thylacine, or "Tasmanian tiger." The last known wild thylacine was shot in 1930, and the last captive member of the species died in a zoo in 1936.

Hunting apparently helped drive the Tasmanian tiger to extinction. People targeted them because they believed that the animals killed sheep, but a 2011 study published in the Journal of Zoology knocked down that belief. It determined that the creatures' jaws were too weak to take down large prey, and that they would have only killed animals smaller than themselves.

Technology News

Robert Redford film foretold Shor's quantum computing bombshell
by Tom Siegfried

Long before scientists were talking much about it, Robert Redford fans learned about the power of quantum computers.

It was 1992. A goofy movie called Sneakers warned about the dangers of computers and the massive amounts of encrypted information they controlled. Redford and cohorts acquired a small box, disguised as an answering machine, that was able to decode all the computerized classified data in the world.

"Cryptography systems are based on mathematical problems so complex that they cannot be solved without a key," said David Strathairn, playing the part of one of Redford's accomplices. Somehow a mathematician named Gunter Janek programmed a chip inside the answering machine box to solve such problems.

When Sneakers appeared in theaters, nobody had any idea how such a chip would work. Less than two years later, though, a Bell Labs mathematician duplicated the discovery of the fictional Gunter Janek. Twenty years ago this month, Peter Shor figured out the math that made cryptography vulnerable to quantum computers.


The "Heartbleed" Internet Security Flaw: What You Need to Know
Here is what you need to know to understand the problem and how to respond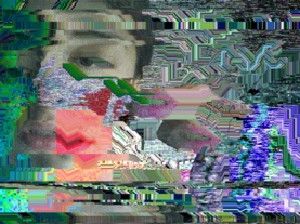 By Wendy M. Grossman

Consumers used to waking up every week or so to news of yet another Internet security hole or data breach may be hard-pressed to understand why Heartbleed, the hole in the commonly used Web security software OpenSSL, is different. But it is: Such diverse and nonalarmist security commentators as Bruce Schneier, along with the Electronic Frontier Foundation and Ars Technica, have all dubbed the bug "catastrophic."

"On the scale of 1 to 10, this is an 11," Schneier wrote on his blog yesterday.

So: What is it? How do you know if it affects you? What should you do about it?

SSL—for Secure Sockets Layer—is a protocol used ubiquitously on the Web to protect confidential user information in transit. This includes, but is not limited to, user IDs and passwords, credit card details, and other personal information. When you see HTTPS at the beginning of the address in your browser's address bar, that syntax indicates that SSL is in use to encrypt the traffic between your computer and the Web server at the other end. Increased used of SSL to protect the queries and messages users type into search engines, Webmail, and social networks so they cannot be read in transit has been an important part of the Web's response to Edward Snowden's revelations of endemic National Security Agency spying on Internet traffic.

Environmental News

Artificial Cooling A Tricky Topic For Climate Panel
by Karl Ritter, Associated Press

BERLIN (AP) -- It's Plan B in the fight against climate change: cooling the planet by sucking heat-trapping CO2 from the air or reflecting sunlight back into space.

Called geoengineering, it's considered mad science by opponents. Supporters say it would be foolish to ignore it, since plan A — slashing carbon emissions from fossil fuels — is moving so slowly.

The U.N.'s expert panel on climate change is under pressure from both sides this week as it considers whether geoengineering should be part of the tool-kit that governments use to keep global warming in check.

Russia, in particular, has been pushing the panel to place more emphasis on such techniques in a key document for policymakers being finalized in Berlin this week.

Drafts leaked before the conference only mentioned one of the options, removing CO2 from the air and storing it underground. Russia, a major oil and gas producer, said the Intergovernmental Panel on Climate Change should also mention solar radiation management, which could include everything from covering open surfaces with reflective materials or placing sun-mirrors in orbit around the Earth.

"It is expedient to give a short description of the approach and mention the major 'pro and contra'," Russia said in comments submitted to the IPCC and seen by The Associated Press.


Car, Truck and Airplane Pollution Set to Drive Climate Change
Greenhouse gases from transportation may become one of the greatest drivers of human-induced climate change, according to a draft of the forthcoming U.N. fifth assessment report on mitigation of climate change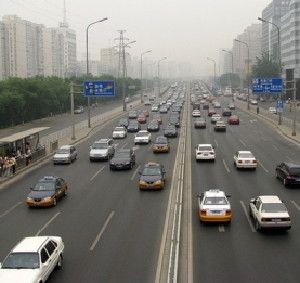 By Julia Pyper and ClimateWire

On the current trajectory, greenhouse gas emissions from cars, trains, ships and airplanes may become one of the greatest drivers of human-induced climate change, according to a draft of the forthcoming U.N. fifth assessment report on mitigation of climate change.

Authors project with high confidence that continued growth in emissions from global passenger and freight activity could "outweigh future mitigation measures," says a preliminary version of the Intergovernmental Panel on Climate Change (IPCC) study obtained by ClimateWire.

Lacking improvements in fuel efficiency combined with a comprehensive mitigation policy, the report finds that transport emissions could double by 2050 from 6.7 gigatons of emitted carbon dioxide in 2010, which represents 22 percent of the world's total.

Medical News

Scientists Publish Recipe For Making Bird Flu More Contagious
by Nell Greenfieldboyce

The Dutch virologist accused of engineering a dangerous superflu a few years ago is back with more contentious research.

In 2011, Ron Fouchier and his team at Erasmus Medical Center took the H5N1 flu virus and made it more contagious. Now the team has published another study with more details on the exact genetic changes needed to do the trick.

The H5N1 bird flu is known to have sickened 650 people worldwide, and of those, 386 died. So far the virus hasn't been contagious in people.

But Fouchier's work, plus some similar research from another lab, showed for the first time that the virus had the potential to change in a way that would make it a real pandemic threat. Only a few mutations were necessary to make the H5N1 bird flu spread through the air between ferrets, the lab stand-in for people.


Even A Very Weak Signal From The Brain Might Help Paraplegics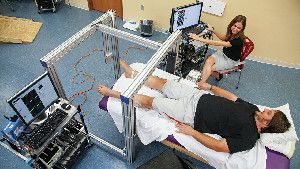 by Nancy Shute

A report that four young men who are paralyzed below the waist were able to move toes, ankles or knees when their lower spine was electrically stimulated was hailed as a breakthrough.

But it's hard not to be skeptical about anything labeled a medical breakthrough these days, and that's especially true when it comes to spinal cord regeneration, which has seen more than its share of hype. For the quarter of a million people with spinal cord injuries, dashed hopes can be devastating.

A treatment or cure for spinal cord injury remains elusive, but the study by researchers at the University of Louisville appears to add important information: Even a very weak signal from the brain can trigger movement.

To figure out what this means, we talked it over with John Donoghue, director of the Brown Institute for Brain Science and leader of the Braingate II project, which in 2012 made it possible for two people immobilized by strokes to control a robotic arm with their thoughts. He wasn't involved in the Louisville research. The conversation has been edited for length and clarity.

Space News

Israel space project gets $16 million boost from casino mogul Adelson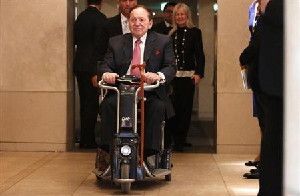 Reuters

TEL AVIV (Reuters) - SpaceIL, a nonprofit organization aiming to land the first Israeli spacecraft on the moon, said on Wednesday it has received a $16.4 million grant from the foundation of U.S. casino magnate Sheldon Adelson.

With a budget estimated at $36 million, the Israeli scientists and engineers building the shuttle - temporarily named "Sparrow" - believe it will land on the moon by the end of 2015, a feat only the United States, Russia and China have managed so far.

SpaceIL, which is backed mainly by philanthropists, was founded to compete for Google's LunarX Prize, unveiled in 2007. The $20 million prize will go to the first team to land a spacecraft on the moon, make it jump 500 meters and transmit images and video back to earth.

Thirty-three teams started out in the running and they are now down to 18, including competitors from the United States, Italy, Japan, Germany, Brazil, Canada, India and Chile.


Strange 'Mars Light' Continues Streak of Red Planet Illusions
By Mike Wall, Senior Writer

New photos snapped by NASA's Curiosity rover have set the Internet abuzz yet again about the possibility of life on Mars.

Bright flashes of light appear in two images the 1-ton Curiosity rover captured last week, spurring some UFO buffs to speculate that the Red Planet may host intelligent life that produces and manipulates light as humans do here on Earth.

The rover's handlers make no such claims. The light probably came from a shiny rock, they say, or else resulted from super-energetic cosmic rays slamming into the CCD device on Curiosity's right-side navigation camera, which took both photos.

This is not the first time that people have seen more in Curiosity's images than is actually there. In September 2012, for example, the rover photographed a landscape that appeared to contain a rodent crouching between two rocks.

Odd News

'Gospel of Jesus's Wife' likely isn't a modern forgery, scientists claim
Analysis suggests that the controversial fragment is indeed ancient, but not everyone is convinced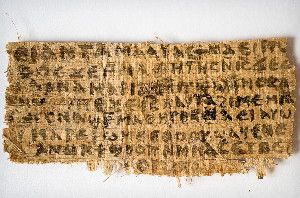 By Amar Toor

A controversial document that suggests that Jesus of Nazareth had a wife is most likely ancient and not a modern forgery, according to a paper published today in the Harvard Theological Review. The papyrus fragment, known as the "Gospel of Jesus's Wife," has been the subject of widespread debate since it was discovered in 2012 because it includes the phrase "Jesus said to them, 'My wife...'." It also mentions that "she will be able to be my disciple," which led some to question whether women should be allowed to become Catholic priests.

The Vatican has previously said that the document is most likely a modern forgery, but scientists from Columbia University, Harvard, and the Massachusetts Institute of Technology say their analysis strongly suggests that it is indeed part of an ancient manuscript and that it wasn't edited or tampered with. The researchers used micro-Raman and infrared spectroscopy to analyze the composition of the ink, looking for clues as to whether it may have been applied after the original document was damaged.

"There is absolutely no evidence for that," Timothy Swager, an MIT chemistry professor who worked on the project, tells the New York Times. "It would have been extremely difficult, if not impossible." The researchers dated the fragment to between the sixth and ninth century AD, noting that it bears a strong resemblance to other texts from that era.