I have three articles for you tonight and for the first time since the outbreak started two bits of good news. Guineas reports that the number of new cases is falling, and our second articles reports a dual vaccine of rabies and Ebola vaccines combined has conferred immunity to mice in a laboratory setting.
Sarah DiLornzo, of the Associated Press, reports from Dakar Senegal, that the World Health Organization, WHO, says the Death Toll in Ebola Outbreak Rises to 121,

As of Monday, the U.N. health agency said it had recorded a total of 200 suspected or confirmed cases of Ebola, the majority of which are in Guinea. That figure includes some of the Mali cases that the government now says are negative. The organization said the deaths of 121 people in Guinea and Liberia have been linked to the disease. ...

Officials have said the current outbreak could last months.
Zee News of India reports Gambia bans flights from Ebola-hit nations, from landing in its territory leaving many travelers stranded. The WHO has expressed that such restrictions are not necessary.

Staff at Banjul International Airport said on condition of anonymity that President Yahya Jammeh had ordered airlines to cancel all flights from Guinea, Liberia and Sierra Leone in a bid to prevent the spread of the deadly virus.

"This decision by the Gambian authorities has left prospective passengers travelling to Banjul ... stranded in these west African countries," said an airport official, speaking on condition of anonymity. ... "Brussels Airlines, which transits in Freetown from Europe, is only allowed to drop passengers there, but not pick anyone up." ...

The outbreak began in the impoverished country's southern forests, but has spread to Conakry, a sprawling port city on the Atlantic coast and home to two million people Neighbouring Liberia has reported 20 probable or suspected cases, six lab-confirmed cases and 13 deaths. Mali also had suspected cases but was given the all-clear on Tuesday after samples taken from patients tested negative for Ebola in laboratories, the health ministry told reporters in Bamako. There was no official confirmation of the ban from the Gambia but AFP has seen a letter dated April 10 from the transport ministry notifying airlines of the measures while Sierra Leone's government said it was in talks with Banjul over the issue.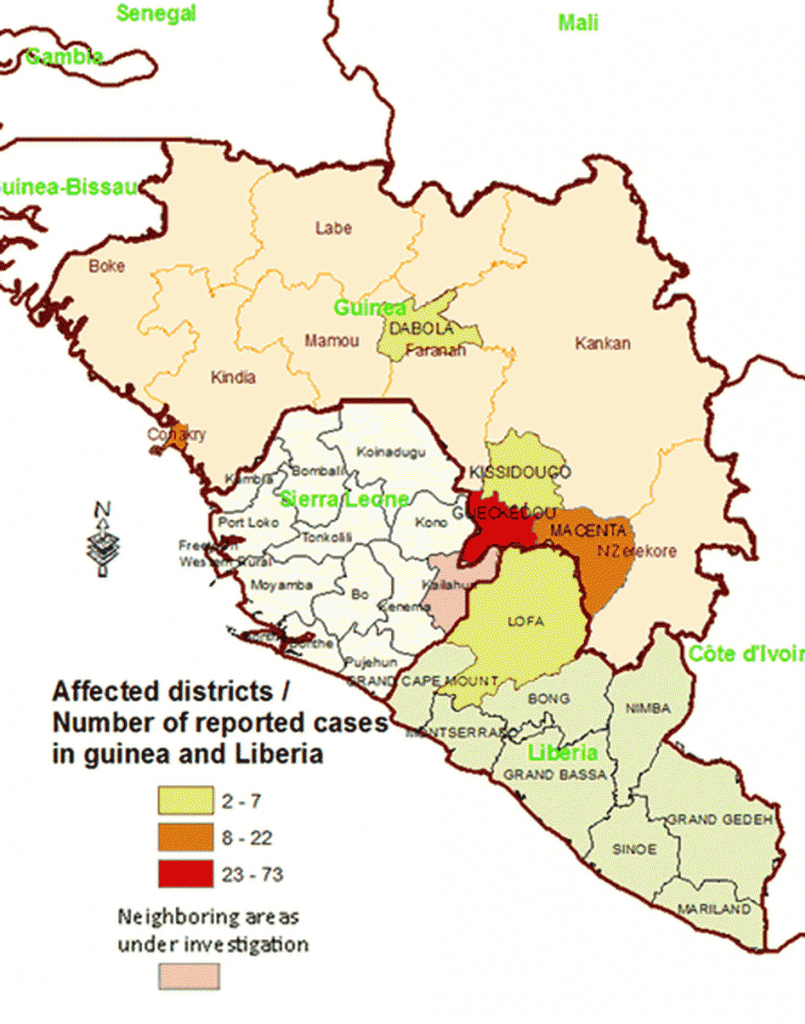 Dennis Thompson As Ebola outbreak spreads, vaccine remains years away. This article also reports progress on fluid replacement therapies, to improve a patients probabilities of surviving.

But scientists say they are beginning to close in on ways to stop the virus. Several promising vaccines and medications are under development, although all are still years from availability, said Dr. Anthony Fauci, director of the U.S. National Institute of Allergy and Infectious Diseases (NIAID).

The most promising efforts to develop an Ebola vaccine involve genetic splicing, Fauci said. In this line of research, NIAID investigators and several pharmaceutical firms are pursuing separate research that would insert part of Ebola's genetics into an existing vaccine-ready virus. ... This strategy, called a viral vector, takes advantage of the ability of viruses to efficiently infect cells.

Instead of delivering a payload of illness, these modified, harmless viruses would deliver a nonthreatening piece of Ebola's genetics in hopes of triggering an immune response that would create antibodies to protect against future Ebola infection.

"You take another virus and you take the particular gene of the Ebola virus for which you want to prompt immunity, and you insert that gene into the virus," Fauci explained.

Mathais Schnell, Director of the Jefferson Vaccine Center indicates it will still be years to develop a "vaccine that would be appropriate for humans. Still this encouraging news will provide hope to many frightened West Africans.
Also impressive, is the idea of combining the Ebola vaccine with the rabies vaccine, because rabies is an enormous problem in Africa while statistically Ebola is quite rare. So vaccines could meet the cost/benefit criteria based on the rabies analysis, and the Ebola immunity could piggyback in as a "free-rider."
Other positive new include improvements in treatments of infected patients improving survival rates including fluid replacement and antiviral medications.
Our sympathies and best wishes go our those afflicted, their loved ones and communities. Let's all hope and pray for continued progress in containment, treatment, and eventually even prevention of this terrible scourge.
BTW: My significant other used to do research into this kind of immunological strategy when she used worked to work at the Harvard Medical School as a pathologist many years ago. It still puzzles me how I managed to land such a smart woman, and it is sort of a thrill to see this viral vectoring used in real life. Can't wait until she wakes up and I can ask her more about it and show her how these techniques are being used in he field today in the very articles she's been complaining that I'm spending too much time writing.