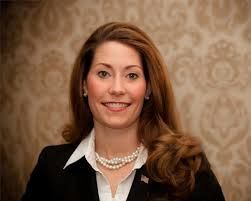 Samantha Lachman reports that Alison Lundergan Grimes Tops Mitch McConnell In Latest Fundraising Quarter, for the second quarter in a row. Real Clear Politics reports she leads Senate Minority leader Mitch McConnell by 1/2%. Wow! A Democratic new comer in a redstate giving an incumbent Senate Minority leaders a run for his money - literally. MSNBC just announced McConnell is burning through cash to defeat a a primary challenge from the right. Double wow!
Oh, and did I mention that Allison Lundergan Grimes is a smart, relatively young, woman, from a well known and respected family while Senate McConnell is ... well, let's not be unkind, Allison Grimes has a lot of positives going for her.

Kentucky Secretary of State Alison Lundergan Grimes (D) raised more than Senate Minority Leader Mitch McConnell (R-Ky.) in the first three months of 2014, taking in $2.7 million to McConnell's $2.4 million as she campaigns to unseat the powerful senator.

Grimes' campaign said in a statement that it has received donations from almost 45,000 individual supporters, with a median contribution of $25.

"Grassroots supporters from all 120 Kentucky counties have invested in our campaign, demonstrating the growing excitement from Democrats, Republicans and Independents to elect a leader who will bring a fresh, bold vision to the U.S. Senate," Grimes senior adviser Jonathan Hurst said Tuesday. "Alison's focus on creating good-paying jobs and strengthening the middle class is clearly resonating with Kentuckians, and our supporters understand the importance of ensuring our positive message for Kentucky's future reaches all corners of the Commonwealth over the coming seven months."

McConnell still has a cash advantage with $10.4 million in cash, compared to the $5 million that Alison Grimes has.
Mitch McConnell is fighting off a primary challenge from he right and a Bluegrass poll found that only 27 percent of Kentuckians have a favorable impressions of him.
I will put up a link to future Democratic Senator Alison Grime's official website in a few minutes, and I well come anyone from her campaign, and her supporters to put up another other links of materials that may help our readers support a victory for her, the people of the great state of Kentucky, and the Democratic Party in November.
Alison Grimes' website looks professional. She is hghly charismatic, and I'm getting a good feeling about our chances to pick up a significant symbolic victory in Kentucky as well as promoting and encouraging outstanding Democratic women as role models for our young people
Please consider making a donation today. Imagine what a glorious celebration we will have if we can help future Senator Alison Lundergan Grimes defeat Mitch McConnell.
And, let's face it, its the compassionate thing to do for him as well. It is clear the poor fellow has been feeling as miserable as a turtle lost in the desert for as long as we can remember. Let's let this poor fell have a rest. Forcing him to try to keep this up for six more years just wouldn't be kind or right. Let's get a fresh new face, with new ideas, and youthful vitality to help build a better future for us all.
9:43 PM PT: Took "and virtually tied out of title. Alex Wagor or one of the MSNBC hosts reported RCP says she has a .5% lead, but
Davidsfr, and Zeta Retuculi tell us that RCP is the least conservative pollster there, DavidSFR suggested "virtually tied" but Zeta skepticism leads me to think the poll issue is best left to another poll when I'm less exhausted and can find a functional computer. So I took it out.
The key point remains unchanged, We should all be pleasantly surprised to see what a strong candidate Alison Grimes is turning out to be. This is turning into a real race, which has been the most pleasant surprise of a fairly grueling day for me.