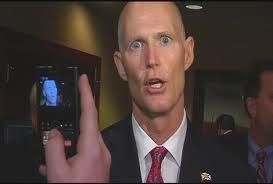 Alex Leary, Washington Bureau Chief of the Tamp Bay Times reports U.S. Supreme Court rejects Florida Gov. Rick Scott's request to review drug testing decision,
by a the 11th U.S. Circuit Court declaring that "his random drug testing policy for state employees is unconstitutional."
The decision leaves in place a May 2013 appeals court ruling against Scott's 2011 executive order making consent to suspicionless drug testing a condition of employment. A judge had previously concluded that the program, covering up to 85,000 state workers, violated Fourth Amendment rights against unreasonable searches.

The 11th U.S. Circuit Court of Appeals did grant Scott some leeway, saying drug testing without suspicion could be used in "certain safety-sensitive categories of employees — for instance, employees who operate or pilot large vehicles, or law enforcement officers who carry firearms in the course of duty."

Leary tells us that layers are still arguing about exactly which employees can be viewed as part of this exception.
Executive Director of the American Civil Liberties Union of Florida unleashed this scathing criticism saying that Rick Scott's appeal to the Supreme Court was a waste of money. The 11th Circuit judge told his he has a near zero chance of winning an appeal.

"What part of 'no' does he not understand?" said Howard Simon, executive director of the American Civil Liberties Union of Florida.

The ACLU and a labor union criticized Scott's appeal to the U.S. Supreme Court as a waste of taxpayer money.

"We are pleased that the Supreme Court has agreed with what we have known all along: the question of whether the state has the power to compel all employees to submit to suspicionless searches without a good reason is settled and the answer is 'no,' " said Shalini Goel Agarwal, lead ACLU counsel in the case. "Every court that has heard Gov. Scott's argument agrees: without a threat to public safety or suspicion of drug use, people can't be required to sacrifice their constitutional rights in order to serve the people of Florida."

Why do Republicans complain so much about big government, and then seem to favor having big government drug testing state employees, welfare and other recipients of government?