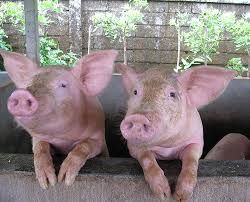 Meredith Davis and Theopolis Waters of the Chicago Tribune report that a Killer virus spreads unchecked through U.S. hog belt, pushing pork to record, and now it has spread to Japan where is hitting the largest produces.

The killer stalking U.S. hog farms is known as PEDv, a malady that in less than a year has wiped out more than 10 percent of the nation's pig population and helped send retail pork prices to record highs. The highly contagious Porcine Epidemic Diarrhea virus is puzzling scientists searching for its origins and its cure and leaving farmers devastated in ways that go beyond financial losses. ... "It's a real morale killer in a barn. People have to shovel pigs out instead of nursing them along," Goihl said.

Since June 2013 as many as 7 million pigs have died in the United States due to the virus, said Steve Meyer, president of Iowa-based Paragon Economics and consultant to the National Pork Board said. United States Department of Agriculture data showed the nation's hog herd at about 63 million as of March 1, 2014.

Davis and Waters report PEDv was first reported last May in Ohio and spread to 30 states within one year, with no cure in site. Last week, the USDA implemented a tracking system for PEDv requiring reporting so they can track its spread.PEDv is believed to spread with animal to animal contact and through manure.

"Something like a tablespoon of PEDv infected manure is roughly enough to infect the entire U.S. hog herd," said Rodney "Butch" Baker, swine biosecurity specialist at Iowa State University.
The virus is 'nearly always fatal pigs younger than 21 days." and the virus can live at room temperture for up to 13 days. The USDA says PEDv is not a health risk for humans, and not a food safety issue.
Despite months of forensic research, scientists still do not know how the virus entered the U.S., but since it is nearly identical to the one that infected pigs in China's Anhui province, one report published in the American Society of Microbiology journal mBio indicates researchers are exploring whether widely used pig-blood byproducts in hog feed may have introduced the Anhui virus into the U.S. and Canada.
There have also been milder outbreaks in recent years, in Europe, Japan, Mexico, and parts of South America.
Of the 15,000 samples scientist have tested in American pigs 32 percent have tested positive.

The virus "acts like a lawn mower" on the villi in a pig's intestines, which are the tiny projections that aid digestion, said Tony Forshey, chief of animal health at the Ohio Department of Agriculture. With their villi gone, the piglets cannot absorb nutrients from food or water, contract diarrhea and die from dehydration.

No vaccine or cure exists, although several companies are working on research.
(Disturbing images of factory farming)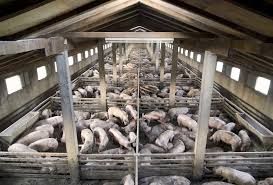 Farmers across the U.S. are imposing stricter cleanliness and biosecurity measures including prohibiting outside visitors. requiring working to change cloths before entering or leaving farms, and truck drivers are required to wipe down the steps into their cabs (presumably with a chlorine solution, disinfect the steering wheels, change boots, or wear disposable booties, before entering farm yards.
Davis and Water also report that the farm also wants trucker washes to use fresh water, not recycled waters, and some farmers are requiring trucks entering their farms to be washed, disinfected, and dried costing $500 and taking up to two hours.
Farms with infected pigs display bright yellow signs marked PEDv.
Viral outbreaks illustrate the critical role government must play in modern society. Libertarian philosophy completely fails to address the needs for collective research, regulation, and management of outbreaks such as this. Uncontrolled viral outbreaks to critical elements of our food supply, or to human populations as are being experienced with Ebola in Western Africa, or MERS in Saudi Arabia expose Republican austerity budgets such as Paul Ryan's with draconian cuts to the U.S.D.A., the National Health Institute, The National Science Foundation, the Food and Drug Administration is unwise, and even foolish and short-sited.
Educating ourselves on the facts and basic science of such outbreaks prepares us well for demolishing Republican and Libertarian facades of reason and erudition in upcoming elections. Representative Paul Ryan presents himself as one of the Republican Party's wise men. How long will it take farmers, truckers, and ancillary industries quickly and desperately learning biology, virology, bio-security, and scientific approaches to protect their livelihoods against Porcine Epidemic Diarrhea virus in 30 states to lose patience with Luddite Republicans celebrating ignorance by slashing critical government budget vital to protect American commercial farm interests?
6:37 PM PT: After hearing from Chritin about her distress seeing the first page photo of the factory farm, I decided to move it to the second page and to take the picture of the dead pigs on the second page down.
I put a picture of these two cute happy pigs on the first page and made the original "Disturbing Picture warning at the bottom of the first page in bold" It had already contained a two word description of what the photo would be for those wishing to avoid it. Sorry for the distress this caused Chritin and anyone else. I knew the second image was disturbing but I did not realize at first that the first image would be troubling until Chritin pointed it out, and I agree with her. I explained my original thinking below here comment.