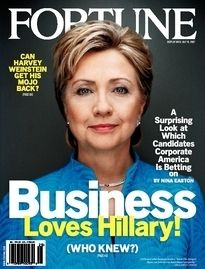 Seems to me the anger comes from haters realizing they are pretty fringy.
You don't like my favorite politician so you must be a "hater" because it is completely inconceivable to me that my precious could possibly have said or done anything to make you doubt that she is Democratic Jesus.
Secretary of State Hillary Clinton shared a laugh with a television news reporter moments after hearing deposed Libyan leader Muammar Qaddafi had been killed.

"We came, we saw, he died," she joked when told of news reports of Qaddafi's death by an aide in between formal interviews.
Hillary Clinton on Democratic opposition
to the illegal intervention in Libya:
But the bottom line is, whose side are you on? Are you on Qadhafi's side or are you on the side of the aspirations of the Libyan people and the international coalition that has been created to support them? For the Obama Administration, the answer to that question is very easy.
Hillary Clinton on Edward Snowden

"I think turning over a lot of that material intentionally or unintentionally, because of the way it can be drained, gave all kinds of information, not only to big countries but to networks and terrorist groups alike," she said.
Where have we heard that before?
As an example of the damage caused by unauthorized disclosures to reporters, President Bush said at his news conference on Monday that Osama bin Laden had been tipped by a leak that the United States was tracking his location through his telephone. After this information was published, Mr. Bush said, Mr. bin Laden stopped using the phone.
At least she wasn't wrong on Egypt:
I really consider President and Mrs. Mubarak to be friends of my family. So I hope to see him often here in Egypt and in the United States.
Oops:
The Muslim Brotherhood's spiritual leader and more than 680 other people were sentenced to death Monday stemming from last year's post-coup violence in the latest mass trial that was denounced in the West and by human rights groups as contrary to the rule of law.
Hillary Clinton on Keystone XL:
So as I say, we've not yet signed off on it. But we are inclined to do so and we are for several reasons — going back to one of your original questions — we're either going to be dependent on dirty oil from the Gulf or dirty oil from Canada. And until we can get our act together as a country and figure out that clean, renewable energy is in both our economic interests and the interests of our planet, I mean, I don't think it will come as a surprise to anyone how deeply disappointed the President and I are about our inability to get the kind of legislation through the Senate that the United States was seeking.
She hates "drugs":
Maerker: In Mexico, there are those who propose not keeping going with this battle and legalize drug trafficking and consumption. What is your opinion?

Clinton: I don't think that will work. I mean, I hear the same debate. I hear it in my country. It is not likely to work. There is just too much money in it, and I don't think that—you can legalize small amounts for possession, but those who are making so much money selling, they have to be stopped.
But she loves the TPP:
On trade issues, Mrs Clinton stressed the importance of the Trans Pacific Partnership talks. Though she did not 'rule out or in" bilateral talks with New Zealand she made it clear the TPP was the priority.
But don't worry about Hillary. When she needs our votes and our money and our free time:
When it came to sex, Bill Clinton made us debate the definition of "is." Now, when it comes to economics, Hillary Clinton wants to debate the definition of "long," claiming last week in Ohio that "I've long been a critic of the shortcomings of NAFTA."

True, Clinton has recently criticized NAFTA — the 1993 trade policy whose lack of labor and environmental protections encourages companies to move American jobs overseas. But cheap campaign rhetoric over a few months does not make one a longtime critic — especially considering the record.

During Clinton's 1996 visit to Texas, United Press International reported that she "touted the president's support for NAFTA." In her memoir, Clinton trumpeted her husband's "successes on the budget, the Brady bill and NAFTA." The Buffalo News reports that in 1998 she "praised corporations for mounting 'a very effective business effort in the U.S. on behalf of NAFTA.' " And last year, her lead Wall Street fundraiser told reporters that Clinton remains "committed" to NAFTA's "free" trade structure.
Speaking of the good old days...kos on Hillary Clinton when she didn't have a 50 point lead in the polls:
Clinton campaign making Obama "blacker"

As you can see, the campaign ad has darkened Obama's skin tone, while stretching the video horizontally to give Obama a wider nose.