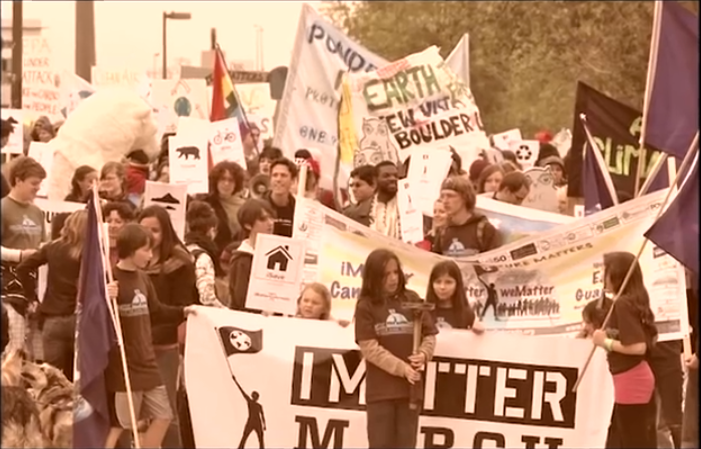 Over the past few years, young people across the U.S. have been suing the federal government for violating their constitutional rights by ignoring climate change. The issue is obvious: refusing to take effective measures against climate change is "destroying their futures."

The lawsuits are based on the public trust doctrine, which generally provides that the government must protect natural resources (e.g., water, tidelands) for the public's use because the public resources are owned by the people and the government protects them as trustee:

In 2011, thousands of young people supported by 30+ environmental and constitutional professors filed suit against the Environmental Protection Agency and the Departments of Agriculture, Defense, Commerce, Energy and the Interior. Individual actions have been filed in all 50 states. All allege that government inaction on climate change violates their rights under the Public Trust Doctrine, which obligates the government to protect resources for the public's reasonable use.
There is a
federal lawsuit now pending
in the D.C. Circuit Court of Appeals, Alec L v. Gina McCarthy, where 5 teenagers, two non-profit organizations joined forces to file the lawsuit. "The youth seek to require the federal government to immediately plan for national climate recovery according to the scientific prescription of Dr. James Hansen and other leading international climate scientists that will restore our atmosphere to 350 parts per million (ppm) of CO2 by the end of the century and avoid the disastrous scenarios of 2°C of warming."
The list of amicus briefs is impressive: "National security and political leaders, religious groups, scientists, legal scholars, conservation and social justice organizations, and native communities came together to file seven amicus curiae ("friend of the court") briefs in support of the youth appellants' appeal to the U.S. Court of Appeals for the District of Columbia." (Links to all the amicus briefs available here.)
Dr. James Hansen and 10 other scientists filed an amicus brief that noted the climate change impacts happening now:

Already-observed impacts of this warming include rising sea levels, increased atmospheric moisture resulting in more intense precipitation events, higher temperatures causing more frequent and intense heat waves, droughts, and wildfires, loss of sea ice, ice sheet mass and glaciers, expansion of the subtropics, acidification of the oceans, shifting distributions of plant and animal species, and an increasing rate of species extinctions.
The Hansen brief states what Meteor Blades has been saying for years: Delay is denial with devastating consequences for all people, particularly for our youth who will need to live in circumstances created by not taking effective measures now:

Unless action is undertaken without further delay, the continuing increase of atmospheric CO2 will drive Earth's climate system toward and past points of no return, with disastrous consequences for young people and future generations. Effective action remains possible, but delay in undertaking sharp reductions in emissions will undermine any realistic chance of preserving a habitable climate system, which is needed by future generations no less than by prior generations.

Appellants in this case (hereinafter, "Alec L.") sought a preliminary injunction to ensure that Respondents (hereinafter, "McCarthy") submit to the Court a plan to ensure that the United States commences effective action before it is too late, including efforts to reduce CO2 emissions by at least 6% annually. That prescription remains consistent with the scientific understanding of what minimally must be done by the United States and other nations to restore planetary energy balance on the century time scale. The inadequacy of the US response – even when accounting, generously, for both present law and stated policy goals – renders action by this Court essential to preserve a viable planet for young people and future generations.
Statements by a
teenager plaintiff in the lawsuit are even more impressive
:
"Climate change is the biggest issue of our time," said 13-year-old Xiuhtezcatl Roske-Martinez, a member of nonprofit Kids vs. Global Warming, a plaintiff in the suit.

"It's not every day you see young people getting involved politically, but the climate crisis is changing all that. Every generation from here on out is going to be affected by climate change," added Roske-Martinez, who founded environmental nonprofit Earth Guardians and organized successful actions in his hometown of Boulder, Colorado.
The legal scholars and climate scientists are supporting a nationwide legal campaign organized by the youth.
Two years ago, Xiuhtezcatl Martinez tells us why he joined the lawsuit:



The proof of climate change is everywhere I look. In my lifetime, the amount of forest killed by pine beetles has expanded. The number of acres burned has intensified. My generation is losing our forests. We are losing our homes. It's not too late to ensure my generation has a livable future. But we need to listen to the science and act now.
Tomorrow, President Obama will release the
National Climate Assessment
, which states that climate change is a clear and present danger and the impacts are happening now. We've seen either personally or by watching videos the increasing frequency and intensity of heat waves, droughts in California and other states, wildfires, storms, flooding.
Please don't roll your eyes over another climate change report. Please read and listen to President Obama, scientists, and our youth advocating that we please do something now.