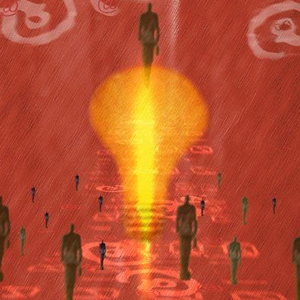 Commentary: African American Scientists and Inventors
by Black Kos Editor, Sephius1


Herman Russell Branson (August 14, 1914 – June 7, 1995) was an African American physicist, best known for his research on the alpha helix protein structure. He was also the president of two colleges.
Branson received his B.S. from Virginia State College in 1936, and his Ph.D. in physics from the University of Cincinnati, under the direction of Boris Padowski, in 1939. After a stint at Dillard University, he joined Howard University in 1941 as an assistant professor of physics and chemistry. He remained at Howard for 27 years, achieving increasingly important positions, eventually becoming head of the physics department, director of a program in experimental science and mathematics, and working on the Office of Naval Research and Atomic Energy Commission Projects in Physics at Howard University.
In 1948, Branson took a leave and spent time at the California Institute of Technology, in the laboratory of the chemist Linus Pauling. There he was assigned work on the structure of proteins, specifically to use his mathematical abilities to determine possible helical structures that would fit both the available x-ray crystallography data and a set of chemical restrictions outlined by Pauling. After some months of work, Branson handed in a report narrowing the possible structures to two helixes, a tighter coil Pauling termed "alpha," and a looser helix called "gamma." Branson then returned to Howard to work on other projects.
(con't.)
Branson went on to a significant career, eventually serving as president of Central State University in Wilberforce, Ohio, from 1968–1970, and then president of Lincoln University until his retirement in 1985. He was active in increasing federal funding for higher education, and helped found the National Association for Equal Opportunity in Higher Education in 1969.[3]
In 1984 Branson wrote Pauling biographers Victor and Mildred Goertzel implying that his contribution to the alpha helix had been greater than the final paper indicated. "I took my work to Pauling who told me that he thought they [the proposed alpha and gamma helixes] were too tight, that he thought that a protein molecule should have a much larger radius so that water molecules could fit down inside and cause the protein to swell," he wrote. "I went back and worked unsuccessfully to find such a structure." When he received Pauling's note with the draft manuscript, Branson wrote, "I interpreted this letter as establishing that the alpha and gamma in my paper were correct and that the subsequent work done was cleaning up or verifying. The differences were nil.
Branson was co-inventor of the alpha helix and perhaps deserved a share of the Nobel prize. As the story goes somehow Linus Pauling got Branson excluded from the prize [new Yorker mag]....Read More
~~~~~~~~~~~~~~~~~~~~~~~~~~~~~~~~~~~~~~~~~~~~~~~~~~~~~
News by dopper0189, Black Kos Managing Editor
~~~~~~~~~~~~~~~~~~~~~~~~~~~~~~~~~~~~~~~~~~~~~~~~~~~~~

~~~~~~~~~~~~~~~~~~~~~~~~~~~~~~~~~~~~~~~~~~~~~~~~~~~~~
Over 6 decades of printing history is coming to an end. Jezebel: Jet Magazine Cuts Print Edition After 63 Years.
~~~~~~~~~~~~~~~~~~~~~~~~~~~~~~~~~~~~~~~~~~~~~~~~~~~~
After being a staple in black American households for 63 years, Jet magazine will no longer publish a regular print edition — it's making the move to digital. Johnson Publishing chairwoman Linda Johnson Rice says, "We are not saying goodbye to Jet, we are embracing the future as my father did in 1951."


~~~~~~~~~~~~~~~~~~~~~~~~~~~~~~~~~~~~~~~~~~~~~~~~~~~~~
Conservative "intellectuals" are still always trying to come up with a new version of the Bell Curve. Slate: Why the new book by the New York Times' Nicholas Wade is both plausible and preposterous.
~~~~~~~~~~~~~~~~~~~~~~~~~~~~~~~~~~~~~~~~~~~~~~~~~~~~~
The paradox of racism is that at any given moment, the racism of the day seems reasonable and very possibly true, but the racism of the past always seems so ridiculous.
I've been thinking about this recently after reading the new book A Troublesome Inheritance: Genes, Race, and Human History by New York Times reporter Nicholas Wade, who writes about the big differences in economic success between whites, blacks, Asians, and other groups and offers a sophisticated argument that racial differences arise from genetic differences that are amplified by culture.
Wade's argument has three parts: First, along with the divergence of physical traits such as skin color and types of earwax, racial groups have genetically evolved to differ in cognitive traits such as intelligence and creativity. Second, Wade argues that "minor differences, for the most part invisible in an individual, have major consequences at the level of a society." Third, he writes that his views are uncomfortable truths that have been suppressed by a left-wing social-science establishment.
The word "inequality" does not appear in the book's index, but what Wade is offering is essentially a theory of economic and social inequality, explaining systematic racial differences in prosperity based on a combination of innate traits ("the disinclination to save in tribal societies is linked to a strong propensity for immediate consumption") and genetic adaptation to political and social institutions (arguing, for example, that generations of centralized rule have effected a selection pressure for Chinese to be accepting of authority).
Wade is clearly intelligent and thoughtful, and his book is informed by the latest research in genetics. His explanations seem to me simultaneously plausible and preposterous: plausible in that they snap into place to explain the world as it currently is, preposterous in that I think if he were writing in other time periods, he could come up with similarly plausible, but completely different, stories.
~~~~~~~~~~~~~~~~~~~~~~~~~~~~~~~~~~~~~~~~~~~~~~~~~~~~~


~~~~~~~~~~~~~~~~~~~~~~~~~~~~~~~~~~~~~~~~~~~~~~~~~~~~~
Lo and behold what happens when you can't racially profile... Huffington Post: U.S. Companies Often Assume Black Job Applicants Do Drugs.
~~~~~~~~~~~~~~~~~~~~~~~~~~~~~~~~~~~~~~~~~~~~~~~~~~~~~
More than any other group, black job applicants are being turned away by U.S. companies under the implicit assumption that they are using illegal drugs, according to a new study published by the National Bureau of Economic Research (NBER).
The study's author, University of Notre Dame economics professor Abigail Wozniak, looked at how hiring practices differ between states with laws that incentivize or encourage drug testing and states with laws that limit or do not require such testing. She found that pro-testing legislation has a "large" and positive effect on black employment and wages, especially among low-skilled black men.
As the chart below shows, enacting pro-drug testing laws improves the share of blacks working in what Wozniak terms high-testing industries, while leading to a decrease in the share of whites working in such industries.

In states that enact anti-testing laws, the opposite proves true: Limiting drug testing appears to hurt black applicants much more than it hurts whites.
The findings imply that companies in states without pro-testing laws are, subconsciously or not, assuming black job applicants are guilty of using illegal drugs until proven innocent. In Wozniak's opinion, drug testing can therefore help "non-using blacks to prove their status to employers, even as the drug war linked blacks with drug use in the popular imagination."
~~~~~~~~~~~~~~~~~~~~~~~~~~~~~~~~~~~~~~~~~~~~~~~~~~~~~


~~~~~~~~~~~~~~~~~~~~~~~~~~~~~~~~~~~~~~~~~~~~~~~~~~~~~
People born after apartheid ended will voted for first time. The Guardian: South Africans vote in first election for 'born free' generation.
~~~~~~~~~~~~~~~~~~~~~~~~~~~~~~~~~~~~~~~~~~~~~~~~~~~~~
Wrapped up against the early morning chill, millions of South Africans queued on Wednesday to vote in the country's first general election to give the "born free" generation a say.
But while some of those who have no memory of racial apartheid, which ended in 1994, seized their chance of a democratic voice, others preferred to use the public holiday to stay at home or socialise.
"I'm feeling awesome. It's going to be my first time," said Lindiwe Zulu, 20, on her way to vote in Katlehong on the East Rand. "I got the opportunity to be free and to say whatever I want to say. I have a lot of freedom in everything, not just my culture but my personal opinions as well. This country has done a lot for us, especially the '1994s'."
Zulu said she would vote for the governing African National Congress (ANC), which looks on course for another convincing victory under the controversial president, Jacob Zuma. "It is the first party that has opened up opportunities for us. It has gone through a lot for us. I'm proud to vote for it."
But of 1.9 million voters aged 18-19, only one in three is registered to vote. Among those staying away is Mpho Masuku, a student from Springs near Johannesburg who turned 20 last week.


~~~~~~~~~~~~~~~~~~~~~~~~~~~~~~~~~~~~~~~~~~~~~~~~~~~~~
US Secretary of State John Kerry says a specialist team is set to start work in Nigeria to help find more than 200 schoolgirls abducted by militants. BBC: Nigeria abductions: Kerry says US experts set to start work.
~~~~~~~~~~~~~~~~~~~~~~~~~~~~~~~~~~~~~~~~~~~~~~~~~~~~
[Kerry] said the US team, working with the Nigerian government, would do everything possible to free the girls.
Earlier, Nigerian President Goodluck Jonathan said he hoped "a turning point" had been reached in the fight against Islamist insurgents Boko Haram. Nigeria has been criticised for its slow response to the kidnappings.
The schoolgirls were seized from their boarding school on the night of 14 April in the town of Chibok in north-eastern Borno state.
It is believed they are being held somewhere in the vast forested areas that stretch from near Chibok into neighbouring Cameroon.
"Our inter-agency team is hitting the ground in Nigeria now and they are going to be working in concert with President Goodluck Jonathan's government to do everything that we possibly can to return these girls to their families and their communities," Mr Kerry said. "We are also going to do everything possible to counter the menace of Boko Haram."
On Wednesday, President Barack Obama said the team comprised personnel from military, law enforcement and other agencies.


The abductions have sparked worldwide protests, like here in South Africa
~~~~~~~~~~~~~~~~~~~~~~~~~~~~~~~~~~~~~~~~~~~~~~~~~~~~~
The two men face criminal penalties after being charged with engaging in sex acts 'against the order of nature' The Guardian: Ugandan men first to face trial under severe anti-gay laws.
~~~~~~~~~~~~~~~~~~~~~~~~~~~~~~~~~~~~~~~~~~~~~~~~~~~~~
A Ugandan court has begunbegan hearing the case against two men accused of engaging in gay sex – the first trial of homosexuals in the country since a severe law was passed in February.
The detained Ugandan couple, Kim Mukisa, 24, and Jackson Mukasa, 19, appeared before a magistrate's court in the capital, Kampala, on Wednesday to apply for bail after prosecutors said they had enough evidence to proceed with the case.
Police arrested the couple in January as they fled an angry mob, according to the Human Rights Awareness and Promotion Forum, a local watchdog group.
Prosecutors have lined up several witnesses to testify against the two, who have been charged with engaging in sex acts "against the order of nature", said their lawyer, Ladislaus Rwakafuuzi.
Although Uganda has had anti-gay legislation since the colonial era, President Yoweri Museveni enacted a law in February that increased criminal penalties against gay sex to life in jail.


Jackson Mukasa, left, and Kim Mukisa in court in Uganda charged with engaging in gay sex. Photograph: Rebecca Vassie/AP
~~~~~~~~~~~~~~~~~~~~~~~~~~~~~~~~~~~~~~~~~~~~~~~~~~~~~
Welcome to the Black Kos Community Front Porch!
Pull up a chair and sit down a while and enjoy the company.