Image Credit: ILSR
Clean Technica reports that Hawaii's Biggest Utility Company Forced To Help Customers Install Solar Panels, by the state"s Public Utility Commission which ruled that HECO was putting up roadblocks to consumers trying to connect their residential solar systems to Hawaii's electric grid. Hawaii's consumers are rebelling against huge energy bills and the realization that the payback times for some system with federal credits can apparently be as little as 3 - 6 years, and 0.8 to 3.0 year for commercial customers. Am I reading this chart correctly? Incredible!


"It is now incumbent upon the Hawaiian Electric Companies to use this road map diligently and promptly to move forward," explained commissioner Lorraine Akiba of the Public Utilities Commission.

HECO has been the target of substantial criticism from Hawaiians lately as customers have grown weary of sky-high electricity bills and difficulty installing their own solar panels to mitigate those costs. A recent poll found that 94% of Hawaii residents support more rooftop solar, and 90% believe that HECO is slowing rooftop solar to protect its profits.

The PUC ruled that HECO was not moving fast enough to address key sources of customer frustration, namely challenges connecting solar photovoltaic (PV) systems to the electric grid. "The PUC is giving Hawaiian Electric up to 120 days to come up with a more comprehensive strategy that can lower energy costs and help connect more PV systems to the grid," KHON2 News reported.

Here's a creative combination of solar and wind that is new to me. John Fingas tells us that Arizona will get non-stop clean energy from hot air drafts from Solar Wind Energy Tower.


Many green energy sources only generate power in a narrow range of conditions. Solar panels won't work when it's dark, for instance, and wind turbines are useless when everything is still. If Solar Wind Energy Tower has its way, though, we'll soon get clean electricity around the clock. It recently received permission to build a tower in San Luis, Arizona that produces power through hot air downdrafts; water injected at the top of the tower cools the desert winds, dragging them toward turbines at the bottom. Since it's almost always hot in the area, the plant should run all day and night for much of the year. An ideal summer day could have it churning out a healthy 1,250 megawatts per hour.

The downdraft tower should be ready for action in 2018, and Solar Wind Energy Tower hopes to license the technology to others. As you might imagine, the need for a hot climate is going to narrow the customer list -- you won't see this system in more temperate regions. However, it could be a boon to both the southern US as well as Africa, the Middle East and other places where heat is far more abundant than eco-friendly energy.

The economics of this technology are probably still problematic or we would have heard it headlined.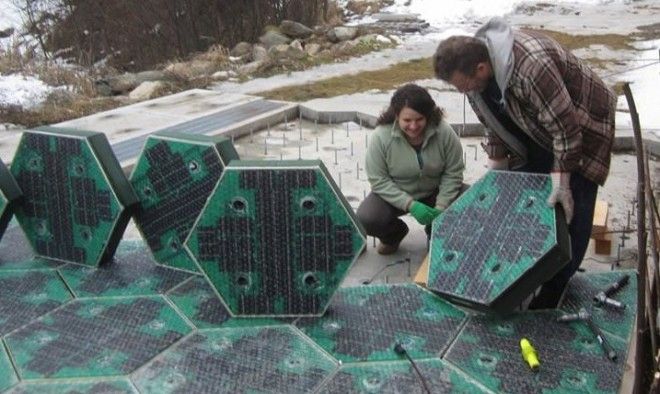 Image courtesy Scott and Julie Brusaw
In our "wild-and-crazy-technology-we-might-see-in-the-future-if-the-creators-can-only-get-a-million-dollars-of-venture-funding" category we read This Parking Lot Is Paved With Solar Panels, by Keith Barry who describe a prototype of an innovative road surface which can be assembled with hexagon shaped tiles, created by Scott and Julie Brusa, from Idaho.
Scott and Julie Brusaw want to replace traditional asphalt and concrete with impact-resistant solar panels that do double duty as a road surface and an energy source. When the solar roadway concept debuted in 2010, it caught the interest of futurists and government officials. Now the Brusaws have a working prototype covering a 12- by 36-foot parking lot outside the couple's electronics lab in Idaho.

The new panels look quite different from the prototype we saw almost four years ago. The latest design is hexagonal, which allows for better coverage on curves and hills. They're also heated for easier snow and ice removal, and include LEDs that can display road markings or even messages.

Image courtesy Scott and Julie Brusaw

According to the Brusaws, the new glass-covered panels have been tested for traction and impact resistance, and can sustain a 250,000-pound load. They've even got a video of a tractor driving over the parking lot prototype. This is also the first time the panels have been subjected to real-world road conditions, and the parking lot includes a dedicated channel for drainage and utilities.

The couple built this prototype with a $50,000 grant, which I find inspiring. The idea that the future could be different than what we have now gives me hope as I'm finding our current world increasingly depressing.
Whenever I write these articles about solar, wind, geothermal, and tidal power I get a happy hopeful feeling. These are the kinds of technologies we need to replace coal burning and other fossil fuels that are devastating our atmosphere. These last two technologies I included just for fun. Notice that solar panels in Hawaii already have a cost advantage and the profit based utility is having to work extra hard to suppress their spread. HECO has been trying to put up artificial roadblocks to slow down the conversion to renewable energy we should be trying to accelerate.

6:59 PM PT: Please check out this post by chipmartin Utilities Are Trying To Kill The Solar Industry which argues that utilities are trying to kill solar energy nation-wide.

8:16 PM PT: Please check out this post I wrote earlier today.

Bipartisan energy efficiency bill stalls due to G.O.P. holding out for Keystone vote and amendments