Despite all the pissing and moaning from the media it seems there's very little real reporting from Recapture Canyon.
Jonathan Thomson who writes for HCN and lives in and actually comes from Durango had some hilarious tweets despite lack of cell coverage from much of the canyon. He tweets @jonnypeace All his tweets highlighted.
Below on the way a liquor store in Cortez.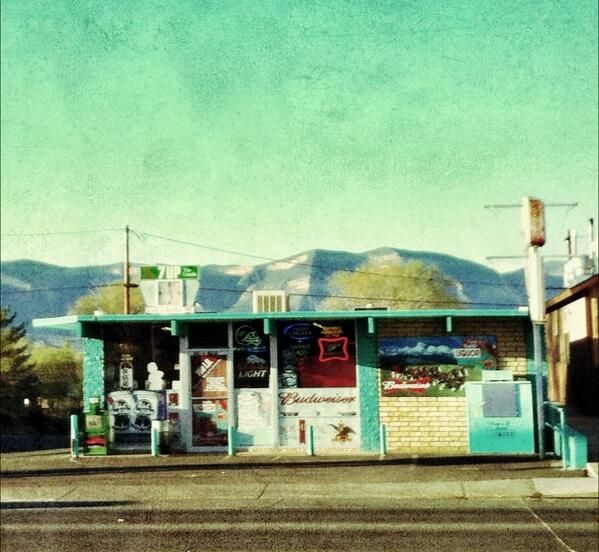 Not sure how he processed the photo from his I phone, maybe some sort of photo shop app, in any case I think it's a great photo. A lot more fun than a picture of some ATV. The colors and setting all say SW CO to me.
On Gunz he says,

"Media camera-toters far outweigh militia gun-toters."
and
"I've only seen 3 guns here at #recapturecanyon protest so far. Sidearms."
Still later,
"Gun count increased in #recapturecanyon, but fewer firearms still than at many a rural western family picnic."
Jonathan keeps it in perspective anyway. Probably people who swoon at the sight of guns should stay away from family picnics in the west. Looks like he'll be writing a story tomorrow and posting it at
https://www.hcn.org/
on Monday. I might not always agree with all of Jonathan's views but I usually understand where he's coming from. He also does some great writing and seems to write as close to the truth as he can find. The High Country News is a magazine broadly on environmental issues and the west.
I've been waiting for an in depth coverage by HCN of something besides the last Sagebrush Rebellion. No one seems to have had much luck pinning down the causes of this latest one. I don't think you can get the sense of broad based support from people wanting to take over government land or run cattle for free. There's more to it and I haven't seen anyone actually put their finger on where the anti government sentiment is coming from.
BLM Statement
http://www.blm.gov/...

"Lyman asked ATVers to stop at end of county road to lessen impact/conflict. More than a dozen, some heavily armed, defied him; rode onward."
No counter protesters. Long way from Sausalito.
Part of the issue of the canyon has to do with how far the road actually goes and where the end is. Also a multi year stall on the part of the BLM in issuing a ruling on the proposed trail. Another part of it is ATVers being cantankerous. And then there is the issue of the state of Utah attempting to list all traditional two tracks as county roads so to keep them open to use.
Blanding the closest town and the largest in San Juan County, has about 3200 people. Above are the city offices.

"Salt Lake City ATV access advocate says they're fighting religious war, against "religion" of environmentalism"
I'll probably check back in the morning and respond to any civil comments.