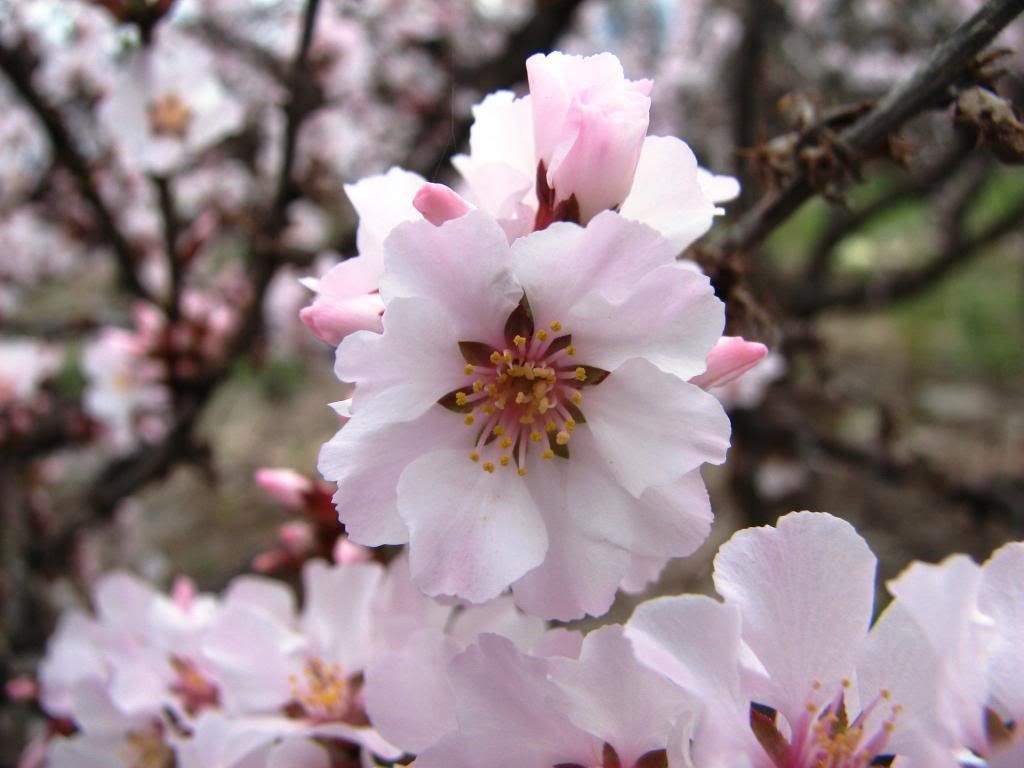 The Daily Bucket is a regular feature of the Backyard Science group. It is a place to note of any observations you have made of the world around you. Insects, weather, meteorites, climate, birds and/or flowers. All are worthy additions to the bucket. Please let us know what is going on around you in a comment. Include, as close as is comfortable for you, where you are located. Each note is a record that we can refer to in the future as we try to understand the patterns that are quietly unwinding around us.
Somewhere around ten years ago in the early part of spring, I rescued a tiny stick that had four or five small pink flowers on it. I had no idea what it was but, at that time in my gardening career, any flower was a good flower. It had been struggling in the shade of two huge maple trees, in an area we were trying to reclaim from poison ivy. You can imagine the fun we had trying to extract it from the vines without coming into contact with them.
Follow me below the poison ivy tangle, and see more flowering goodness!
By the end of it, I had a four foot tall twig, somewhat battered, with its bare roots hanging out, waiting for its forever home. At that time, I had little knowledge and lots of enthusiasm, a guaranteed recipe for disaster. Without even attempting to figure out exactly what I had in my hands, I planted the little darling about 4 feet back from the driveway. I can't seem to locate my earliest shots of it, but here's a picture from 2006.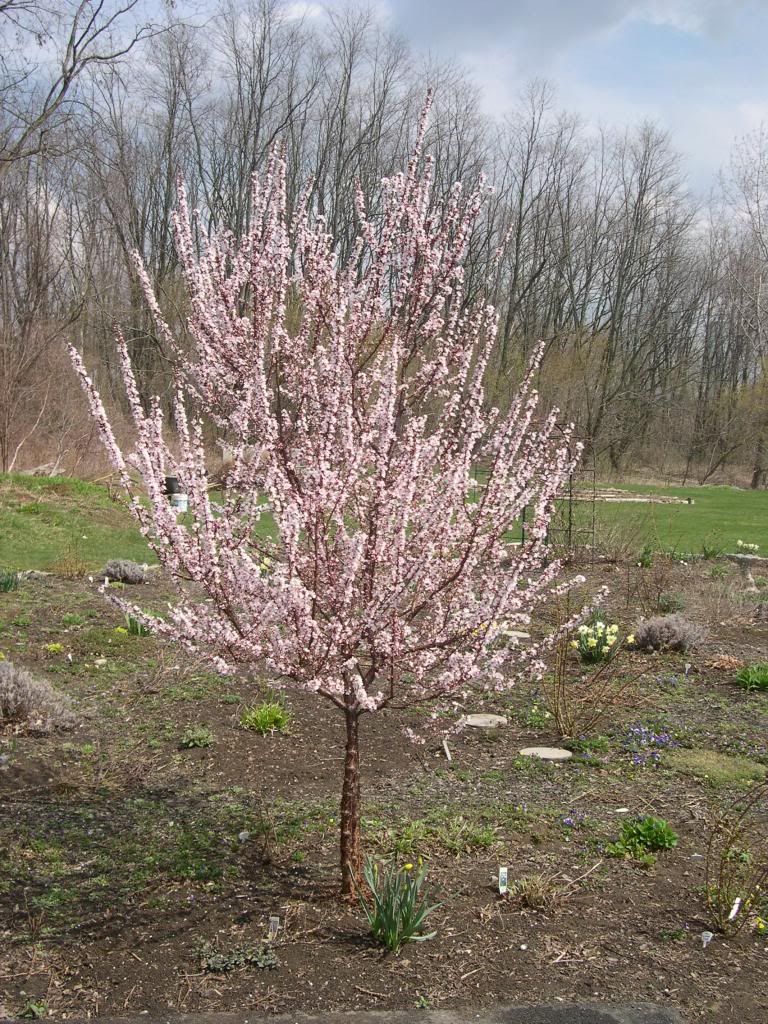 Fast forward ten years and the little darling now extends about ten feet in all directions, including over the driveway. Well, we weren't using that section much anyway. Somewhere in that ten years, I finally did a little research and identified the thing as Prunus tomentosa, or most commonly Nanking cherry. While it is generally grown as a multi-branched shrub, I trained our specimen into a two-trunked tree.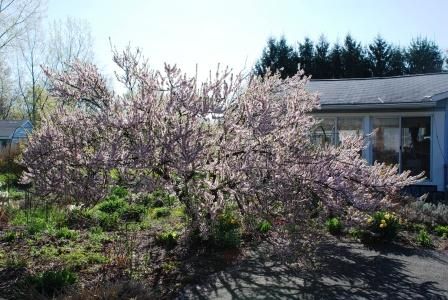 A second one, a seedling of this tree, is currently allowed to take on a more natural multi-stemmed shrub form. The choice of placement, while improved, is still somewhat lacking. It's way too close to the path. Ah, well.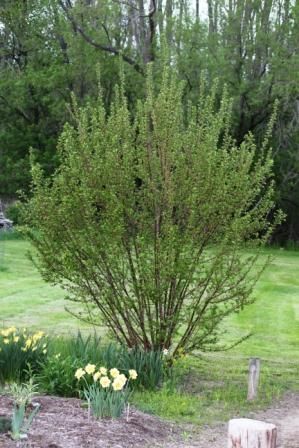 My little tree has its oddities. It almost never produces edible fruit. I assume it has some sort of disease or virus, but since it doesn't hurt the tree and I have a properly producing cultivated cherry, I never worried about it much. Instead of making tart, red little cherries, a deformed, green blob develops. I have no idea what causes this and I've never seen anything like it. If anyone has any ideas, I'm all ears. No pics, unfortunately.
Despite this problem, the tree is a treasure in the spring. It is always the first thing to bloom and gets absolutely covered with blossoms, no matter how cold the winter was. Here's some eye candy of the show it puts on.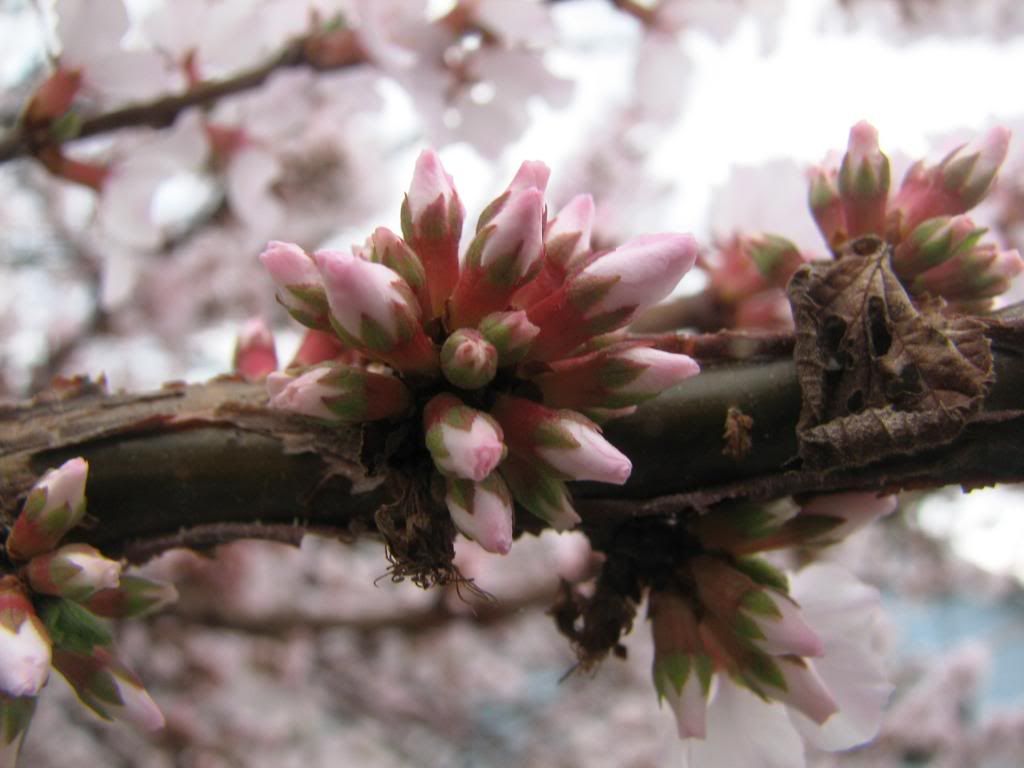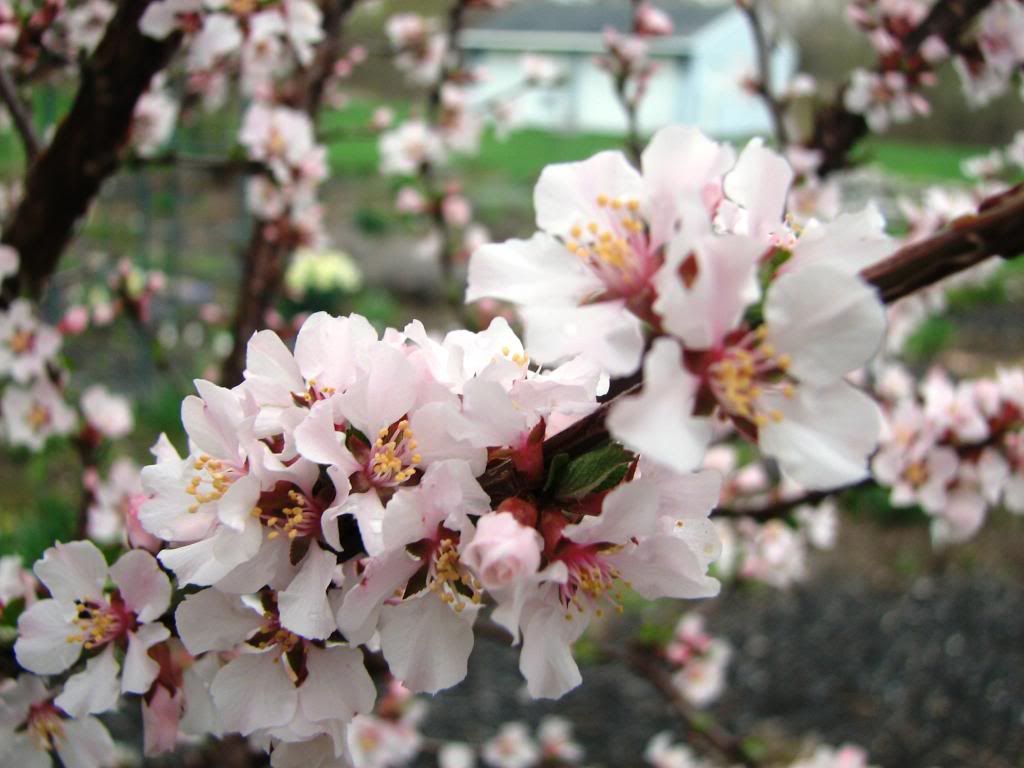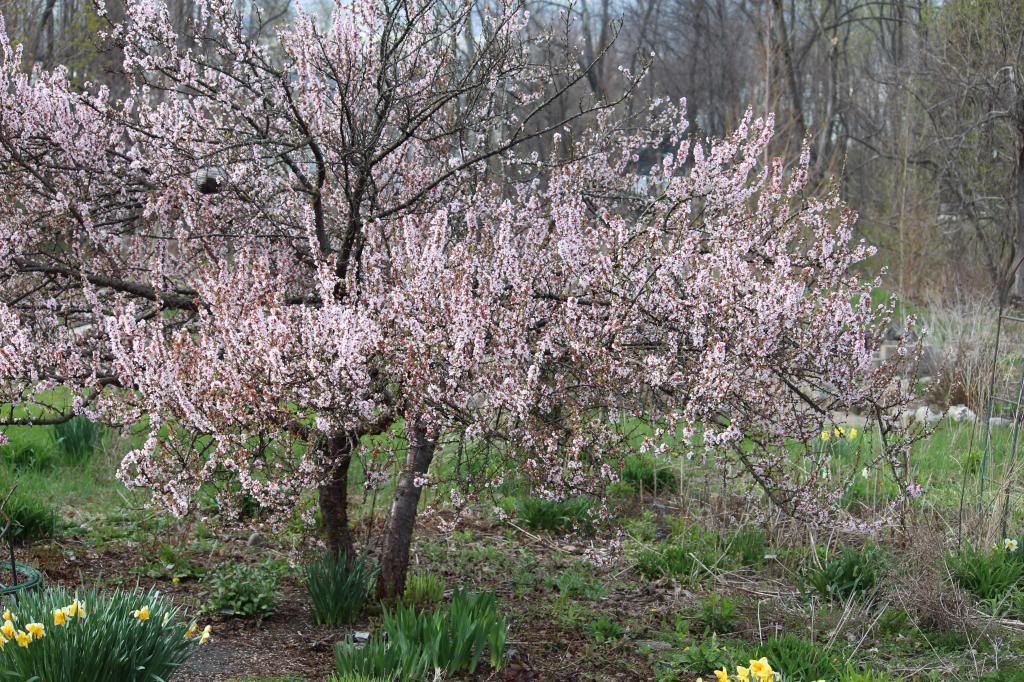 In recent years, I've come to value this tree for more than spring color, though that would be enough to safeguard its place in the garden, even in a poorly chosen spot. After I started watching the critters more closely, I noticed they absolutely loved this tree. In the spring, a veritable blizzard of bees attends to the cloud of flowers.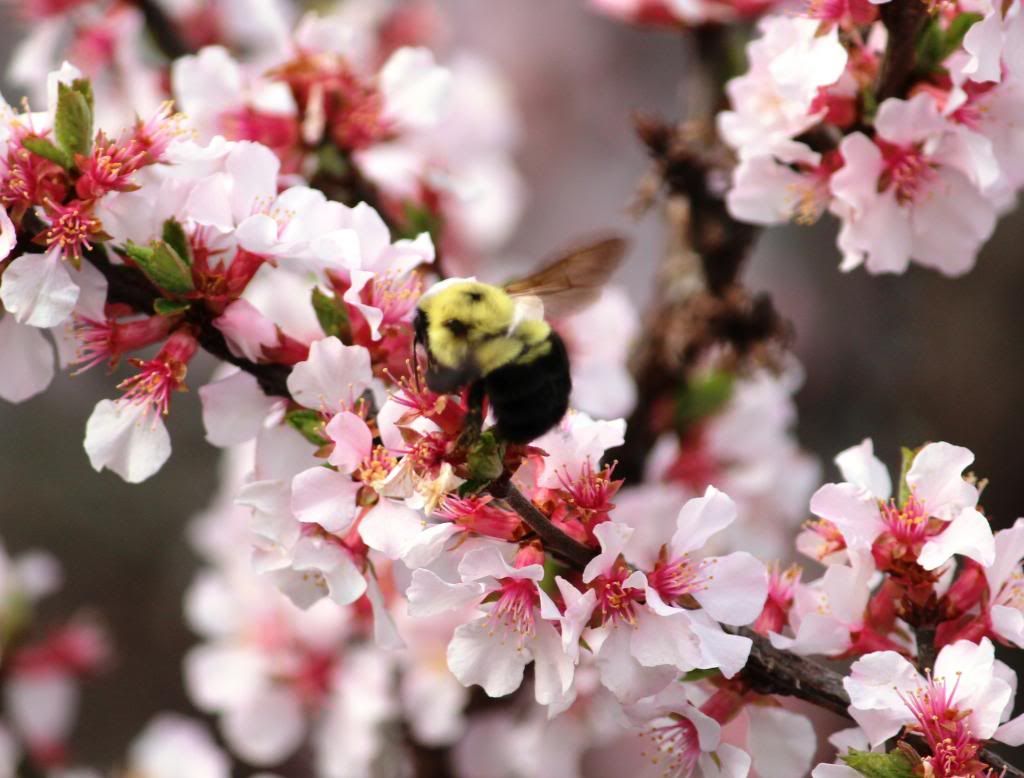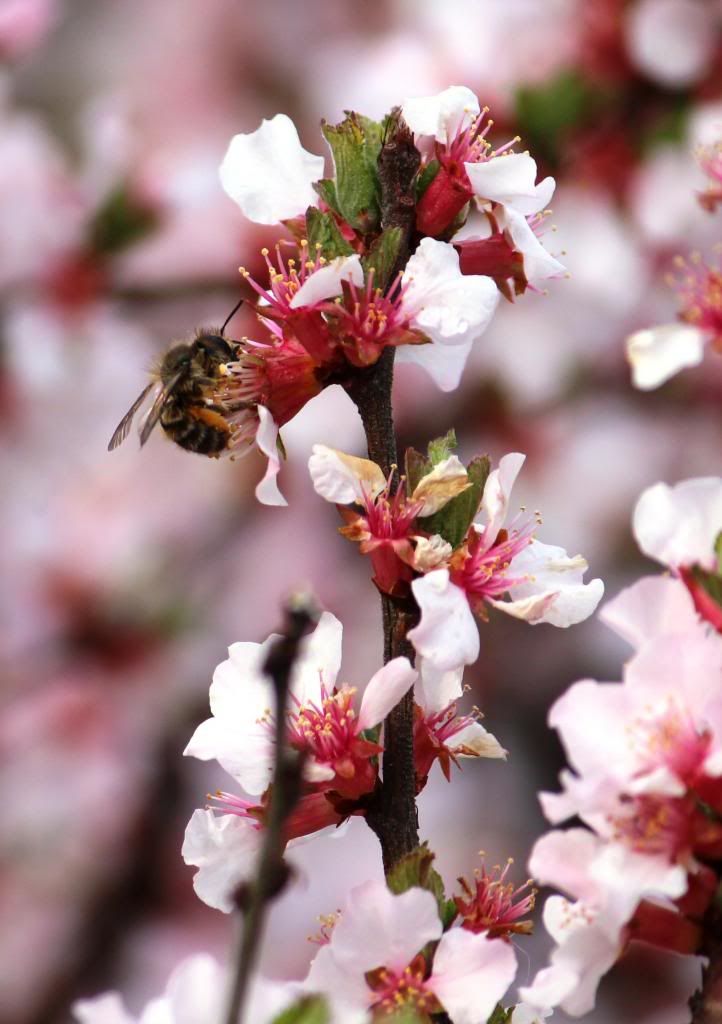 Chickadees and woodpeckers use it as a base upon which to launch fresh assaults on the feeders at all times of the year. I've attached a nest material "feeder" to this tree and regularly see chickadees and tufted titmice helping themselves.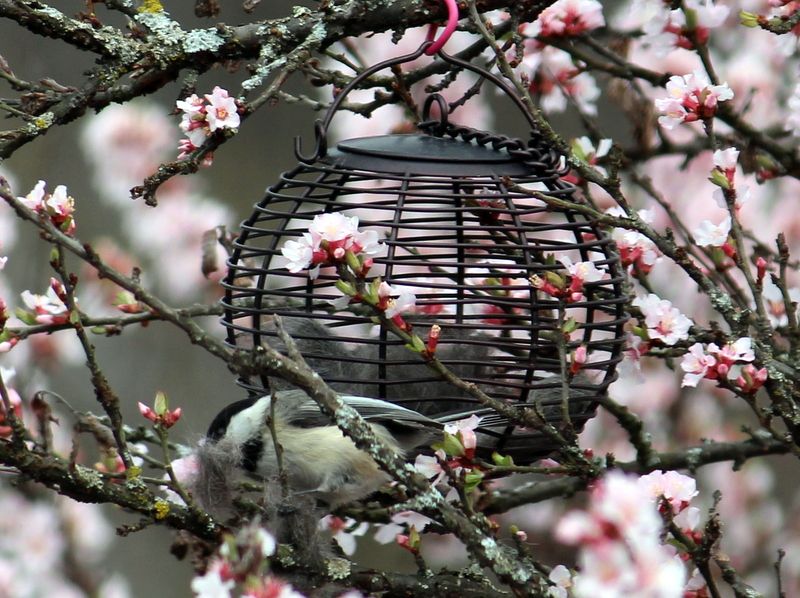 The robins and sparrows find the leaf covered ground a paradise of worms and small insects. The sparrows' two-footed kick to push aside debris is hilarious to watch.
A few weeks ago, at the height of this year's bloom, I noticed some birds eating the flowers. I had never seen this behavior before. House finches and goldfinches both indulged, though in different ways. A male house finch would pull the entire flower loose from the tree and nibble off the base, letting the rest of the flower fall.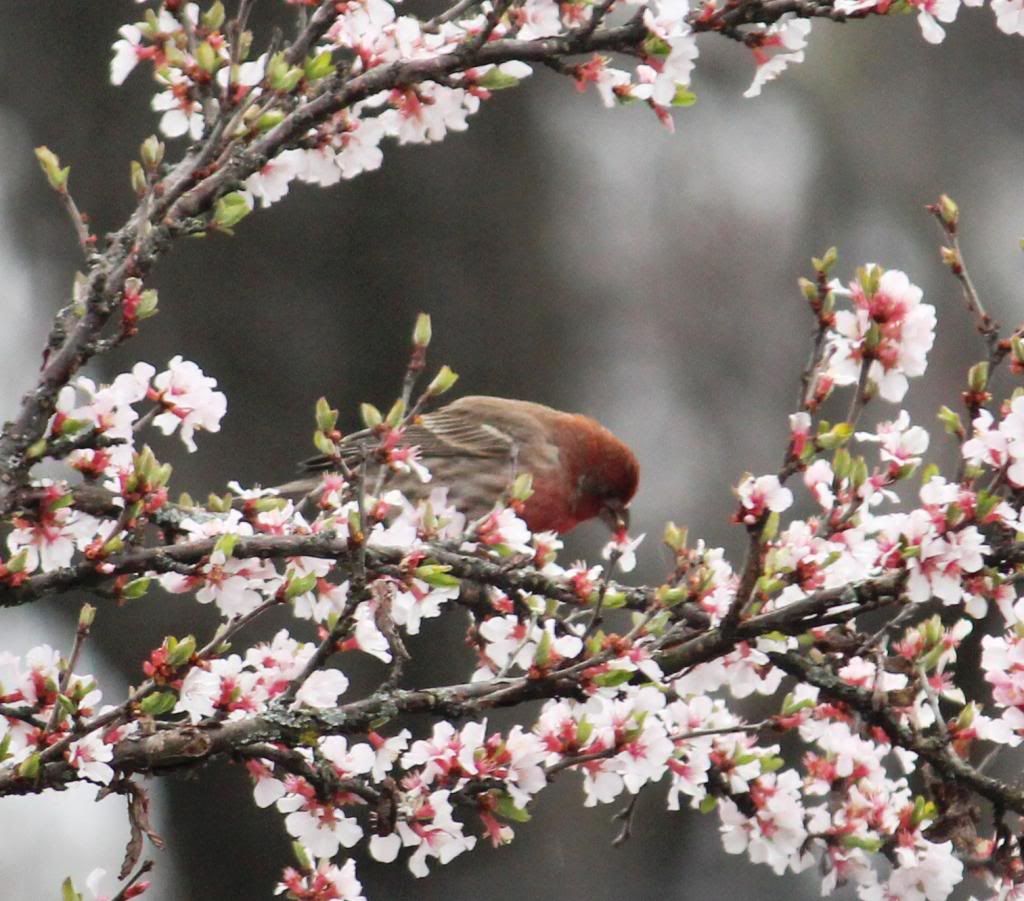 Goldfinches, by contrast, would pull each petal off then eat the base still attached to the tree. Unfortunately, I was not able to get a picture but this goldie certainly looks pleased with himself.
So there's a little photo essay about my rescue tree. What are you seeing today?
"Spotlight on Green News & Views" is posted every Saturday and Wednesday at 1:00 pm Pacific Time on the Daily Kos front page. It's a great way to catch up on diaries you might have missed. Be sure to recommend and comment in the diary.