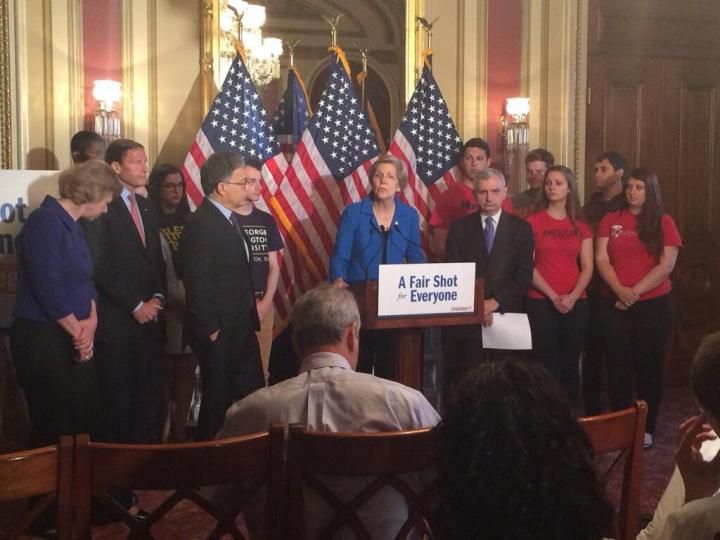 Here's a medley of stories about Senator Elizabeth Warren that might be called Senator Warren's Busy Morning.
Gabrielle Levy reports Warren, Democrats urge passage of student loan bill, which would allow "people people to refinance their student loans to 3.68 percent interest."

In introducing the legislation last week, Sen. Elizabeth Warren, D-Mass., said it had twin goals of driving down the $1.2 trillion in student loan debt, and shrinking the profits the federal government pulls in from the interest payments on those loans.

"College affordability is about economics and about our values," Warren said. "We want to offer the same opportunity for those who got an education, but right now the law works for billionaires."

She was joined by Sens. Tammy Baldwin of Wisconsin, Chuck Schumer of New York, Al Franken of Minnesota, Richard Blumenthal of Connecticut and Jack Reed of Rhode Island, five of the bill's 27 co-sponsors.

"We need to let students refinance their loans like others do with their homes," Franken said. Added Reed: "We need to give people a fair shot at a better life, a better America."

A Pew study just found that those under 40 who graduated without student load debt have a net worth nearly seven times those who have student debt.
Matt Sludge of the Huffington Post write
Elizabeth Warren Blasts FCC Net Neutrality Plan: 'Just One More Way The Playing Field Is Tilted'
Sen. Elizabeth Warren (D-Mass.) blasted the Federal Communication Commission's recent proposal to let internet service providers charge for access to their customers, saying it would "gut" the principle of net neutrality.

"We don't know who is going to have the next big idea in this country, but we're pretty sure they're going to need to get online to do it," Warren wrote on her Facebook page Wednesday. "Reports that the FCC may gut net neutrality are disturbing, and would be just one more way the playing field is tilted for the rich and powerful who have already made it."

Warren's voice is the latest to join a chorus of Democratic lawmakers like Sen. Al Franken (D-Minn.) who aren't happy with the FCC proposal, which represents a reversal from President Barack Obama's previous position on net neutrality. But her statement goes a bit further in tying the potential end of net neutrality to her trademark theme of an America rigged against the middle class and for big business.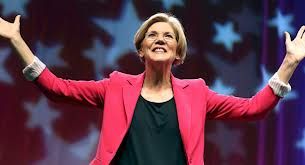 George Zornick of The Nation reports Elizabeth Warren Reveals Inside Details of Trade Talks suggesting it should be scuttled. I agree having read elsewhere it subverts "local" environmental legisation.
One of Senator Elizabeth Warren's top priorities since coming to Washington has been opening up ongoing international trade talks to public scrutiny—she has, on several occasions, criticized the secret nature of the negotiations, and has pressed the administration's trade representative directly about transparency.

"From what I hear, Wall Street, pharmaceuticals, telecom, big polluters and outsourcers are all salivating at the chance to rig the deal in the upcoming trade talks. So the question is why are the trade talks secret? You'll love this answer. Boy, the things you learn on Capitol Hill," Warren said. "I actually have had supporters of the deal say to me 'They have to be secret, because if the American people knew what was actually in them, they would be opposed.'"

"Think about that. Real people, people whose jobs are at stake, small business owners who don't want to compete with overseas companies that dump their waste in rivers and hire workers for a dollar a day—those people, people without an army of lobbyists—they would be opposed. I believe if people across this country would be opposed to a particular trade agreement, then maybe that trade agreement should not happen."

Well, Senator Warren has had a busy morning standing up for the common good of working people, students, and regular Americans. Senator Warren also answered reporter's questions about her new book "A Fighting Chance," describing her heroic efforts working on behalf of the average American against the powerful financial interest and lobbyists who have such a strong influence over Washington.
I have no information yet, on what she plans to do after lunch. I'll let you know if I hear anything.