Potpourri of potential pleasantries.
I grow a lot of garlic. Near to the time they are ready to be harvested, each plant puts up a spiral tip which is the seed. Gardeners have always cut this off to direct the energy into the head of developing cloves. Someone discovered that yuppies would buy them and cook them, so now they are on sale at farmer's markets, under the name "scape". I tried them, sautéing them in butter. Not great in my opinion. I harvested mine and brought them in: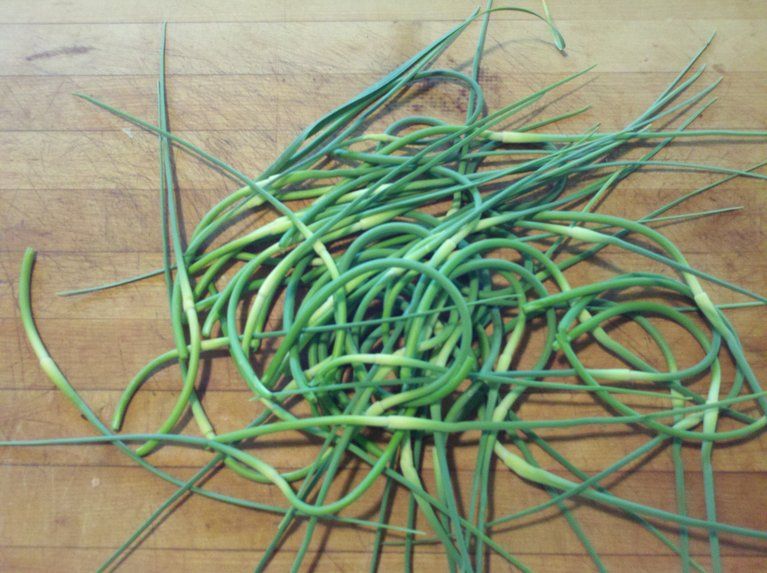 We are incredibly frugal with food. Seldom do we waste even a molecule. But after looking at this pile for two days, I've decided: compost. It will find its way into next year's garden, and perhaps into next year's garlic.
We got our airline tickets for Netroots, a most frustrating experience. Computers and the internet were supposed to streamline such transactions, right? Wrong. After comparing flights and airlines on many sites, I settled on an airline I won't name (clue, the Mississippi River has one). I began to fill out the form for buying tickets and my last name was underlined in red. I tried many things such as erasing it and re-typing, to no avail. So I went back to retry; same result. Of course I had to re-enter my trip request and dates. After four re-trys I became convinced we were on the no-fly list. On the fifth re-try, making no changes, it worked. No email confirmation, though. I called the airline, which indicated there was a 2 1/2 hour wait time. I finally reached them the next day and was told "Interesting. So many calls about our email. I guess it's not working." I would hazard a guess that others have had similar or worse experiences.
Yesterday I mentioned that I was making broccoli salad. My recipe produces a salad that's so much better than the equivalent you buy even at high end deli's. So I decided to share it.

Broccoli Salad

One or more broccoli heads, cut into tiny flowerets. Try to leave as little stem as possible
1/2 to 1 cup raisins (I always use yellow, as they are softer)
1/3 to 1/2 cup finely chopped purple onion
1/2 to 1 cup unsalted sunflower seeds
3/4 to 1 cup mayonnaise
1/4 cup sugar
3 tablespoons wine vinegar
5 to 10 slices bacon, cut into 1 inch pieces, fried crisp.

In large bowl, combine broccoli, raisins,onion, and sunflower seeds.
In small bowl, combine mayo,sugar, and vinegar. Whip with whisk.
Pour over broccoli, toss to coat.
Refrigerate at least 2 hours.

Just before serving, sprinkle on bacon and toss. If bacon is cooked
ahead of time, warm in microwave. Bacon really makes this, so don't be stingy.
We always make a huge amount of this salad and eat it for days. As with many dishes, it gets better and better day by day.
Share anything you like, such as inedible foods, frustrating computer experiences, or great recipes.
Kitchen Table Kibitzing is a community series for those who wish to share part of the evening around a virtual kitchen table with kossacks who are caring and supportive of one another. So bring your stories, jokes, photos, funny pics, music, and interesting videos, as well as links—including quotations—to diaries, news stories, and books that you think this community would appreciate. Readers may notice that most who post diaries and comments in this series already know one another to some degree, but newcomers should not feel excluded. We welcome guests at our kitchen table, and hope to make some new friends as well.