Organizers in Maui County (the islands of Maui, Lana'i and Moloka'i) are attempting to qualify a GMO moratorium for the ballot and turned in almost 10,000 signatures 45 days ago.
Wendy Osher of MauiNow news is reporting that the County of Maui threw out 5048 signatures as invalid. That's more than half the 9,768 turned in.
Maui County's initiative process has never been successfully used before although it has been tried. Obtaining registered voters numbering at least 20% of those who voted in the previous election is a high bar to meet.
Hawai'i has nearly the worst voter turnout in the country but young legislators like Kaniela Ing are trying to fix that. Many native Hawaiians (Kānaka Maoli) do not register to vote. Belief that the U.S. overthrow of the Hawaiian Kingdom renders the U.S. government illegal, discouragement in the way that their land has been taken, polluted and exploited and a feeling that voting is a useless gesture all play a role.
But the Kānaka Maoli, in my experience petition-gathering, favor the GMO ban. Voter registration has been a big part of the petition drive.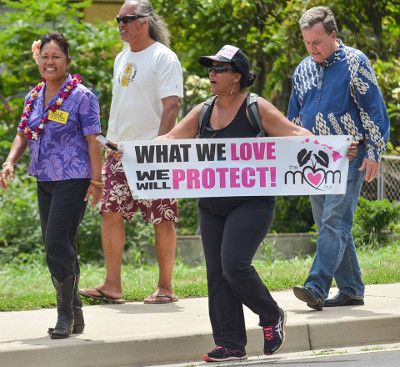 However, if the signers don't turn in their voter registration forms prior to the county checking their signature, that can result in a lot of signatures thrown out.
MauiNow reports:
According to Mateo [County Clerk], a total of 5,048 signatures have been deemed invalid due to a variety of issues including duplicate signatures, insufficient or incorrect information provided, or illegible handwriting...

...Mateo noted that the ratio between valid and invalid signatures is "fairly consistent with previous initiative petitions made in other counties," including two Hawaii County petitions in 2006 and 2008 where an estimated 45% of signatures were deemed valid in each year. The Maui petition garnered an estimated 48% valid signatures.
Mark Sheehan, one of the five initiative leaders said the initiative process:
has become necessary because of the thousands of dollars in campaign contributions to Maui legislators from Monsanto and chemical corporations.
Organizers have been collecting more signatures and have 20 days in which to come up with the additional 3745 signatures. At the average rate of valid signature of only 45% or so, that means that theyll have to collect well in excess of 8,200 new signatures.
1:59 PM PT: UPDATE: Conflicting reports. News is reporting 20 days to collect more signatures. ShakaMovement.org is reporting 1 day and final turn in tomorrow (Friday May 22) at 1pm
2:17 PM PT: UPDATE: Maui County Clerk releases statement that ShakaMovement has 20 more days (from May 21, 2014) to submit signagures. www.mauicounty.gov/CivicAlerts.aspx?AID=5412