CBS News reports the NOAAs latest hurricane forecast for the summer of 2014 in NOAA hurricane forecast: What does 2014 hurricane season have in store? - A slower hurricane than usual this year due to an expected El Nino system in the Pacific ocean. (see third article.)

The National Oceanic and Atmospheric Administration announced its annual hurricane forecast in in New York City on Thursday. Officials said that the periodic Pacific warming characteristic of El Niño will likely reduce the number and intensity of tropical storms and hurricanes.

But that doesn't mean that coastal communities should let down their guard. "Even though we expect El Niño to suppress the number of storms this season, it's important to remember it takes only one land falling storm to cause a disaster," NOAA administrator Kathryn Sullivan said in a news release. .... The six-month storm season begins June 1.

This year, NOAA officials expect about eight to 13 named tropical storms and three to six hurricanes. Just one or two major hurricanes with winds over 110 miles per hour are forecast, at a 70 percent likelihood rate.

------------------------------------------------------------------------
Because this report is sort of short and not many of you saw this NOAA report on April being tied for the hotest month on record I posted two days ago at midnight, I thought I'd attach it here.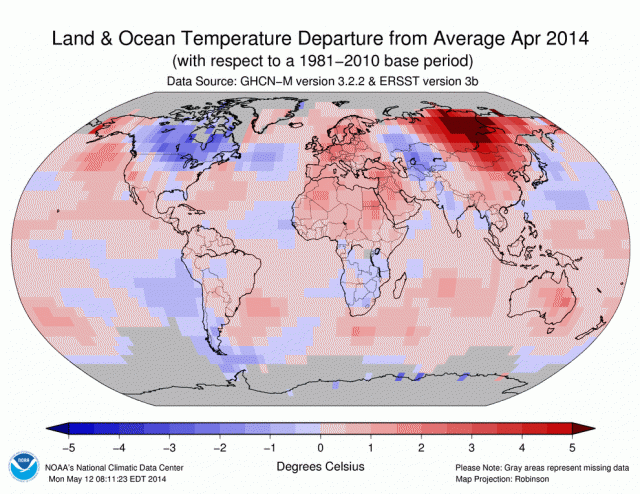 Andrew Freedman of Mashable reports Earth Just Tied for Its Warmest April on Record, NOAA Says

April 2014 tied with the same month in 2010 for the distinction of being the warmest April on record globally, with an average global temperature 1.39 degrees Fahrenheit above the 20th century average, the National Oceanic and Atmospheric Administration (NOAA) said Tuesday. The month also extended the unbroken string of months with global average temperatures at or above the 20th century average to 350 straight months, or more than 29 years. This was the 38th straight April that had a global temperature at or above the 20th century average as well. ...

NOAA said that much of the globe was "much warmer than average" during April, particularly in central Siberia, where temperatures were more than 9 degrees Fahrenheit above the 1981-2010 average. "This region, along with parts of eastern Australia and scattered regions in every major ocean basin, were record warm," NOAA said in a press release.

The warmth in Siberia was partly a result of a pullback in the polar jet stream, which transports cold air to that region. This pullback led to a record low snow cover extent in that area.
NOAA said that southern and eastern Canada, and norther U.S., and Eurasia were cooler than average.
NOAA also notes that as snow has been melting more sun hits the surface of the earth leading to more heating. Snow tends to reflect the heat.
Another article reports an 80% of an El Nino event by fall.
This long-term forecast plot is from May 8, but shows the same base trend announced today NOAA that shows an increasing chances of an el Nino through the summer rising nearly 80% by fall.
There's Now Nearly an 80% Chance of an El Nino Event by the Fal

It is now highly likely that an El Niño event will develop by the fall, according to a new outlook from the Climate Prediction Center and Columbia University's International Institute for Climate and Society. El Niño events typically develop during the spring and summer, and peak in strength during the late fall and winter.

Consistent with this, the new outlook shows the odds of an El Niño event rising above 65% as early as this summer, and the odds of that same event increasing to 78% from October through January.

El Niño and La Niña events refer to fluctuations in air and ocean conditions in the tropical Pacific. El Niño events are characterized by warmer than average sea surface temperatures in the central and eastern equatorial Pacific, and they add heat to the atmosphere, thereby warming global average temperatures. Since this warming comes on top of the background warming from manmade emissions of greenhouse gases, such as carbon dioxide, El Niño events can lead to records being set for the planet's warmest year. Both 1998 and 2005 were El Niño years, and they were the top two warmest years on record, with the precise rankings differing depending which data set is used.
Mashable tells us that El Niño events tend to occur every three for seven years.
Looks like its going to be a hot summer this year again.