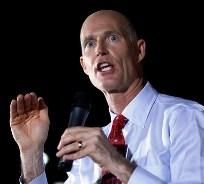 Florida Governor Rick Scott pioneers a new political posture of "climate-change-mutism."
Just as I predicted in my last article and for the last several weeks, the increasingly costly price paid by any politician who admits to "climate change denial," is taking its toll on the number who are willing to do so in public. Marc Caputo of the Miami Herald writes, Rick Scott won't say if he thinks man-made climate-change is real and significant, which is a major change from his position in 2011 when he said "I've not been convinced that there's any man-made climate change... Nothing's convinced me that there is."
I guess we need to make up a new category for Rick Scott - "climate-change mutism," for those unable or unable to express an opinion. This is substantial progress. When politicians see others in retreat, who will volunteer to be on the bloody edge?
Here's the question-and-answer with Scott published by the Miami Herald:

Q: Do you believe man-made climate change is significantly affecting the weather, the climate?

Scott: "Well, I'm not a scientist. But let's talk about what we've done. Through our Division of Emergency Management -- the last few years, three years – we put about, I think, $120 million to deal with flooding around our coast. We also put a lot of money into our natural treasures, the Everglades, trying to make sure all the water flows south. So we're dealing with all the issues we can. But I'm not a scientist."

Q: In 2011 or 2010, you were much more doubtful about climate change. Now you're sounding less doubtful about man-made climate change because now you're not saying 'Look, I doubt the science.' Now you're saying: 'I'm not a scientist.' Am I right in guessing that?

Scott: "Well, I'm not a scientist. But I can tell you what we've accomplished. We put a lot of effort into making sure that we take care of our natural treasures – the Everglades, making sure water flows south, any flooding around our coast. So we're doing the right thing."

Question (asked by citizen-activist): So do you believe in the man-made influence on climate change?

Scott: "Nice seeing you guys."

I just posted a video of John Oliver mocking science-deniers on his new HBO show where he asserts that 97% of climate scientists agree that climate change is real, happening now, and has primarily been caused by man.
Over the last two weeks Florida Senator Marco Rubio (R) has been mocked and derided for denying that he believes in climate change or science even after he proposed carbon emission caps when he was in the Florida House.
Several recent reports indicate southern and coastal parts of Florida will be highly vulnerable to rising sea levels caused by global warming.
Global warming and science deniers are already in retreat. I believe we will see dramatic shift in public opinion in the next polls that will continue to improve from here on out.