A few years ago, talking to friends about the political environment in Kansas the conversation always boiled down to Thomas Frank's book "What's the Matter With Kansas" and Joe Winston and Laura Cohen's follow up film based on his book.
Kansas, it seemed was a punching bag. Full of crazies, right-wing conpiracy theories and inhospitable to people on the left. I read the book, watched the documentary and thought to myself: I can sit back and poke some fun at my own state, sure.. but part of "What's the Matter With Kansas" is that too many of my friends (and myself) had bought into the idea: Kansas itself is the problem, and our hope of 'fixing' Kansas wasn't real.
What's the Matter With Kansas was as much my problem if I decided to not work to change it as it was any of the right-wing stereotypes Frank portrays. Maybe moreso because I knew that there were people in Kansas who thought like I did - who wanted a different kind of Kansas. But did we all stay quiet because we simply had avoided connecting with each other?
I've spent a few weeks following up on that question, away from Kos for the most part, trying to figure out: What Really Happened to Kansas? Can Kansas be changed?
Below the fold, I'll try to go through some of the journey with you.
I started out on May 17, as Kansas celebrated the 60th anniversary of Brown V Board: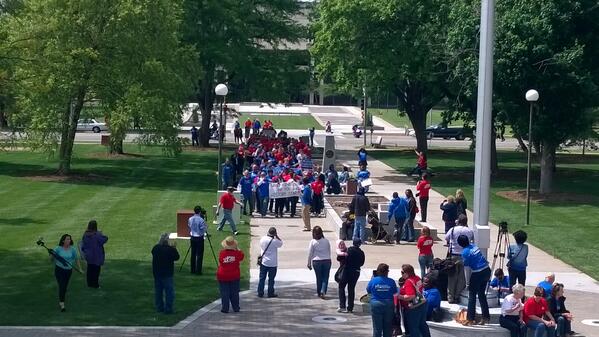 That morning, I had been a member of a panel held by AFT Public Employees Union & the Kansas NEA Chamber to discuss the impact of Brown V Board and the state of Kansas Schools.
I had been looking for a way to highlight what was right with Kansas - that there were people in Kansas who hadn't given up the message and who put themselves on the line for their cause.
Heather Ousley set that example for many Kansans last year when she made city and state news by confronting the issues of education and refusing to go away. Warning on this video: it's a tear jerker by the end.
.
Five people completed a 60-mile hike from Johnson County to the Capitol on Monday to deliver personal sentiment about importance of improved spending by Kansas government on public schools.

Heather Ousley, supporting the advocacy organization Game On For Kansas Schools, completed the trek for the second consecutive year with the aid of blister pads, donated coffee and Advil.

"I did this for my kids. I did this for everybody's kids," she said upon arriving at the Capitol. "This, for me, was a big leap of hope because my kids have their entire education ahead of them. I really feel like we need to do something now."
Heather walked the walk because she found something in Kansas she believed in. Education was important to her family and her community. She recognized that her causes went beyond her city, her school - they stretched to the opportunities of children all across the state. And when people wouldn't listen, Heather gave them something to follow, a visual example that was harder to dismiss.
Heather, like many parents, found themselves drawn to the capital that first week of April, as the Kansas Senate and House rushed through legislation without real debate. (Refer to this: http://www.dailykos.com/... )
Brown V Board, though was about more than simply education - it was about the understanding that groups should be treated as equals - with equal opportunities for all. I was proud that morning to be seated next to Lucinda Noches Talbert, a grand daughter of one of the original plaintiffs in the Brown V Board ruling. We spoke that morning about opportunity and hope for Kansas, what the future would be. Today, she works to help children get food and nutrition through services in Kansas City - because they are her cause.
By the time Rev. Eckles spoke in Topeka, I had wondered about my plan to travel the state, hunt out party leadership and sit down for discussions.

The Kansas portrayed by Thomas Frank and others hit home - radical conservative ideas running loose while society simply voted them in. Missing in that analysis though was that there were so many who were working for things I believed in.
That Monday, I began my journey by heading South to Miami County from my home, and for the next set of days I toured the Eastern half of our state.
That isn't to say there weren't some hiccups along the way: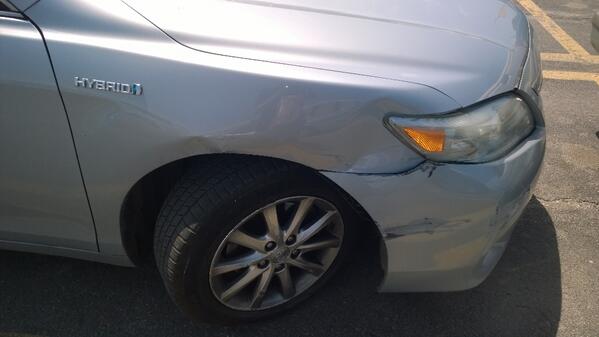 Nothing quite like sliding off a dirt road and into a ditch. I met with candidates, leadership and elected officials. Attended rallies for Republicans and Democrats. Sunburned my head (TWICE damnit), and gathered as much film and interviews as I could handle. I realized early on that What is the Matter with Kansas isn't the right question to ask. Maybe the question to ask is: what happened to Kansas? What are the results of the policies, the impact on the people, and how do we take the motivation we have and direct it in the right way.
By the end of the second day of my tour, I realized that there were a lot more Kansans who thought as I did - but they, like myself, had given up on the idea of succeeding.
In Fort Scott Kansas, I was told: "It just doesn't seem to matter." Fort Scott had a democratic house member, but when I asked if there were any real efforts to mount a major campaign the response was similar: "I don't know if we can win".
The problem with Kansas for Democrats was pretty obvious. Apathy and Frustration. More Democrats told me voting for them was an after thought than told me they were excited to vote. "We can't win because of (name your excuse)", I heard this frequently, repeatedly in meetings throughout counties in districts where real possibilities existed.
Republicans, though, weren't excited to vote for their candidates either... more than once in public meetings we had discussions from Republicans who worried that their government was bought, "Who would loan $500k of their own money to run for Lt. Gov.? There has to be payoffs". I just nodded my head. "Still, I guess I'll pinch my nose and vote for them... maybe."
The level of disaffection with Kansas was at the highest with youth. Young voters at community colleges and universities expressed immediate concern with Kansas - and addressed social issues left and right. Their concern: the state party doesn't speak to me.
With this in mind, I headed off to Wichita, to spend a day discussing with several who were trying to take on the big issues in the state and see if they could make a change.
I met with Equality Kansas first.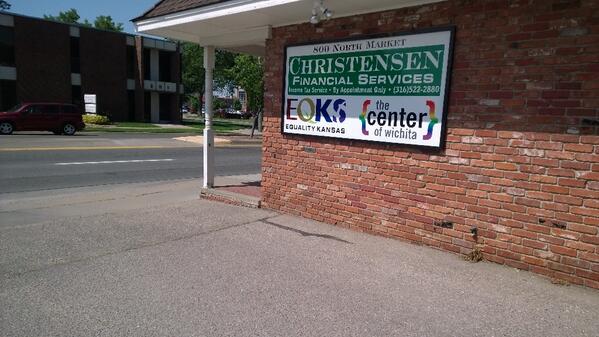 A lobbying group on behalf of LGBT issues within Kansas. We discussed the impact of legislation and how we change the races. That morning, I would need me meet with several before I took a unique way back home in order to cut through other counties that were in my list.
I headed out to meet with Women 4 Kansas, a group that is dedicating itself to beat Brownback this fall.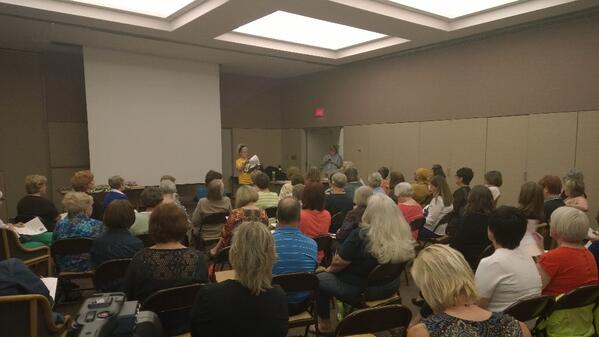 The turnout was solid and they discussed serious issues, focused on tax policies and the impact on the economy. Who really benefited from Brownback's policies? They asked. We held a roundtable discussion (which we recorded) to discuss the key issues in Kansas.
The trip to Wichita had brought up many issues and a lot of questions. I had met with several mayors, city workers and councilmen in the last few days, but I still wondered about the realities of overturning a state like Kansas.
Touring the state though, what I really came to understand is that in every area of the state there are true progressives who starve to hear someone who agrees with them. I had die hard conservatives in western Kansas express to me their frustration with attacks on Wind Power, farmers near the Colorado border who expressed interest in trying to farm.. alternative crops.. and students in Universities all over the state who wondered about the big issues.
I had met with students shortly before controversy broke out in Western Kansas, not too far from where I was, as Saline County voted to refuse support for IUD devices, equating birth control with murder.
When confronted about these issues, the commissioner fired back:

They sourced behavior from Price including this comment from last week's meeting. "That's the kind of stupid things people like you want to bring out. Just take them and go somewhere else with them. I don't want to hear it," said Price.

Some people in Saline County think Price does not want to hear much of anything from citizens. "Your decisions are not met with favor by the people. You need to make more time when you make your decisions," said one person at last week's meeting.

"You're talking about nitty gritty baby things," responded Price. "You're talking about me not saying God on this issue. You got after me because I said God. We salute the flag and say in God we trust and you didn't like that. That is not the issue. If that's your issue, you need to go leave America and go where they don't have God."
FYI: I will be in attendance in Salina on Tuesday when this comes back up for a vote, and we'll have video and a story then.
Students, especially the liberal students took time to talk to me at several universities about what an embarrassment this was. When I pressed further about this issue though:
"Does this make you want to get out and vote this fall?"
The comeback from a Fort Hays State University Student hit me:
"I haven't seen any democrat running say anything about it. Most of them are just as bad as the (R)s here.."
And there it was.
In off the record meetings, multiple democrats - elected and candidates - had told me that they were advised to 'not touch' any social issues. The risk factor, the party had told them was too high. Issues of choice and women's rights had been stripped out of the party platform, and the state party had decided that confronting social issues would only 'rev up' the conservatives who would turn out to vote.
What I was discovering, though was that the failure to say anything about these issues was becoming the largest drag on the party in the state. Democrat after Democrat, especially young democrats - felt as though the failure of their party to talk to their issues meant that the state Democratic party didn't support them.
So, in a meeting in Western Kansas I told several interested Democrats something simple: June 2 is filing day in Kansas. File. Run. Numerous counties in this state have no one running. I'm looking at you, Saline County. NO ONE RUNNING.
The question I was asked was: Why Run? Why run if I'll lose in the fall? Why run if the party won't back me?
Kansas, as I told them, gives them a place if they just decide to run. Party Platforms are voted on by those who win primaries... they are voted on by Democrats who commit. Even if you won't win in the fall, if you want to make a major change in your party, run now. Get in the race. Help change your state party platform. Help change your state into what you want it to be.
You might be surprised at what you can accomplish.
In 2012, a little known candidate in the suburbs of Kansas City spent less then $2,000 and picked up 47% of the vote - nearly unseating the man who would help propose 'Turn Gay Away' legislation.
Today, I drove myself back to Kansas City. Sun Burned and tired.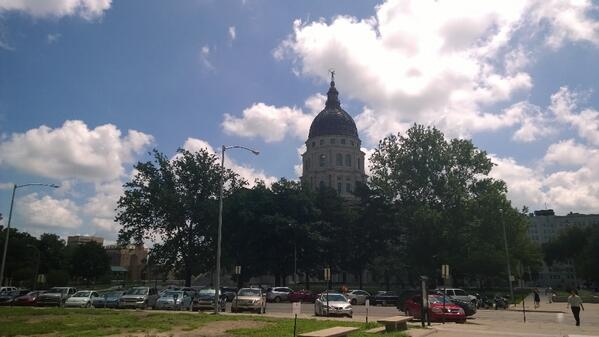 Time running back and forth to the western part of the state and driving through areas had taught me something about Kansas. There isn't anything 'The Matter' with Kansas that is unfixable. There isn't an issue in Kansas that can't be addressed with work and effort. There are people in this state who hunger for change.
The question we have is: are we prepared to help them find it? Can change come to them in 2 years? In 2 election cycles?
There are some stories that unfortunately I won't discuss here (I absolutely will at NN'14, with photos/video), but what I know now is this: What is the Matter with Kansas is more about people like me - like Democrats all over the state feeling as though we can't fight back and that it isn't worth the effort. Democrats who run from the issues that motivate the young.
I have no idea how 2014 will turn out, but I'm all in now - I can't say how many people I've handed out my cell phone # too.. but it's quite a few.
I know there are a few here on Kos who have contacted me about people who want to file and run in a district. If you are still thinking about it.. let me know. There are a lot of us ready and willing to help.
I'm taking tonight to rest, before we start working on cuts of video to take to LA with us tomorrow.
I look forward to seeing some LA Kossacks if nothing else to let them know not to give up on those in the midwest. :)
Add-On
Please note: Plenty of Videos and cuts that will later be in the documentary we are doing 'What Happened to Kansas?' can be found on Youtube:
I think after we do a meeting in LA, we should have a first trailer up to launch a mini-kickstarter.
8:23 PM PT: This is one of the round tables held with grassroots group 'Women 4 Kansas' (pictures above) taken in Wichita.