NOPE, just a pie diary. We on Daily Kos can debate the people in the diary title till we turn blue, and the public polling as far as 1. if people even know who they are and 2. what their opinion of them is won't change at all.
However, we can make delicious pies and share them with our neighbors and friends.
Here are my favorite kinds with accompanying recipes, below the great orange vortex galaxy: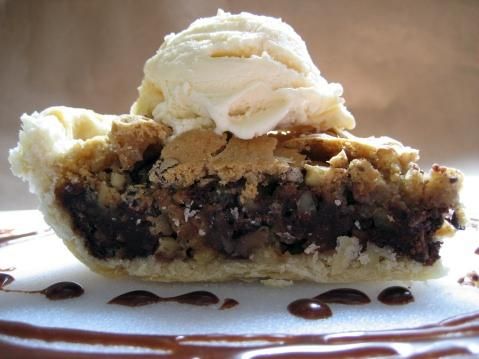 Chocolate-Chip pie is my all-time favorite and THE go-to for holidays. Best served warm, crust crispy, with vanilla ice cream on top. Only people who don't LOVE this pie are those who don't like chocolate (weirdos).

Recipe: (h/t to 'Glenda' of allrecipes.com)

1 recipe pastry for a 9 inch single crust pie

1 cup white sugar

1/2 cup all-purpose flour

2 eggs

1/2 cup butter, melted and cooled

1 cup pecans, coarsely chopped

1 cup semisweet chocolate chips

1 teaspoon vanilla extract

Directions

In a mixing bowl, mix sugar and flour.
Stir in beaten eggs, butter, nuts, chocolate chips and vanilla. Mix well.
Pour mixture into pie crust. Place pie pan on cookie sheet. Bake in a preheated 325 degree F (165 degree C) oven for one hour.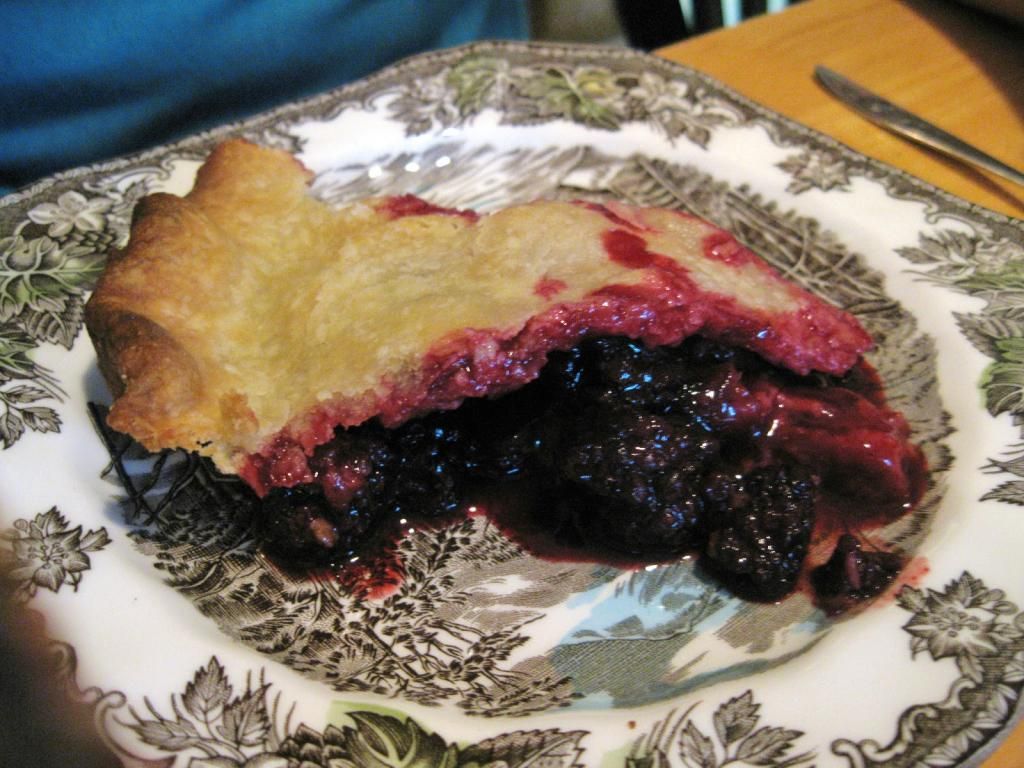 My favorite fruit pie. Blackberries IMO are superior than all other fruits in pies because they can be served at any time of year and it still feels appropriate (I don't want a hot apple pie in July, and I don't want a peach pie in January). I prefer them minimally gelatinous...like to see whole berries. You should probably add plenty of sugar unless everyone trying the pie really likes tart fruit (I do, but not everyone does). Needs a soft crust and takes both whip cream and vanilla ice cream well.

Blackberry Pie Recipe (h/t Elise at Simplyrecipes)

Yield: Makes 8 servings.

Ingredients

1 pie dough recipe for top and bottom crust
5-6 cups blackberries, rinsed, picked clean, patted dry (if you use frozen berries, defrost and drain them)
1/2 cup to 3/4 cup sugar (depending on how sweet your berries are)
1 teaspoon lemon juice
1 teaspoon lemon zest
1/2 teaspoon ground cinnamon
1/4 teaspoon almond extract
3 Tbsp quick cooking instant tapioca (can usually find in the baking aisle of your local supermarket)

Directions

1 Place blackberries, sugar, lemon zest, lemon juice, cinnamon, almond extract, and quick cooking instant tapioca in a large bowl. Gently fold the berries until they are all well coated with sugar. Let sit for 30 minutes.

2 Preheat oven to 400°F. You should have two balls of pie dough, one for the bottom crust, one for the top crust. Roll out one of the balls of pie dough on a lightly floured surface to 12-inch diameter if you are using a 9-inch pie pan, or 13-inch diameter if you are using a 10-inch pan. Line the bottom of your pie pan with the dough. Chill in refrigerator while you roll out the bottom crust.

3 Roll out the second ball of pie dough for the top crust. Lattice tops look cool.

4 Spoon the berry mixture into the dough-lined pie dish. For a lattice top, weave strips of pie dough over the top of the fruit-filled pie dish. For a solid top, place the second rolled-out pie dough crust on top of the pie. Press ends of strips into the rim of the bottom crust. Use scissors to trim the edges to 1/2-inch from the outer edge of the pie pan. Fold the edges back over themselves and use your fingers to crimp to seal the edges. If you are using a solid top crust, score the top with a sharp knife to create air vents for the steam to escape.

5 Place the pie on the middle rack of the oven. Put a baking sheet on the lower rack to catch any juices that might bubble out of the pie while it's cooking. Bake the pie in two stages. First bake it at 400°F for 30 minutes. Then place a sheet of aluminum foil over the pie to protect the edges and tops from getting too burnt. Reduce the heat to 350°F and bake for an additional 30 minutes, until crust has browned and filling is bubbly.

Remove from oven and place on a wire rack. Cool completely before serving.
A new favorite of mine. Pulled off correctly, this pie is dense, decadent, and the salted caramel is an AMAZING compliment to the richness of the chocolate. Well-done Vegan versions of this pie are also very excellent and, depending on my mood, even preferable to the standard versions.
Making this pie is really hard and I probably will never try it, as to not weep from great expectations unfulfilled. Still, here is the recipe:

Salted caramel chocolate pie (h/t Bottega restaurant)

Makes 8 to 10 servings

Crust:

2 cups crushed chocolate Teddy Graham cookies

3/4 cups unsalted butter, melted

Caramel filling:

1 1/2 cups sugar

1/3 cup water

2/3 cup whipping cream

10 tablespoons unsalted butter

1 teaspoon vanilla extract

Pinch of salt

Chocolate filling:

3/4 cup whipping cream

6 ounces bittersweet or semi-sweet chocolate, finely chopped

Sea salt (preferably Maldon) for dusting

To make cookie crust:

Preheat oven to 375 degrees

Combine the crushed cookies and melted butter in a medium bowl and mix well. Press mixture firmly and evenly into the bottom and up the sides of a 9- inch pie or tart pan. Bake for 8 minutes. Set aside and allow to cool completely before filling.

To make caramel filling:

Stir sugar and water in a heavy saucepan over low heat until sugar dissolves. Increase heat and boil until the syrup is an amber color, swirling the pan occasionally and brushing down the sides with a wet pastry brush, about 6 minutes. Remove from heat.

Add cream, butter, vanilla, and pinch of salt (the mixture will bubble up). Return pan to very low heat; stir until caramel is smooth and the color deepens, about 5 minutes. Refrigerate the caramel uncovered until cold but not firm, about 15 minutes, before pouring into prepared crust. It should fill a little more than halfway. Return to refrigerator and allow the caramel to firm up for about an hour or two.

To make chocolate filling:

Bring cream to a boil in a heavy saucepan. Add the chocolate and whisk together until smooth. Pour the chocolate filling carefully over the caramel layer to cover. In the end, you want slightly more caramel than chocolate in the tart. Refrigerate for about an hour or two until firm. Sprinkle finished pie with sea salt, slice and serve chilled. Store any uneaten portion in the refrigerator.
***
Pie I just don't like:
CHERRY PIE: If it was ever pulled off like the above Blackberry pie, I could dig it. Every time i've had it at anyone's place or at a restaurant however, it just looks and tastes like the filling came straight from a can. Perhaps it's a feature of the fruit when baked, but either way I'm not a fan. Same goes for cherry topping on cheesecake.
LEMON PIE: Just buy a lollipop. Lemon pie makes me so mad that I might start trolling dessert places, demanding real lemon fruit in my lemon pie, instead of yellow goo.
MINCEMEAT PIE: Because what the hell is mincemeat anyway?
I'M-NOT-SURE-IF-IT'S-COBBLER-PIE: Please make a decision; if it's a fruit PIE, it needs to stay in the crust for the most part when served. If it's cobbler, make it in a square dish and serve with a spoon. If you fucked up the pie and it's basically cobbler, just tell us that...don't bullshit us and call it 'pie' when it's nothing of the sort, or try to make us believe that it's cobbler in a circle pan.
Are you a PIE WARRIOR ready to drop some PIE BOMBS on the community? Leave your recipes, pictures, favorites, and least favorites below!