At the National Memo, Pulitzer Prize-winner David Cay Johnston, who was writing about income inequality long before that became a household term, writes
Heritage Tries Its Hand At News, But Forgets The Facts
. An excerpt:
The Daily Signal, The Heritage Foundation's online "news" website, debuted Tuesday, offering up vagaries and unverifiable assertions aplenty, but too few empirical facts and little in the way of attribution. Its first video was a publicist's dream, a puff piece that no serious news organization would air.

What appears in The Daily Signal matters because it is assured a large audience eager for reinforcement of deeply embedded views, but no real evidence that would challenge or even bring into question the factual basis of those views.

Reader comments on the Signal's first investigative piece—the only solid piece of fact-based journalism it published Tuesday—showed just how eager Signal readers are to read confirmation of their biases into pieces and to ignore inconvenient facts, especially subtly presented truths that run contrary to the Heritage Foundation's well-established perspectives.

Heritage opened its doors in 1973 and has since worked to ensure business dominance of American politics and government. It likes to describe itself as the true champion of the poor in America. A realistic appraisal of its policies shows that it favors protecting existing wealth against the creative destruction by which the existing economic structure is constantly under siege from new wealth seekers.

Heritage also turns a blind eye to the many stealth forms of welfare for the already old rich that I detailed in my books Perfectly Legal, Free Lunch, and The Fine Print.
America needs fact-based, insightful and aggressive journalism — both opinion and fact — from every point on the spectrum. But sadly, much of what we get from what mainstream news organizations mislabel "conservative" is radical rhetoric that far too often has little basis in fact or even reality.

Progressives and liberals in particular should encourage, and read, quality journalism from the right because it will help weed out flabby, half-baked ideas by everyone not in accord with the Koch brothers and Fox News chief Roger Ailes. Without rigorous journalism from the far right, the whole country suffers a paucity of informing debate. [...]

The breathtaking distortions and even lies by some of our best-known opinion journalists who self-identify as conservatives drew my scrutiny in National Memo columns this year, which you can read here, here,here and here. […]

So, let's take a look first at the Signal's featured first-day video, an interview with Sharyl Attkisson, a former reporter and anchor for CBS, CNN and PBS. The headline is hyped, describing an interview with the Signal's own correspondent as "exclusive."

The headline also promises a report on "Journalism's Very Dangerous Trend" but presents zero verifiable evidence of anything dangerous or even of any trend. [...]

---
Blast from the Past. At Daily Kos on this date in 2008—The Republican Base, Abandoned:
The Democrats don't need them. The 27% of dead-enders who think George W. Bush is doing a dandy job just got thrown to the wolves by John McCain in a speech that even Fox News panned.

In a setting that highlighted McCain's discomfort, with a venue that came across like a half-filled high school auditorium, John McCain pretended to the the candidate of change, and pretended that Barack Obama was the status quo

candidate. That incompetence was the problem with the Bush administration. That he, McCain, is the green candidate with a green background. That John McCain will take the country in a new direction, different than where Republicans have gone before. And John McCain knew it all along.

Say what? Does that mean that Republicans will abandon the President because McCain thinks that this administration is incompetent and has led us astray for eight years? Why would Republicans who like Bush abandon both of you?
---
Tweet of the Day
Amazing. One of the most comprehensive images of the universe ever taken.
http://t.co/...
http://t.co/...
— @DeborahNetburn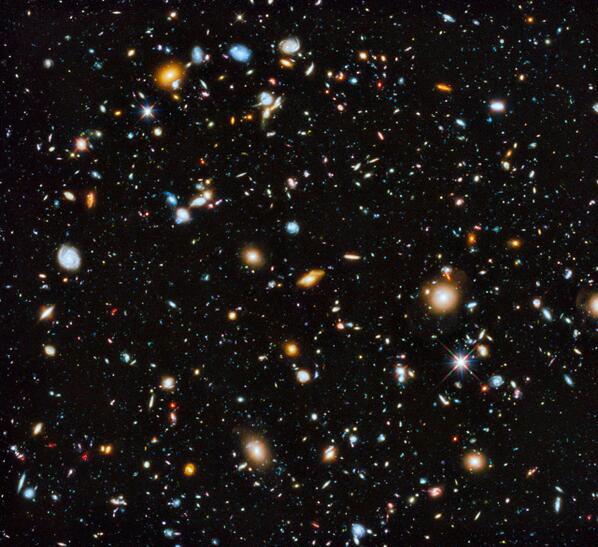 ---
On
today's Kagro in the Morning show
,
Greg Dworkin
rounded up stories on the POW swap, new Obama job approval & issues numbers, the new EPA regs, more insurers want in on ACA, but new Medicaid signups aren't moving fast enough, political leaning of docs by specialty, Christie being toast, Sandy $ flows again, the blog-to-big-media pipeline of
Tapped
, and the gun nut civil war. Scott Brown's super-shady corporate "job" is so ludicrous,
Armando
can't resist making fun of it. Speaking of scams, a conservative publishers' party for the latest impeachment-themed book. And the signing statement issue is back!
---
High Impact Posts. Top Comments.