Well, that didn't take long.
Last week brought the news of the formation of a self-appointed vigilante group, the "French Quarter Minutemen," who intended to pack concealed weapons and patrol the streets of New Orleans' Vieux Carre, fighting evildoers and upholding their Second Amendment rights or something.
The group's Facebook page sported a logo of crossed pistolas and a few posts of media reports, peppered with comments ranging from supportive to derisive. It listed the group's address as a rental box at the UPS store on Veterans Boulevard in the Jefferson Parish suburb of Metairie, leading me and many others to presume this was the work of one son of White Flight out to make a point in the big, bad city where he has never lived.
Today, our would-be Zimmer Man has a name and a little background. Turns out he's a man in demand... by the cops.

Would-be French Quarter law enforcer is wanted on stalking allegation

Aaron Jordan, a Metairie resident, has been making waves lately, attracting attention from curious radio and television interviewers with his plans to organize an armed citizens group to patrol the French Quarter.

He even claims to have met with New Orleans Police Department officials this week at the 8th District station.

But there seems little chance that Jordan's plans for making the streets safer will actually come to fruition. The reason: Jordan is a wanted man.

bolding is mine, with a cackle
In 2009, Mr Jordan, claiming to be acting as an informant for the Secret Service, was following and harassing a cab driver and former Jefferson Parish Sheriffs Office employee, believing the man's son was wanted by the Secret Service. On his own, he invaded the man's property on Elysian Fields Ave. in New Orleans.
That must not have gone well, as Jordan was soon in court, acting as his own attorney, defending himself on charges in the matter. The judge was apparently unimpressed with the defense, giving Jordan 30 days suspended and dressing him down, saying, "You went out there yourself. Went on the property like you are some type of vigilante."
Aside from inspiring Jordan to future career opportunities, the judge's words seemed to have rather pissed him off, leading him to, according to the charges he now faces, send a number of harassing letters to a Municipal Court employee who is a relative of the judge, as well as mailing letters dissing her to other people.
Now, Mr. Jordan is on the run, a lonely fugitive from the law, seeking justice and the mysterious one-armed man... No, sorry, wrong story.
But he is currently absent from his duties as a defender of freedom on the streets of the Quarter, due to his legal, um, complications.

On Wednesday, a rattled Jordan said by phone that he had left town and was terrified of being arrested and ending up in Orleans Parish Prison.

"The New Orleans police are threatening me over the phone," he said, seconds before hanging up.
But the story won't end here, I'm sure. Jordan will return to take up the standard of decency and righteousness on the streets of the nation's vilest crime nest. Some day, his crusade for whatever the hell's going on in his head will be sung by great bards.
Here comes the story of a Minute Man
Who split when all the shit hit the fan
Or maybe not. Maybe he'll get another suspended 30 and finally learn to stay home in Metairie, leaving law enforcement to people with badges. And training. And sense.
Update:
As usual, Quarter musician Jeff "Snake" Greenberg has a droll observation (via FB):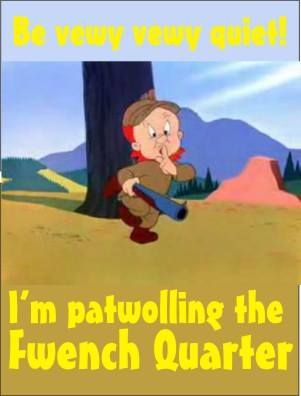 Update, as well: In a related story, down the 10:

Fake officer accused of pulling over a real one

ST. AUGUSTINE, Fla. (AP) - Police say a man impersonating an officer face charges after signaling a real detective to pull over on a road in Florida.

St. Johns County authorities say 20-year-old Matthew Michael Lee McMahon activated a red and blue light Monday while driving behind an unmarked sheriff's car. Detective Chance Anderson pulled over and was shocked to see an unknown face behind the wheel of the other car.

. . .

McMahon is charged with impersonating an officer and unlawfully displaying blue lights.
What is so appealing about cops that these people fake it out so much? The leisurely hours? The munificent pay? Being universally beloved?