This is believed to be Humanity's first successful device to routinely harness the boundless power of Sun, circa 6th century B.C. Its simplicity of design, is simply genius.

World's Oldest Solar Device -- [with more photos]
by John Perlin, cleantechnica.com/ 2014/06/05

[...]
During the sixth century BCE, Confucius wrote about the common use of curved mirrors shaped from shiny metal to concentrate the rays of the sun for making fire. These became known as yang-suis ­­ translating to solar ignitors, or burning mirrors.

According to the great philosopher, upon waking up the eldest son would attach a solar ignitor to his belt as he dressed for the day. It was his duty to focus the solar rays onto kindling to start the family's cooking fire.
[...]


[Yang-suis, solar ignitors, burning mirrors.]


After polishing its curved surface to a high degree of reflectance, the inquisitive archaeologists focused sunlight onto a piece of tinder just as the eldest son would have done so many years past, and in seconds the combustible material burst into flames. "This verified without a doubt that the purpose of the artifact is to make fire," Lu and Zhai later wrote, assured of having found the oldest solar device in the history of humanity.
[...]
Talk about having your daily chores!
I got to get one of those for my back-packing excursions. In miniature of course.



And fast-forward to the current day ... China and Solar once again factor heavily in our modern-day news ...

China Wants to Sell Us Cheap Solar Panels. Why Won't We Let Them?
by Will Oremus, slate.com -- June 4 2014

[...]
China's crime [that earned them these new 19 to 35 percent import solar tariffs]? Subsidizing clean energy. The United States can't abide governments meddling in the energy market in an attempt to make solar panels more affordable. Except, you know, when we're the ones doing it.

The decision stems from a lawsuit brought by a German company that makes solar panels in the United States and feels threatened by the Chinese companies that are making them in Taiwan. Why are they making them in Taiwan? To sidestep the tariffs we already slapped on the ones they were making in China.

It's the latest escalation of a dispute that I've dubbed, only slightly hyperbolically, the world's dumbest trade war.

Congratulations, U.S. government: You're now heavily taxing imported solar panels at the same time that you're heavily subsidizing their purchase.
[...]
Shouldn't we be
encouraging more ingenuity
to harness this clean energy source of the future?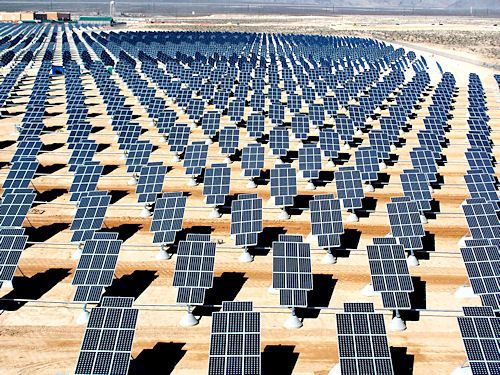 [Image Source: wikipedia.org -- Nellis Solar Power Plant, the second largest photovoltaic power plant in North America.] -- larger view

Or is it that we just don't want to be the last innovators in the world -- to recognize the ever-growing Demand for it?
For cheap, affordable, available-anywhere, Solar Power.
Perhaps, it's finally time we seriously 'reflect' on our collective futures ... as a single planet, of limited resources -- facing some very serious worldwide challenges, together?