Tim Radford at Climate News Network writes
Aircon turns up the city heat
:
Researchers in the US have identified a way in which city-dwellers are inadvertently stoking up the heat of the night – by installing air conditioners.

Because the cities are getting hotter as the climate changes, residents are increasingly investing in aircon systems − which discharge heat from offices and apartment blocks straight into the city air. And the vicious circle effect is that cities get still warmer, making air conditioning all the more attractive to residents.

According to scientists at Arizona State University, the air conditioning system is now having a measurable effect. During the days, the systems emit waste heat, but because the days are hot anyway, the difference is negligible. At night, heat from air conditioning systems now raises some urban temperatures by more than 1°C, they report in the Journal of Geophysical Research Atmospheres.

The team focused on the role of air conditioning systems in the metropolitan area of the city of Phoenix, which is in the Sonora desert in Arizona, and conditions in the summertime are harsh there anyway.

But, worldwide, normally warm countries are experiencing increasing extremes of heat, and conditions in cities have on occasion become lethal.

To cap this, cities are inevitably hotspots – and it's not just because of global warming. The concentration of traffic, commuter systems, street and indoor lighting, central heating, light industry, tarmac, tiles, bricks, building activity and millions of people can raise temperatures as much as 5°C above the surrounding countryside.

At present, 87% of US households have air conditioning, and the US – which is not one of the warmer nations – uses more electricity to keep cool than all the other countries of the world combined. To keep the people of Phoenix cool during periods of extreme heat, air conditioning systems can consume more than half of total electricity needs, which puts a strain on power grids.

The Arizona scientists simulated a 10-day period of unusually hot weather between 10 July and 19 July, 2009, and used computer models and detailed readings from weather records to analyse the effect of air conditioning systems on local temperatures. Even though the biggest demand for air conditioning was in the daytime, they found the biggest difference was always at night.

"Our work demonstrates one Celsius degree local heating of urban atmospheres in hot and dry cities due to air conditioning use at night time," said Francisco Salamanca, the report's lead author. "This increase in outside air temperature in turn results in additional demands for air conditioning.

"Sustainable development and optimisation of electricity consumption would require turning wasted heat from air conditioning into useful energy, which can be used inside houses for various purposes—including, for example, water heaters."[...]
---
Blast from the Past. At Daily Kos on this date in 2011—Santorum accuses Romney of turning Massachusetts into a socialist state:
Looks like Rick Santorium isn't going to quitattacking Mitt Romney over the similarities between his health care plan in Massachusetts and President Obama's health care reform plan.

On Tuesday, Santorum said his biggest difference with Romney was over "ObamaCare" and Romney's mandate, saying that Romney's plan "violated" the "fundamental principles" of American capitalism. On Wednesday, he took things a step further, comparing Romney's plan not just to "Obamacare" but also to socialism:

There is going to be rationing of care simply because the 15-member commission is required under Obamacare to reduce reimbursement rates for doctors and hospitals which of course — we see it in Massachusetts, you see it in every socialized medicine country, where government run health care system, when they do that, it leads to lines, which leads to rationing.

Santorum's alternative? The Ryan Plan. So he'd just stop providing health care coverage to seniors, forcing them to get insurance in the private market—if they can find it. That way, there'll be no rationing. After all, you can't ration what you don't have.
---
Tweet of the Day
Remember the guy who wanted to use women as human shields at #BundyRanch? Guess which cop-killer posed with him? RT
http://t.co/...
— @Marmel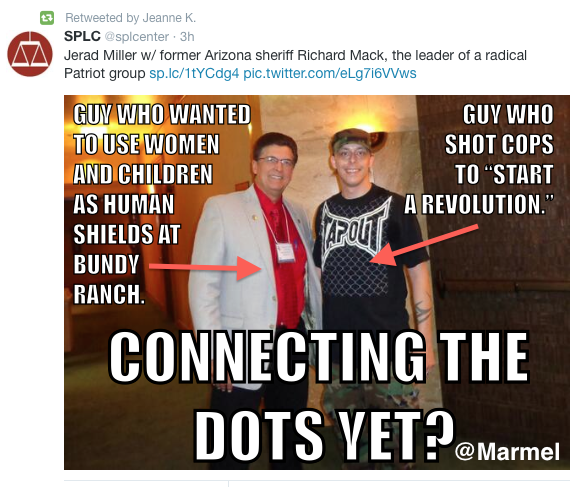 ---
On
today's Kagro in the Morning show
, we had to reset the random/mass shooting clock, again. A Dem VA state senator resigned, changing partisan control of the senate, threatening ACA-funded Medicaid expansion.
Greg Dworkin
discussed these stories plus a wide-ranging roundup of Bergdahl stories, including Frank Rich's piece that folds in reference the late Michael Hastings' 2012 profile. Trouble-making gun accessories. No one could have predicted Alabama voters would start bringing guns to the polls. Please let this Craigslist ad be a joke! Taxpayer-subsidized bonuses for WalMart execs. For-profit ed company monetizes your volunteerism & skims from public libraries.
---
High Impact Posts. Top Comments.