Harriet Green of Cityam reports Warren Buffett was spending $15bn on renewable energy. He's now upped that to $30bn.
Speaking at the Edison Electric Institute's annual convention in Las Vegas, the guru investor turned to deputy Greg Abel for a reminder of the figure, before coming back with, as reported by Bloomberg: "There's another $15bn ready to go, as far as I'm concerned."

"We've poured billions and billions and billions of dollars in retained earnings, and several billion of additional equity… And we're going to keep doing that as far as the eye can see", he said.

The firm's Berkshire Hathaway Energy has $70bn in assets and over 8.4m customers globally, operates power grids here in the UK, and natural gas pipelines stretching across vast swathes of the US.

One of Buffet's investments is a solar farm in California that will be one of the largest in the world when it is finished.

Image: Courtesy of EEPro Solar.

Tina Casey, a specialist in military and corporate sustainability, writing in Clean Techinica tells us that Solar Power Transforms Parking Lots into Green Job Generators, taking advantage of space that is currently being wasted.

EEPro creates more green jobs with solar power parking lotsWhile fossil fuel companies in the U.S. are busily wrecking vast sections of the country's natural heritage, a new energy resource has been quietly emerging from an unlikely source: parking lots. More parking lots are being converted into solar energy farms that create clean, renewable power while also creating more green jobs in solar cell manufacturing, installation, and sales.

One relatively new player in the U.S. solar parking lot field is EEPro, an offshoot of the German company EEPro GmbH, which started up operations in North Carolina last year. Its main product consists of photovoltaic units mounted on steel frames, which dovetails neatly with support for renewable energy by the United Steelworkers and other labor groups that see a rich trove of new green jobs in the emerging green economy.

The basic idea behind a solar parking lot is simply to incorporate solar panels into a carport, which is basically an open-sided shed with a roof. Solar carports can be small enough to fit a single car at a residence, or scaled up for commercial and institutional purposes. The main benefit, of course, is to generate renewable energy that can be used to lower utility costs on site, for example at a mall or office complex. Depending on the scale, the installation could also yield excess energy in the form of electricity for sale. A solar carport can also help reduce the "heat island" effect of parking lots and contribute to a cooler community, and by providing protection from the elements it can help enhance vehicle lifespan.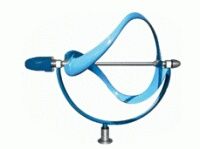 Thanks to Lefty Coaster who sends us this Helical 'Wind Wandler' Turbine Provides Quieter Domestic Wind Energy, from German designers who avoided the usual point blade wind designs that create to much noise for many urban uses by creating "vortexes of turbulence" as the blade cuts through the wind.
Though, I have to admit I am puzzled by a 2005 publication date, and I can not find a current alternative reference. Is this one of those "ghost products" that gets a lot of upfront hype and then disappears? I'll crowd source this mystery to any cyber sleuths who wish to help.
Wilhelm Hermann Josef, the Managing Director of MatroW, also used advanced ceramic materials in the design of the Windwaddler to improve its efficiency.

The helical turbine designed in contrast to the more common bladed design is claimed to be a more efficient form of developing wind energy for domestic users. The wind turbine has been given the name the 'Wind Wandler' and was developed by a small German company called MatroW based in Ladenburg.

The first production units consist of two spiral vanes of glass fibre reinforced materials which are 1m in diameter, 1.39m long and sit in a hemispherical yoke so they are supported at both ends. Output at 14m/s is about 1 kW. The disk armature generator is rated at 3.5kW and, unlike bladed turbines, they do not have to be stopped in high winds. Rotation speed at 24m/s wind is 1,400 rpm, but remains the same at 30m/s because surplus high speed air then tends to spill round the rotating turbine. The turbines turn naturally into the wind.

The turbines are designed to be quieter when they rotate, which he says, is because they have no blade tips to shed vortices. Total weight of turbine and generator without mast is 39kg. Noise level at 1400 rpm is 42 dBA. The company is selling the units at a price of 6,300 euros each.

The Managing Director - designer says "they are 53% efficient, as opposed to 46% for conventional bladed turbines, and the theoretical maximum efficiency that can be attained is 59%."
I suspect the company may have been bought up and the product may be out under a different name.
I'll post some additional articles in an update if there is sufficient interest.
We don't need to be weatherpeople to know which way this wind is blowing.