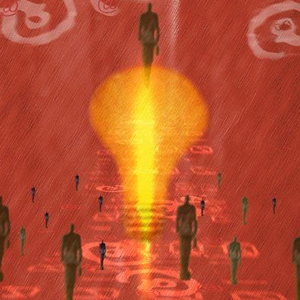 Commentary: African American Scientists and Inventors
by Black Kos Editor, Sephius1


William Cordozo born in Washington, D.C. on April 6, 1905, came from a prominent family of educators and politicians; his father, Francis Cardozo, Jr., was a high school principal and his grandfather, Francis Cardozo, was a prominent D.C. area politician and educator. Cardozo attended the public schools of the District of Columbia and then went to Hampton Institute in Virginia.
(con't.)
He later earned his A.B. (1929) and M.D. (1933) degrees at Ohio State University. Upon his graduation in 1935, Cardozo was awarded a two-year fellowship in pediatrics at Children's Memorial Hospital and Provident Hospital in Chicago. This was the beginning of his research on sickle cell anemia. With the aid of a grant from Alpha Phi Alpha Fraternity, he published a pioneering study "Immunologic Studies in Sickle Cell Anemia" in the Archives of Internal Medicine.
Cardozo's findings in sickle cell anemia concluded that the disease was largely familial and inherited. In addition, he discovered that it was found almost exclusively among people of African descent. Further research concluded that not all people having sickle cells were anemic, that sickle cell disease wasn't always fatal and that no successful treatment had been found. His findings are still valid to this day.
In 1937 Cardozo started his private practice in Washington, D.C. In the same year he was appointed part-time instructor in pediatrics at Howard University College of Medicine and Freedmen's Hospital. He would later be promoted to clinical assistant professor and clinical associate professor of pediatrics.....Read More
~~~~~~~~~~~~~~~~~~~~~~~~~~~~~~~~~~~~~~~~~~~~~~~~~~~~~
News by dopper0189, Black Kos Managing Editor
~~~~~~~~~~~~~~~~~~~~~~~~~~~~~~~~~~~~~~~~~~~~~~~~~~~~~


~~~~~~~~~~~~~~~~~~~~~~~~~~~~~~~~~~~~~~~~~~~~~~~~~~~~~
According to a lawsuit filed in state Supreme Court, Dan Keys Jr. of New York City was dropping off his biracial wife, Symone Palermo, at work when he was pulled over by investigators and his town car was confiscated. DNAinfo: Black Man Driving Wife to Work Accused of Being Illegal Cab Driver: Lawsuit.
~~~~~~~~~~~~~~~~~~~~~~~~~~~~~~~~~~~~~~~~~~~~~~~~~~~~~
City investigators wrongfully accused a black man of being an illegal taxi driver after they spotted him dropping off his wife at work, believing she was a white livery cab passenger, a lawsuit charges.
Married couple Dan Keys Jr., 66, and Symone Palermo, 53, are suing the Taxi and Limousine Commission for $3 million, claiming that in an act of racial profiling its agents seized their Lincoln Town Car for eight days and gave each of them summonses — despite their attempts to explain they are husband and wife. The couple claims that TLC investigators pulled over Keys, a car salesman, because they mistook Palermo, who is biracial, for being white and assumed she was a customer.
"Upon information and belief, when attempting to identify illegally operated taxis, it is the official policy or custom of [the city and the TLC] to instruct its employees to target and single out vehicles operated by minorities with white passengers," the lawsuit says.
On the morning of May 8, 2013, Keys drove Palermo from their Bayside home to her job at Bob's Discount Furniture at the Shops at SkyView Center in Flushing. Palermo sat in the backseat of the car because rain had dampened the front passenger side seat the previous evening, the suit says. After dropping Palermo off, Keys was pulled over by TLC investigators and accused of operating the black Town Car as an illegal cab, according to the lawsuit filed last week in Queens Supreme Court.


Lincoln Town Car
WIKI COMMONS/WIKIPEDIA
~~~~~~~~~~~~~~~~~~~~~~~~~~~~~~~~~~~~~~~~~~~~~~~~~~~~~


~~~~~~~~~~~~~~~~~~~~~~~~~~~~~~~~~~~~~~~~~~~~~~~~~~~~~
Racial profiling isn't just an American phenomenon. The Root: In Brazil: 'White People Running Are Athletes; Black People Running Are Thieves'.
~~~~~~~~~~~~~~~~~~~~~~~~~~~~~~~~~~~~~~~~~~~~~~~~~~~~~
Whether it's a mural in Salvador, Brazil's Barra neighborhood with the message "– copa + educacao" (less cup, more education); street art in Sao Paulo that reads "A Copa Pra Quem" (The Cup for Who?); or a message on Rio de Janeiro's main highway, scrawled in black spray paint, that says simply, "Foder-se FIFA" (F--k off, FIFA), Brazilians are making their feelings about the 2014 World Cup known in as many public spaces as possible.
Many are angry at FIFA, the international soccer governing body. Others are angry at sanitation workers, police, teachers and bus and metro drivers who have been intermittently on strike for the past year. But much of the anger has been directed at Brazil's government.
"Maybe around 70 percent of [Brazilians] don't care about World Cup anymore," says Rafa Hossri, a 27-year-old who has lived and worked in Rio de Janeiro's Vidigal shantytown, known as a favela. "Our governments are doing bad things for people so I'm not sure if people are taking the team seriously anymore. Brazil bought this World Cup. Mafia and money talks."
It didn't start out this way. Most Brazilians welcomed the news when it was announced in 2007 that the country would host the World Cup this year. But when the government began forcing people out of their homes to make way for infrastructure demands, like road and parking lot construction and railway expansion, people began to protest.
The Brazilian government reports that 19,200 families have been removed since 2009. Some have cited figures closer to 40,000 or 100,000. Others have gone as high as 250,000.
Black Brazilians have been especially wary of their country's actions.
In Rio de Janeiro, favelas are home to about 22 percent of the population, or nearly 1.4 million people, most of whom are black. After relocating many residents and arresting and detaining others, Brazilian authorities sent Pacifying Police Units (UPP) to occupy the shantytowns with semi-automatic weapons and armored vehicles.



A suspect is handcuffed by military police during a joint operation including the CORE police special forces near the Complexo do Alemao pacified community, or "favela," on May 13, 2014, in Rio de Janeiro.
MARIO TAMA/GETTY IMAGES

~~~~~~~~~~~~~~~~~~~~~~~~~~~~~~~~~~~~~~~~~~~~~~~~~~~~~
Enough Project finds 2010 US law requiring companies like Apple and Intel to prove products are conflct-free has worked. The Guardian: Congo mines no longer in grip of warlords and militias, says report.
~~~~~~~~~~~~~~~~~~~~~~~~~~~~~~~~~~~~~~~~~~~~~~~~~~~~~
Good news from Congo. And perhaps even more unexpectedly, it has come about with the help of users of mobile phones, legislators in Washington and corporate giants such as Apple and Intel. That is the finding of an investigation by the Enough Project, an anti-genocide campaign group, which says Congolese warlords have lost their grip on most of the country's mines and lucrative conflict minerals.
The mines have long been held up as a case of corporate social irresponsibility. Adults and often children spend days underground digging up the tin, tantalum and tungsten used to make computers and mobile phones, creating billions in profits for electronics companies.
Moreover, the minerals also generated $185m (£110m) every year for armed groups responsible for atrocities including killings and rapes, the report says, fuelling one of the world's longest conflicts in eastern Democratic Republic of the Congo.
Yet in an apparent triumph for consumer activism, and blow to political cynicism, the militias have lost control of more than two-thirds of mines in the past four years, according to the Enough Project. Among the warlords to cede control is Bosco Ntaganda, nicknamed "The Terminator", who once profited handsomely from illegal mines but is now facing trial at the international criminal court.


Children wash copper at a mine in Kamatanda, DRC. The report says there are less child workers, better paid professional miners and increased community structures around mines in the country. Photograph: Gwenn Dubourthoumieu/AFP
~~~~~~~~~~~~~~~~~~~~~~~~~~~~~~~~~~~~~~~~~~~~~~~~~~~~~
Common sense is breaking out around the world. Low-level drug offences should be decriminalised in West Africa, according to a high-level report. BBC: West Africa should decriminalise drugs - Obasanjo commission.
~~~~~~~~~~~~~~~~~~~~~~~~~~~~~~~~~~~~~~~~~~~~~~~~~~~~~
The West Africa Commission on Drugs says drug cartels are undermining the region by using it to transit cocaine. The commission, headed by former Nigerian President Olusegun Obasanjo, says the cartels should be tackled but that punishing the personal use of drugs does not work.
It argues that current policies incite corruption and provoke violence.
Drug trafficking and consumption have become major issues in West Africa since the turn of the century.
Efforts around this time to stem the flow of cocaine from the producing countries of Latin America to consumers in the US and Europe led criminals to target West Africa as a new route.


Most West African countries have tough laws criminalising all aspects of drug use
~~~~~~~~~~~~~~~~~~~~~~~~~~~~~~~~~~~~~~~~~~~~~~~~~~~~~


~~~~~~~~~~~~~~~~~~~~~~~~~~~~~~~~~~~~~~~~~~~~~~~~~~~~~
Sometimes we need a reminder that "yes we can" is still alive. The Grio: Homeless D.C. valedictorian earns full scholarship to Georgetown.
~~~~~~~~~~~~~~~~~~~~~~~~~~~~~~~~~~~~~~~~~~~~~~~~~~~~~
That Rashema Melson graduated at the top of her class surprised few at her Washington, D.C., high school. But that she maintained a 4.0 grade point average and is heading to one the nation's top universities while living in a homeless shelter never fails to amaze anyone.
"Valedictorian. Full academic scholarship to Georgetown. It doesn't get any better than that," said her principal Ian Roberts. "And her story is truly an inspiration."
Eighteen-year-old Melson knows that story seems improbable for someone growing up in one of the harshest parts of the nation's capital.
"Life is not fair, but despite that harsh reality, you must keep striving for success through the pain, tears and feeling of lost hope," she said in a commencement speech Wednesday at Anacostia High School.
Melson knows about unfair odds. Her father was killed before her first birthday, and for the past several years, she has lived with her mother and three siblings in a homeless shelter that once used to be a hospital. Melson said she considers the shelter a place to live, but not a home.


~~~~~~~~~~~~~~~~~~~~~~~~~~~~~~~~~~~~~~~~~~~~~~~~~~~~~
Welcome to the Black Kos Community Front Porch!
Pull up a chair and sit down a while and enjoy the company.