I post a weekly diary of historical notes, arts & science items, foreign news (often receiving little notice in the US) and whimsical pieces from the outside world that I often feature in "Cheers & Jeers".
OK, you've been warned - here is this week's tomfoolery material that I posted.

CHEERS to Bill and Michael in PWM, commonmass (along with Geoffrey the Cat) plus our Wyoming-based friend Irish Patti and ...... well, each of you at Cheers and Jeers. Have a fabulous weekend.
ART NOTES - a retrospective on the career of Wassily Kandinsky is at the Milwaukee, Wisconsin Art Museum through September 1st.
IN MERGING MARKETS expanded sales of refrigerators has changed the lives of many families, with new models that can work even where the electric supply is haphazard.
TV NOTES - here is a guide to the television schedule that ABC and ESPN will have for the World Cup matches the next few weeks. ESPN (and sister networks ESPN-2, etc.) will broadcast most of these matches (with several weekend games on the ABC broadcast channel, including the final on July 13th). Twenty years ago, few games were shown on US English language TV (other than games involving the US, or the semi-finals and finals) - one had to rely on Spanish language TV. Today, every single match will be shown on either ABC or its ESPN channels.
Here are the U.S.A.'s matches (all are on ESPN): tomorrow vs. Ghana (6:00 PM Eastern), Sunday June 22nd vs. Portugal (6:00 PM Eastern) and Thursday, June 26th vs. Germany (12 Noon Eastern).
THURSDAY's CHILD is Mia the Cat - a Montana kitteh who survived a building fire and who is staying at an animal hospital until her family becomes re-settled.
IN A WELCOME break with much of west Africa: the nation of Sierra Leone celebrates its religious tolerance, with many professing to be both Christian and Muslim.
HAIL and FAREWELL to one of the last remaining (a dozen or so) silent era film actresses, Carla Laemmle - whose uncle Carl founded Universal Studios - who has died at the age of 104 ....... the noted Top 40 radio host Casey Kasem who has died at the age of 82 ..... and the jazz singer Jimmy Scott - whose soprano voice (which, when you heard it on the radio, led you to believe it was a woman) resulted from a genetic condition called Kallmann's Syndrome - who has died at the age of 88. Here is 'Little' Jimmy Scott's smoky-nightclub rendition of Holding Back the Years - the 1985 Simply Red hit song.
FRIDAY's CHILD is Boots the Cat - dropped off at a Denver animal shelter when she was 10 days old, and now getting used to her prosthetic hind limbs.
CHEERS to this account of former Mississippi Secretary of State Dick Molpus - who twenty-five years took a risk by apologizing to the families of the three slain civil rights workers (which took place fifty years ago this summer).
CHEERS to the possibility that - with brothers Ray and Dave Davies talking once again - there may be a Kinks 50th reunion to come.
BRAIN TEASER - try this Quiz of the Week's News from the BBC.
OLDER-YOUNGER BROTHERS? - TV stars Neil Patrick Harris (now, a recent Tony award winner) and Christopher Masterson ("Malcolm in the Middle").
...... and finally, for a song of the week .............................. previously I have looked at the Hammond B-3 organ - and now, a different keyboard. And this would be the Rhodes Electric Piano (or as the Fender Rhodes, for the years that Leo Fender's company marketed it). Throughout the 1970's especially, one heard its sound on many famous recordings (some of which will be mentioned later). What many people do not know is its origin, and just how much it filled a need when introduced: Ray Charles said it was like "An atom bomb on the musical landscape. Everything was changed forever." And he often played the Rhodes Piano's rival (the Wurlitzer Electric Piano).
Harold Rhodes was born in 1910, and trained to become an architect as a student at USC. But he was drawn to the piano, inspired by the likes of Art Tatum and Fats Waller. He became a piano teacher during the Depression in the greater Los Angeles area in the 1930's and had celebrity students such as Lana Turner and Harpo Marx, drawn to his methods that taught 1920's jazz piano as well as classical music. He became so successful that even during the Depression he opened a series of nationwide schools and had a radio program earning him the nickname of "Piano Teacher of the Air".
During World War II, he was asked by the Army to develop a music therapy for wounded soldiers in hospitals. Forced to improvise, he wound up using ... and this should warm-the-heart of liberals ... surplus Air Force bomber parts, in order to make miniature keyboards for wounded service members to play. As part of a "Make and Play" program, over 1/4 million GI's learned piano during the war.
After the war, in addition to his teaching he kept refining his rudimentary electric piano design and released a version called Pre-Piano as a device to help travelling piano teachers teach basic keyboard skills. Then in 1959 Rhodes met up with the legendary Leo Fender - who was eager to branch-out from guitars - and formed a joint venture to build these pianos. But Leo Fender was unhappy with the sound it produced, and at first only agreed to produce the Fender Piano Bass - containing just the bottom 32 keys.
Perhaps its most famous user was from a band that had trouble auditioning for a bass player. Then their keyboard player discovered the Piano Bass: which solved the bottom-end sound problem for Ray Manzarek of The Doors, who simply sat the Piano Bass on top of his own electronic organ.
Due to health reasons, Leo Fender sold his company to CBS in 1965 - and while legions of musicians have lamented that move (with owning a "pre-CBS" instrument or amplifier a mark of distinction) one positive came out of that arrangement: CBS agreed to produce the Rhodes Piano, with the first model a 73-key model. Newer models came out, including a full 88-key model (although some of its more eccentric designs did not pan out) and the sound continually improved as the 1970's approached.
As the size and volume of guitar and bass amplifiers increased, keyboard players were at something of a disadvantage. The electric piano offered a way to compete: incorporating a Fender amplifier as part of the set-up also made it compact on crowded stages.
A word about the piano's design: pressing a key resulted in a hammer striking a rod connected to a tonebar that resembles a tuning fork - and even when un-amplified, one can hear a (faint) sound. By contrast, the Wurlitzer electric piano strikes actual metal bars, with a bit more bite.
If there can be said to be one musician who truly helped popularize the Fender Rhodes, it would be the legendary jazz trumpeter Miles Davis - who (largely) abandoned his traditional-sounding modern jazz sound in the mid-1960's, adopting electric instruments and was even persuaded to play at the Fillmore by Bill Graham.
And he happened to have three keyboard players during the 1960's - Chick Corea (shown left), Herbie Hancock (center) and Joe Zawinul (right) who adopted the Rhodes Piano wholesale. In fact, an old issue of Downbeat Magazine even contained one of those promotional, 'extra-soft vinyl' mini-records in which Hancock explained his skepticism upon seeing the Rhodes ... but grew to love it. Pop musicians needed little encouragement to use the Rhodes, but it was Miles Davis' endorsement - and his three keyboardists (who went onto stardom themselves) - that helped make the Rhodes a fixture during its golden decade of the 1970's.
However, the CBS cost-cutting measures that negatively affected the rest of the Fender lines came to affect the Rhodes later in the 1970's. In 1983, the Rhodes line was sold directly to CBS boss William Schultz, who closed the main factory in 1985 and then subsequently sold the line to the Roland keyboard company in 1987. Roland subsequently produced digital versions of these keyboards, which did not meet with Harold Rhodes' approval (or consultation) - and so he never endorsed the product.
Harold Rhodes eventually re-acquired the commercial rights to his instruments in 1997, and won a Lifetime Achievement Award from the National Academy of Recording Arts & Sciences. But he was in poor health, and Harold Rhodes died in December, 2000: just eleven days short of his 90th birthday. His Rhodes Music Company continues to this day, making new and improved versions of his classic keyboards.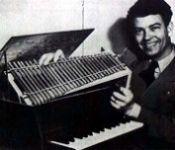 Technical breakthroughs have made the instrument less used today, as it is no longer the breakthrough instrument it once was (and others have many more functions than the Rhodes did). That impression was confirmed by DK's resident keyboard stalwart jnhobbs who added that jazzers and R&B players still make frequent use and that "Synth keyboards and samplers are often judged by how good their Rhodes sounds are, ironically enough". Given its history ... it makes sense.
The best way to indicate how vital this instrument was is simply to list a few hit songs that utilized one, as follows. The Beatles ("Let It Be" and "Get Back", both played by Billy Preston), Marvin Gaye ("Heard It Through the Grapevine"), Stevie Wonder ("You Are the Sunshine of my Life"), Billy Joel ("Just the Way You Are"), Paul Simon ("Still Crazy after All These Years"), Traffic ("Empty Pages"), Elton John ("Daniel"), The Doors ("Riders on the Storm"), Herb Alpert ("This Guy's In Love with You") and numerous others. There is also a new book about the instrument - perhaps a fitting way to chronicle its popularity.
While I am one of those who never truly fell for the music of Steely Dan (despite being a jazz fan) I do have one favorite: Dirty Work which sounded unlike anything else they recorded, and largely abandoned after its singer (David Palmer) left the band in 1973. But it features the Fender Rhodes (like many of their other songs) and below you can listen to it.
Light the candle
Put the lock upon the door
You have sent the maid home early
Like a thousand times before
Like the castle in its corner
In a medieval game
I foresee terrible trouble
And I stay here just the same

I'm a fool to do your dirty work
I don't wanna do your dirty work no more
I'm a fool to do your dirty work
I don't wanna do your dirty work no more