Long before the first Europeans began their invasion of what would become the state of Washington, the Salish-speaking people known as the Duwamish settled in permanent villages on the flat meadows along the rivers of the Duwamish Drainage System, principally the Black River. Displays at the Renton History Museum document some of this Native American heritage.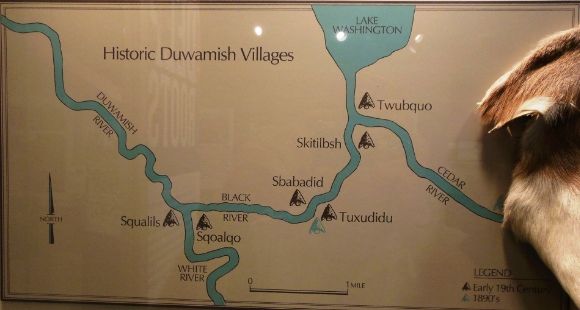 According to the museum display:

The rivers gave the Duwamish their main food staple, fish. At a narrow point of the river they would build a fish weir. This consisted of a tripod of poles and a platform. Other poles were driven into the riverbed to which woven mats were attached to keep the fish from swimming up the river. The men would stand on the tripod platforms and use dipping nets to catch the fish and deposit them in canoes on the upriver side of the weir. The canoes were then paddled to shore and unloaded where the women waited to clean, smoke and dry the fish for future use.
One of the important resources used by the Duwamish and other Salish groups was the Western Red Cedar. The trees could be cut down and the trunks hollowed out to make canoes. The tree could be cut into planks for building the traditional longhouse.
The cedar also provided material for clothing: the fine under-bark from young cedars was used to make clothing. The bark, pounded into fibers, was also used in making sleeping mats and baskets.
In 1853, there were twenty-eight permanent Duwamish villages. The largest village was TUXUDI'DU, centrally located on the Black River where Renton Shopping Center is today. There were ten large longhouses, each 60 by 120 feet, built of cedar posts and planks. TUXUDI'DU had its own fresh-water spring and a cleared garden for growing root crops. Indians from as far north as Canada and as far east as Yakima came to trade.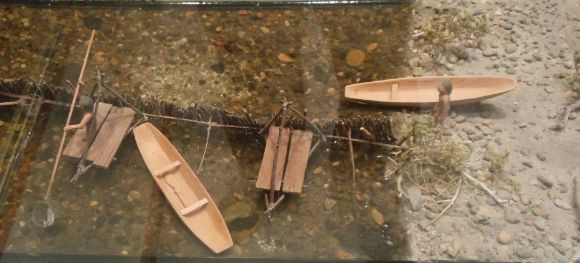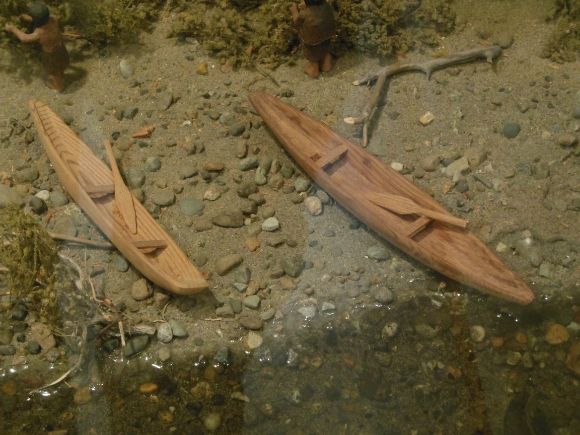 The model shown above shows the orientation of Duwamish villages to rivers. Dugout canoes were an important form of transportation.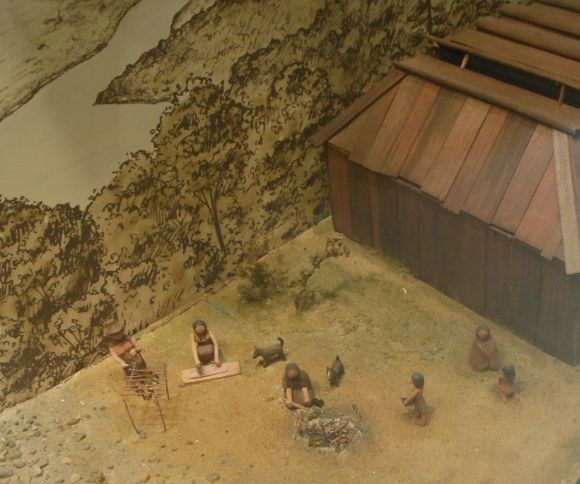 Shown above is a model of a Duwamish longhouse on display at the Renton History Museum. Like most of the Indian people in North America, the Duwamish did not live in tipis. The longhouse was generally home to several families.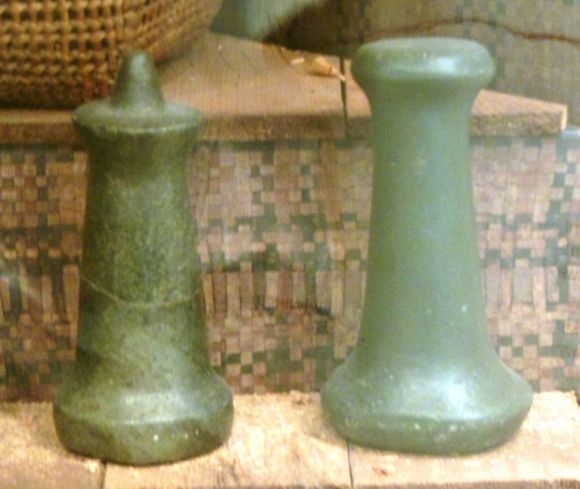 Ground stone tools, such as the mauls shown above, were a part of the Duwamish tool kit.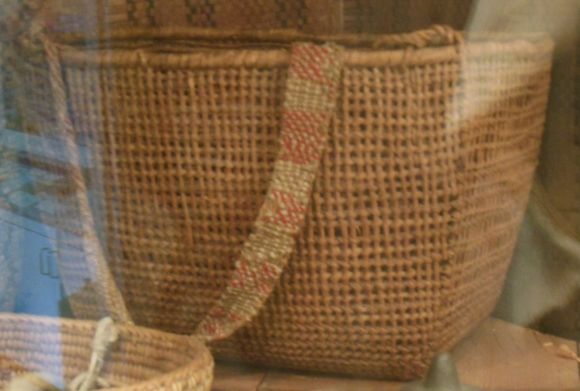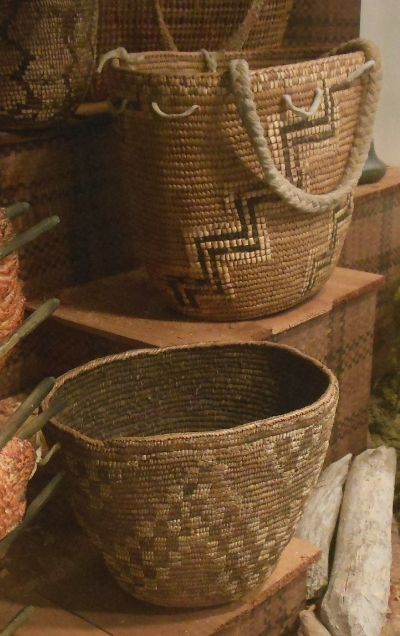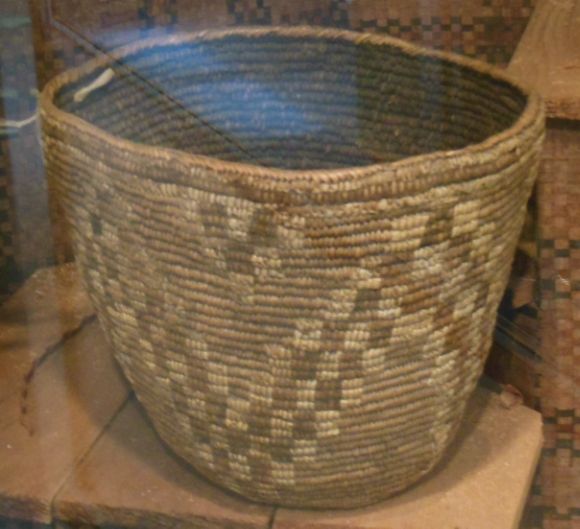 Shown above are some Duwamish woven baskets which are on display at the Renton History Museum.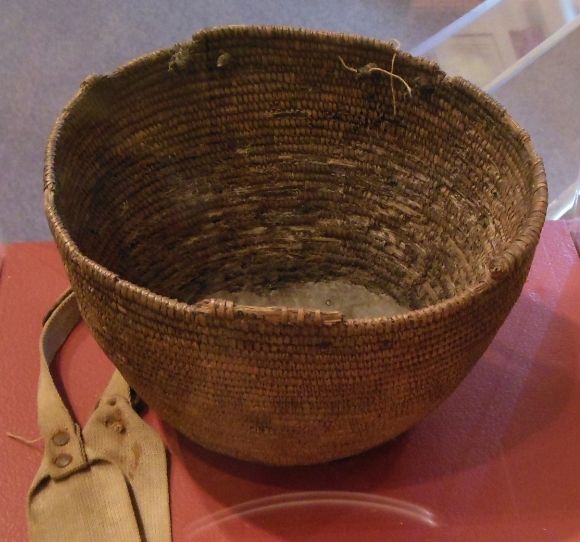 Shown above is a coiled gathering basket.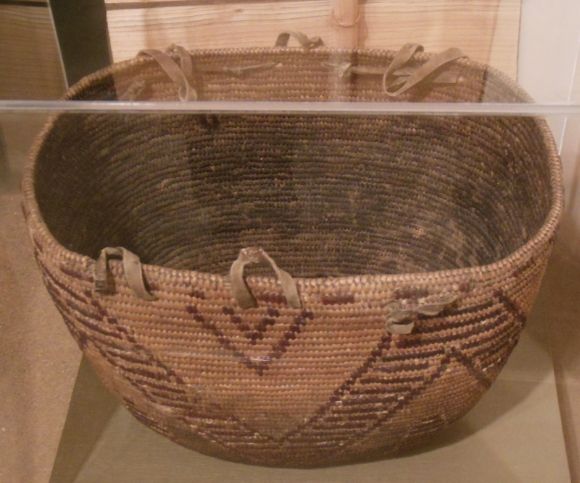 Shown above is a cooking basket. Coiled baskets like this were made watertight so that they could be used for boiling water. Hot rocks were placed in the water-filled baskets until the water boiled.