Proper labeling of axes is absolutely crucial.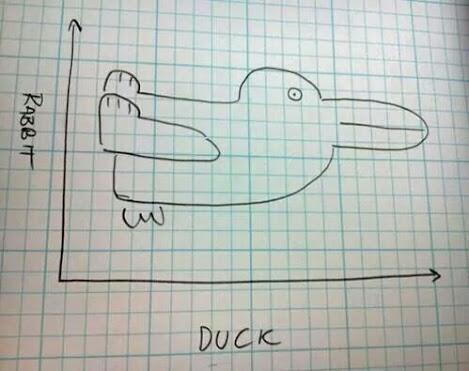 — @Pascallisch
Erik Wemple
on coverage (or lack of same) of the latest Chris Christie scandal:
No surprises in that data set. MSNBC, after all, has provided extensive coverage of all things related to Christie and Jersey infrastructure ever since the George Washington Bridge scandal exploded in January.

Some of that MSNBC coverage, however, wasn't terribly complimentary of the New York Times scoop. On his June 24 program, "Morning Joe" host Joe Scarborough ripped the story and its placement on page A1: "This is garbage," he said, adding that it's a "joke of a story to put on the front page."

Later that day, MSNBC host Chris Hayes appeared to disagree about the Times's placement decisions. He devoted an earnest segment to the Pulaski story, complete with input from Matt Flegenheimer, one of the New York Times reporters who did the story. Hayes told Flegenheimer, "Great piece."
Here's that piece.
Three days after his loss in the Mississippi Republican Senate run-off, state Sen. Chris McDaniel sounds like a bitter Scooby Doo villain. "They used everything from the race card to food stamps to saying I would shut down public education," he said in an interview with conservative TV personality Sean Hannity. "I've fought for this [Republican Party] all my life, but they abandoned us, made fun of us and ridiculed us and brought in 35,000 Democrats to beat us."

In other words, McDaniel is saying, I would have won if it wasn't for you meddling liberals.
David Atkins
:
As I've said before, I don't like open primaries and I sympathize with Republican arguments that they should be allowed to select their candidate within their own caucus. But it's awfully rich to watch McDaniel explicitly try to disallow every last Democratic vote, almost all of them African-Americans.
More politics and policy below the fold.
Apart from the exchange litigation, there's one legal challenge still pending that could threaten the Affordable Care Act as a whole. Nothing is likely to come of it, and nothing should come of it. But you never know.

The challenge concerns the Origination Clause, which provides that "[a]ll Bills for raising Revenue shall originate in the House of Representatives; but the Senate may propose or concur with Amendments as on other Bills." The original idea was to give control over the power to raise revenue to the House, which was thought to be more directly accountable to the people than the Senate, whose members were then selected by state legislatures.

Technically, the ACA adhered to this process. The bill that became the ACA was first introduced in the House as the "Service Members Home Ownership Tax Act of 2009." Although the bill had nothing to do with health care, it did, among other things, increase corporate taxes by about $1 billion. After the bill passed in the House, the Senate amended it to strike out its substance and replace it with the bill that became the ACA.

At least two lawsuits have now been filed arguing that this "shell bill" procedure violates the Origination Clause. Sure, the challengers argue, it's OK for the Senate to amend House bills that raise revenue. But the Senate replaced the House bill. The Constitution, they say, can't be satisfied with that empty formalism.

So far, the challengers haven't had much luck. A Washington, DC district court dismissed the lawsuit last June; a Texas district court did the same this January; and the case was argued to a decidedly unimpressed panel of the D.C. Circuit last month. Why have the challenges failed? And are they likely to fare any better down the line?
Denver Post
:
U.S. District Chief Judge Marcia Krieger dismantled with welcome precision Thursday the arguments of those seeking to overturn Colorado's new gun laws.

Consider the ban on large-capacity magazines. Despite the law's broad scope, Krieger explains, "the statute's impact on a person's ability to keep and bear (use) firearms for the purpose of self-defense is not severe. Unlike the restriction considered [by the Supreme Court] in Heller, this statute does not ban any firearm nor does it render any firearm useless. Semiautomatic weapons can be used for self-defense in and outside of the home. ... The only limitation imposed is how frequently they must reload their weapons."
Gail Collins
:
Let's talk personhood, people.

Personhood is an anti-abortion movement that holds that life begins at conception, giving fertilized eggs all the rights of a human being. It might make it impossible to kidnap them for in-vitro fertilization. It could outlaw some forms of contraception.

Senator Rand Paul claims every fertilized egg is protected by the 14th Amendment. Many current Senate candidates are personhood supporters, including Cory Gardner, who is running a very close race in Colorado against Mark Udall.

No! Wait! Wait! Cory Gardner just changed his mind. Obviously, this is going to take a little unraveling. Give me a minute.
Andy Kroll
:
It's official: The Supreme Court will wait until Monday, the final day of the current term, to issue its decision in Harris v. Quinn. As I explained in May, Harris is a blockbuster case that could, in a worst-case scenario, wipe public-employee unions such as SEIU and AFSCME off the map. And the chances of a damaging decision in Harris just increased—here's why.

Heading into Thursday, the Supreme Court had Harris and three other cases left to decide. The justices chose to issue their opinions concerning presidential recess appointments (Noel Canning v. National Labor Relations Board) and so-called buffer zones keeping protesters at a distance from abortion clinics (McCullen v. Coakley). Justice Stephen Breyer, a liberal member of the court, wrote the Canning opinion; Chief Justice John Roberts, a conservative, took the lead in McCullen.

This makes it more likely that Justice Samuel Alito, who we've yet to hear much from, will write the opinion in Harris, which points to bad news for public-employee unions. "There's almost no question [Justice] Alito has this opinion unless he lost his majority along way," tweets Rick Hasen, a University of California-Irvine law professor. "Anti-union is his signature issue."