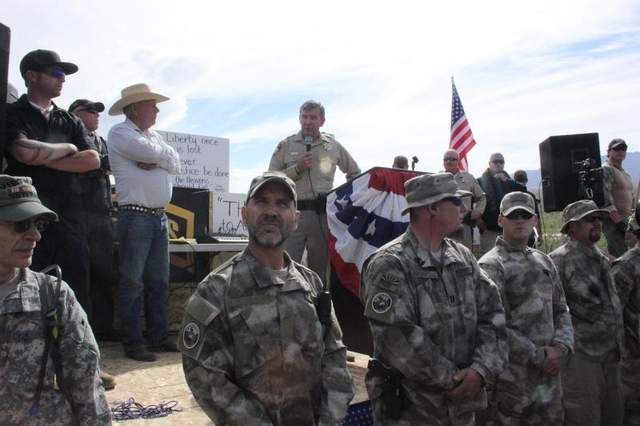 Clark County Sheriff Doug Gillespie says Cliven Bundy Must Be Held Accountable, for the role he played in the standoff with federal authorities on his ranch, where guns were pointed at federal authorities. He suggested the Bureau of Land Management ignored his advice to delay the raid, was not prepared, and did not have a place to take the cows after the seizure.
"If you step over that line, there are consequences to those actions," Gillespie told the Las Vegas Review-Journal. "And I believe they stepped over that line. No doubt about it. They need to be held accountable for it."

A spokeswoman for the Bureau of Land Management, Celia Boddington released a statement agreeing saying that the BLM continues to investigate the matter "aggressively through the legal system."
"There is an ongoing investigation and we are working diligently to ensure that those who broke the law are held accountable," she said, declining to elaborate.

Cliven Bundy owes over $1 million in fees and penalties for letting his cows trespass on federal lands, according to the BLM.
The local sheriff and the BLM got a bit snippy with each other on Saturday, when Sheriff Gillespie accused the BLM of mishandling the round-up of the cattle, not having a place to take them, and also that he had warned them that it was not a good time to initiate such an action, after he had meet with Bundy's children a few weeks before the standoff.

"I came back from that saying, 'This is not the time to do this,' " the sheriff told the Review-Journal. "They said, 'We do this all the time. We know what we're doing. We hear what you're saying, but we're moving forward.'"

Boddington responded that the BLM had initiated the round-up in "full coordination" with Gillespie, and that Gillespie, and his deputies were supposed to have managed crowd control and then backed out at the last minute.

Tom Boggioni of Raw Story adds more details in Nevada sheriff: Cliven Bundy 'must be accountable' for 'stepping over the line.'

Gillespie also criticized the Bureau of Land Management for their handling of the round-up, saying they were not properly prepared.

According to Gillespie, he requested that BLM officials hold town-hall meetings prior to the roundup, but those never happened.

He also stated that BLM officials told him they had a place to move Bundy's cattle. Gillespie later discovered that wasn't true.

"There was no place to take them to," he said.

"I can't say it's business as usual up there," Gillespie said. "I don't think it's ever going to be until this situation is totally resolved, in some way or manner."

Rmusemore of Politicususa writes Investigation To Hold Cliven Bundy Accountable For Sedition Picks Up Steam.
During the Bundy ranch standoff last March, many observers were puzzled why local law enforcement failed to arrest Bundy and his heavily-armed militias for at least confronting and preventing federal officials from performing their duty; what federal statutes define as sedition.

Boddington responded to Gillespie's remarks saying, "It is unfortunate that the sheriff is now attempting to rewrite the details of what occurred, including his claims that the BLM did not share accurate information. The sheriff encouraged the operation and promised to stand shoulder-to-shoulder with us as we enforced two recent federal court orders. Sadly, he backed out of his commitment shortly before the operation — and after months of joint planning — leaving the BLM and the National Park Service to handle the crowd control that the sheriff previously committed to handling."

According to Huffington Post, Bundy did not respond to a request for comment. He will likely issue his comments on Fox News or through Oathkeepers, Richard Mack's Constitutional Sheriff's and Peace Officers Association (CSPOA), and various states' rights armed militias when he is finally "held accountable" for inciting sedition. The sheriff's charge that his armed gang "aimed their guns at law enforcement officers" will be the least of the Bundy's troubles, and doubtless the sheriff regrets not holding the seditionists accountable prior to the standoff with federal officers.
Federal authorities have already sent an unfortunate message that white ranchers out west can stand off police and federal authorities with guns and blustery threats, when if anyone else, especially minorities, in urban settings, did stood off federal agents with guns would be slaughtered for such actions.
---------- End of post. An optional editorial footnote on next page. ---------------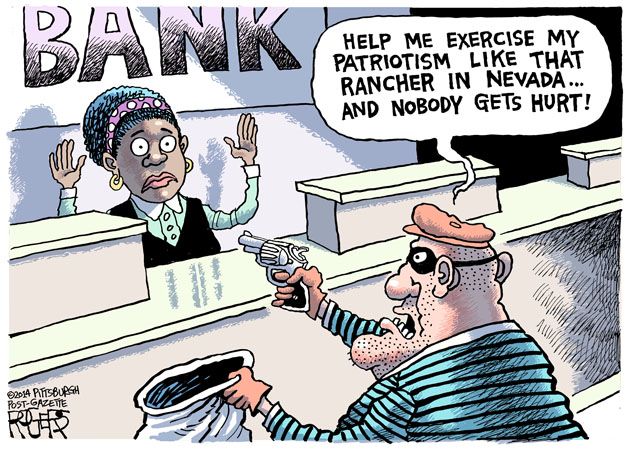 Federal agents from the Bureau of Land Management may have been wise to exercise discretion standing down, that afternoon, to prevent violence, perhaps retreating to a safer perimeter would have been better, than just leaving, and giving those committing sedition a victory. Anyone brandishing guns and rifles at federal authorities should have been arrested as they tried to leave, or in the following days.
Even now, to say, "we are aggressively investigating" possible legal actions is serving a "weak tea" and seems absurd this long after the incident, where too many others have drawn their own inferences that standing off police with guns is okay, as long as one spews right-wing anti-government ideology, and one announces one doesn't recognize the authority of the United States government. (Take note armed criminal drug gangs this is apparently the proper way to do it.)
Law enforcement agents have video tapes of the offenders committing sedition. Also, what possible explanation can be offered to explain why all of Bundy's banking assets have not been frozen?
Attorney General Eric Holder has allowed DEA Director Michele Leonhart, and his own DOJ to aggressively prosecute growers and dispensaries of cannabis products, including marijuana and CBD oils in states which have ruled this to be legal.
Is the lesson the Obama administration trying to send that is okay to defy the law you assemble large groups with guns and not recognize the authority of the U.S. Government, but if you non-violently, use a state's ballot initiatives, legislative processes, and have governors sign law legalizing medical marijuana, our DEA will not relent in aggressively enforcing federal law?
Am I being inconsistent asking Holder to back off on medical marijuana but more aggressively enforce sedition laws?
Am I being inconsistent when I criticize Eric Holder for not instructing the DEA and DOJ back off, or "reprioritize" their enforcement to allow states to do this experiment? An important distinction for me is that when states have engaged in a non-violent using ballot petitions, the legislative process, and governors have signed the laws, these efforts gain relative legitimacy and should be respected, unless the Federal Government has some "compelling interest" to override such state level initiatives.
Progressives have properly supported federal authorities in enforcing federal laws that trump state laws in the cases of preventing segregation in the south, and the right of choice in reproductive rights because of the "compelling interest" in protecting the rights of large classes of people state initiative to ban abortion, fail to recognize voting rights, or enforce segregation.
When citizens of states use legitimate non-violent legal processes, and legal ballot petitions, state legislatures, and Governors to make medical marijuana legal against an "obsolete" ideologically based set of drug laws, where marijuana is listed as a Schedule I narcotic, with no medical uses, in defiance of science, it seems to me that the only "compelling interest" is on the side of the states trying to protect what should be the right of medical patients such as children with epilepsy and seizure disorders to get the only medically effective treatments for their conditions.
What might be a more difficult challenge to progressive consistency of principles would be if Cliven Bundy, and other ranchers who claim a right for their cattle to graze on these lands they claim some "right of grazing by long precedence" in contest with federal government assertion of ownership, had used our legal processes in a non-violent way to pass state laws claiming a contesting owner ship right.
The federal government can still assert a number of compelling interests, such as protecting taxpayers rights to fair return on investment for using our common assets of federal land, and EPA protections, but that issue can't really be raised in the Bundy case because of their threats of violence, and guns to commit major federal crimes of sedition.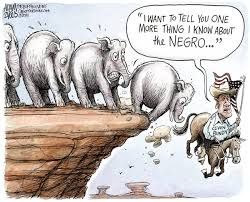 So apparently what they lack of prompt enforcement of these sedition laws is supposed to signal to the armed criminal drug dealing gangs, is that their only error was they didn't shout out to SWAT terms, "we don't recognize the authority of the federal government!" If they had only done that, DEA agents would have stood down, in the interest of avoiding violence, and they wouldn't be in jail.
I wish I could be the fly on the wall of thousands of jail cells, as convicted armed drug gang leaders are shouting, "damn it, why wasn't I informed of this?"