A recent op ed in the NYT suggested the Wilderness Act is Facing a Midlife Crisis. The basic idea is that some people are considering an update based on what we've learned in the fifty years since the Wilderness Act was passed.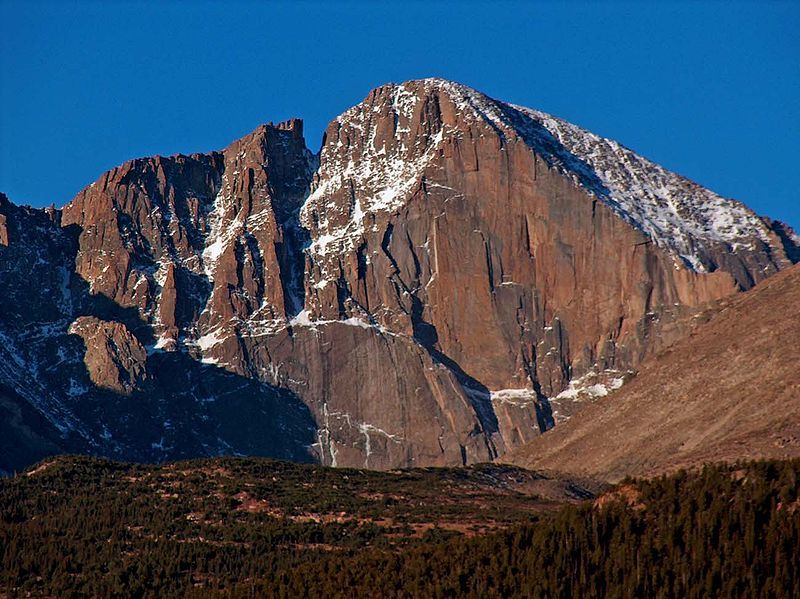 Rocky Mountain National Park Wilderness (east face Longs Peak) photo Wiki
The impetus for this blaspheme is that scientists now realize the natural world does not exist in a natural state of equilibrium. Wilderness as all natural places is now and always has been in a state of change, what ecologists call "flux".

In recent decades,,,,, several pillars upon which the act was built have eroded. One is the idea of "naturalness," that nature exists in some unadulterated state apart from humans. Work in paleoecology and other fields has shown that humans have shaped many of the ecosystems on the planet for thousands of years (and not always to their detriment). Research has also dismantled ideas about a stable, primeval world. Nature is always in flux.
And then there's climate change.
Faced with such change, "there's increased recognition that the paradigm has to change," said Cat Hawkins Hoffman, the national climate change adaptation coordinator for the National Park Service, which manages 40 percent of America's wilderness acreage.

"The real conundrum is, how much manipulation in wilderness is acceptable in order to protect the values for which the wilderness was established," she added.

In short, we need to accept our role as reluctant gardeners.
The article goes on to suggest many familiar areas that will likely go through changes with flora and fauna needing intervention in order to stay similar to what we see today. J Tree, Tuolumne Meadows, The Bobs, giant sequoias, etc. J-Tree National Park,and the Giant Sequoias National Park, would be very different without the species they are named after, and parts of both Parks are legal Wilderness. Wilderness has fairly strong protections, most activities involving wheels or motors or buildings or roads are not allowed.