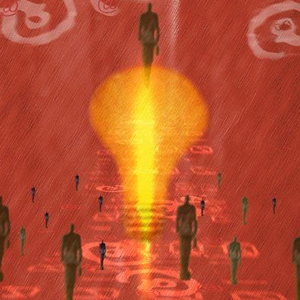 Commentary: African American Scientists and Inventors
by Black Kos Editor, Sephius1


Throughout his life, Hyman Y. Chase was a man of great intellectual stature who liked to remind mere mortals, in a booming voice, that he had a PhD from Leland J. Stanford University. In 1936, at the age of 34, he was appointed Chairman of Howard University's Zoology Department, which was financed by the Julius Rosenwald Fund.
(con't.)
Chase was undoubtedly a brilliant academic, but by 1939, he was getting restless in the winds of war. Thanks to supporters like Eleanor Roosevelt, blacks were going to play a larger part in this war, and would no longer be relegated to the roles of truck-drivers and cooks. Talk of a black infantry regiment forming at Fort Devens, Massachusetts, stirred Chase to action. He left his job at Howard and entered active military service in 1940. His education earned him an officer's rank and made him one of the first black commanding officers.
It was a tough road ahead. Chase's first regiment was delayed at port in Virginia because the state government would not tolerate a large battalion of armed blacks in one of its ports. Chase endured this indignity, and the 366th Infantry Division was eventually deployed to North Africa. Chase's unit ended up in Italy, where they were cut down by German fire on the Po River. Later, during occupation duty in Germany, Chase helped to mastermind the brilliant logistical plan to airlift supplies to the embattled city of Berlin, which had been blockaded by Soviet forces.
Throughout the war, charges of cowardice were made against black soldiers. Chase saw first-hand that the white officers assigned to black units were substandard, and believed that the real issue was poor leadership. (In the 1990s, Medals of Honor were awarded to seven black soldiers who served in the units that had been so harshly criticized during the war.) He knew that, in the future, it would be necessary to include well-trained black officers in the officer corp. By the time the war ended, Chase was motivated by a fury that only a man of his intelligence could focus and control. His fiery attitude angered many white officers, and he was forced to defend himself against charges that were intended to ruin his career......Read More
~~~~~~~~~~~~~~~~~~~~~~~~~~~~~~~~~~~~~~~~~~~~~~~~~~~~~
News by dopper0189, Black Kos Managing Editor
~~~~~~~~~~~~~~~~~~~~~~~~~~~~~~~~~~~~~~~~~~~~~~~~~~~~~


~~~~~~~~~~~~~~~~~~~~~~~~~~~~~~~~~~~~~~~~~~~~~~~~~~~~~
Racial disparity in our criminal justice system has major economic consequences. Washington Post: Charting the shocking rise of racial disparity in our criminal justice system.
~~~~~~~~~~~~~~~~~~~~~~~~~~~~~~~~~~~~~~~~~~~~~~~~~~~~~
The position of most black men, relative to white men, is no better than how things stood after the passage of the Civil Rights Act in 1965. That's the sobering conclusion of a new paper out from University of Chicago economists Derek Neal and Armin Rick, who find that the considerable economic progress among black men between 1940 and 1980 has halted, and in many cases reversed.
A major driver of this shift has been the rise of more punitive treatments for criminal offenders, resulting in skyrocketing incarceration rates. These changes "have had a much larger impact on black communities than white communities because arrest rates have historically been much greater for blacks than whites," the authors write.
For a sense of the scale of these disparities, take a look at the chart below.


~~~~~~~~~~~~~~~~~~~~~~~~~~~~~~~~~~~~~~~~~~~~~~~~~~~~~
A 2-1 ruling followed a 2013 Supreme Court order to re-examine the case. US News: Court Upholds University's Affirmative Action Admissions Policy.
~~~~~~~~~~~~~~~~~~~~~~~~~~~~~~~~~~~~~~~~~~~~~~~~~~~~~
A three-judge panel of a federal appeals court upheld the University of Texas at Austin's use of affirmative action in college admissions Tuesday.
"It is settled that instruments of state may pursue facially neutral policies calculated to promote equality of opportunity among students to whom the public schools of Texas assign quite different starting places in the annual race for seats in its flagship university," Judge Patrick Higginbotham of the U.S. Court of Appeals for the 5th Circuit wrote. "It is equally settled that universities may use race as part of a holistic admissions program where it cannot otherwise achieve diversity."
The case stems from a lawsuit filed by Abigail Fisher, a white Texan who sued the university after she was denied admission to the system's flagship campus in 2008. The U.S. Supreme Court avoided a major ruling on the case last June, saying the federal appeals court should take another look at the policy in question.
The Department of Education in September released a policy clarification saying colleges can voluntarily use race as a factor in their admissions policies to achieve greater diversity, as long as they meet strict guidance already set forth by federal officials that no other "race-neutral alternatives" would achieve the benefits of diversity.


A federal appeals court panel ruled against Abigail Fisher on Tuesday, deeming the University of Texas at Austin's use of race in its admissions process legal.
~~~~~~~~~~~~~~~~~~~~~~~~~~~~~~~~~~~~~~~~~~~~~~~~~~~~~

~~~~~~~~~~~~~~~~~~~~~~~~~~~~~~~~~~~~~~~~~~~~~~~~~~~~~
"It's about time" is probably what Glenn Burke would say, according to his sister Lutha. Al Jazeera America: High five, Baseball: All Star Game to honor gay pioneer Glenn Burke.
~~~~~~~~~~~~~~~~~~~~~~~~~~~~~~~~~~~~~~~~~~~~~~~~~~~~~
Glenn Burke was a talented multi-sport athlete growing up in Oakland, Calif., in the early 1970's. Major colleges recruited him to play basketball, but Burke took the $5,000 signing bonus and joined the farm system of the Los Angeles Dodgers. He was a strong, fast, skilled right-handed-hitting outfielder. Coaches at the time compared him to Willie Mays. In retrospect, he more resembled Ricky Henderson, who came up a few years after Burke.
In 1976, Burke joined to big club for a cup of coffee; by the 1977 season, Burke made the major league roster and stuck, appearing in about half the Dodgers games that year. He was often a late-inning sub on a successful team loaded with talent, but he started two games in the National League Championship Series, and game one of the '77 World Series against the Yankees. He was a loud, active presence on the bench and in the clubhouse; by all accounts, a favorite with his teammates.
Glenn Burke was also gay. He wasn't "out" by any definition — certainly not a contemporary one — but he didn't do some of the things other closeted players at the time would do. He didn't go out "girl hunting" with teammates on road trips. He didn't marry a woman for appearances (even though the Dodgers offered to help him financially if he did). He didn't avoid the spotlight, though he once said, looking back, he thought it would be easier to be a mediocre player that few people recognized.
Burke, instead, wanted to excel. Beyond his natural competitive spirit, he reportedly hoped his success and fame would be big enough to allow him to live openly as a gay athlete.


~~~~~~~~~~~~~~~~~~~~~~~~~~~~~~~~~~~~~~~~~~~~~~~~~~~~~
Welcome to the Black Kos Community Front Porch!
Pull up a chair and sit down a while and enjoy the company.